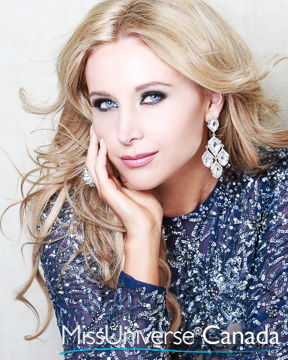 Height: 5'9″
Hometown: Calgary, AB
Robin Alexandra Johnston grew up in Golden BC. She has lived in Vancouver, Calgary, Toronto, Montreal, New York, and California. Her passion in life is travelling. "Travelling is fulfilling and provides a broader perspective on life." She has been privileged to travel to many places. "New experiences are what keep life interesting."
She is a supporter of fashion and the arts. Recently, Robin organized the Wanderlust Fashion Show and Charity Fundraiser. The event showcased high-end Canadian designers: Beth Richards, Malika Couture, Nuage 9, Baiza Jamal, Marina Ortman, and Mackenzie Jones. The evening was a success and raised a lot of money for the charity Operation Smile Canada.
Robin is in pursuit of becoming Miss Universe Canada and ultimately Miss Universe. Her goal is to dedicate her time improving the welfare and happiness of others. Robin's calling is in humanitarian work. Becoming Miss Universe Canada will allow her to reach a broader audience. She has the drive and passion to successfully fill this role.
Sponsors:
Country Comfort Bed & Breakfast, Wendell Johnston Painting, Reflections Hair Studio, Body Quest , Olga's Fabric, Golden Installations, Enerjet, Air Partners, Ki. C. Yoon Hapkido Martial Arts Golden B.C. Branch, Subway, 407 Boutique, The Mad Trapper Pub, Columbia Valley Credit Union, Family & Friends
Languages spoken fluently (please include your native language if English is not your native language).
The languages I speak fluently are English and French.
What are your interests and what do you enjoy doing the most?
I'm interested in experiencing as much as life has to offer. My passions are fashion and travelling. I started surfing 2 years ago and I love everything about it.
List any special training you have had (music, art, drama, dance, etc.)

I've had special training in: modelling, piano, painting, fashion design, sewing, drawing, and sculpture.
In what sports, if any, have you participated?
I have participated in the following sports: swimming, horseback riding, snowboarding, marathon running, surfing, skiing, ice fishing, track and field, basketball, volleyball, tennis, dirt biking, wake boarding, water skiing, snorkelling, deep sea fishing, bicycling, weight lifting, yoga, pilates, badminton, hiking, canoeing, white water rafting, Hapkido martial arts, golfing, and figure skating.
Name one person, other than your parents, who has had the most influence on your life. Why? 
Anna Wintour. I grew up in a small mountain town and without Vogue Magazine, I would have no connection to one of my passions.
What is your proudest personal accomplishment (other than participating in this pageant)? 
My proudest personal accomplishment was attending Mercedes-Benz Fashion Week in New York. It was a lifelong dream of mine.
What is the most interesting or unique thing that has ever happened to you and/or what is the most interesting thing about you? 
The most interesting thing about me is that I have travelled to 188 towns and cities in the world. Each place I've been to has taught me something new and made me better in some way.
What is your career ambition and what are you doing or plan to do to accomplish that goal? 
My career ambition is to use my passions, travel and fashion, to help others realize their dreams.
What would be your "dream job" in life?
A role where I could dedicate my time improving the welfare and happiness of others.
Are you currently a student?
No
Are you currently employed?
Yes
If yes, what is your occupation?
Flight Attendant at Enerjet.
Describe where you were raised and what your childhood was like. 
I was raised in Golden, B.C. I come from a bloodline of models, aviation and travel aficionados, and entrepreneurs. I grew up with a very loving family, which includes my parents Wendell and Shari and my two older brothers Ryan and Regan. Each of them are always there for me, listen to me, and support me with whatever I chose for my life.
List any interesting or unusual jobs you may have had. 
My most interesting job was when I was a flight attendant based in Toronto. It was a dream job. I was paid to work a flight to Europe five times a month. I always had a layover for  a minimum of 24 hours. The company paid for my five star accommodation and provided me with spending money while I was there. It was like being paid to go on vacation!
List any volunteering you have done.
The Golden Thrift Shop
The Golden Food Bank
The Golden Woman's Resource Centre
Operation Smile
What is your most unusual talent?
My most unusual talent is my adaptability.
Where is the most interesting place you have been to? 
The most interesting place I've been to is New York City. I used to travel there quite often. I love Central Park, the galleries and museums, and most of all the heartbeat of the city. There is a unique feel to New York.
What do you hope to be doing in ten years? 
In 10 years I hope to be travelling, hosting fashion shows, and raising money for charity.
Is there anything you would like to add that we haven't asked?
The opportunity to be a candidate in the Miss Universe Canada pageant has helped enhance who I am. The experience is truly life changing.