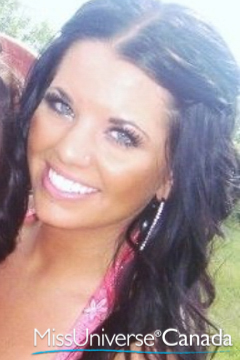 Height: 5'7″
Hometown: Saskatoon, SK
She has a very strong compassionate side and will do anything to help those in need. This charismatic, adventurous woman can do anything she puts her mind, heart and soul to.
Sierra graduated from the Mckay Institute of Massage Therapy. After College she followed in her career and is currently working for Sutherland Chiropractic Clinic. She loves to keep busy along with her career; she also is working towards becoming a Personal Trainer and continuing to enhance her therapies with Reflexology and Thai Massage in the future.
With a very steady schedule Sierra will always take the time to put a smile on someone's face. She is also looking into becoming involved in the Saskatoon Soaps Improv Comedy group in the next few months.
Sierra is extremely devoted to the healing and happiness of others through Massage Therapy. She aspires to become Miss Universe Canada to provide more information on the benefits of Massage Therapy/Chiropractic and overall how to maintain a healthy lifestyle inside and out. Providing today's teenagers with as much information as possible to help them stay focused and energized to have a positive future.
Sponsors:
Sutherland Chiropractic Health Care Clinic, Sommerfeld Electric, JG's COLLISION INC., ADVANTAGE COLLISION INC., Sutherland Dental Group, Collision Plus Auto Body, Fabutan at University Heights, Body Sense Aesthetics, Hypnotist: Corrie J, Linda's Printing Press, Arbonne
Languages spoken fluently (please include your native language if English is not your native language).
English
What are your interests and what do you enjoy doing the most?
Self-defence classes, paddle boarding, hiking, scrapbooking, playing with my nephews and nieces.
List any special training you have had (music, art, drama, dance, etc.) 
Tae-kwon-do and kickboxing.
In what sports, if any, have you participated?
Badminton, tae-kwon-do and kickboxing.
Name one person, other than your parents, who has had the most influence on your life. Why? 
Betty White, I grew up listing to her comedic routine. Even though she is 92 she still is doing what she loves, which is making people laugh. I think she is an incredibly inspiring woman who always takes the positives out of life and is always smiling.
What is your proudest personal accomplishment (other than participating in this pageant)?
Finishing College at Mckay Career Training to be a Registered Massage Therapist. Completed training in Jikiden Reiki level.
What is the most interesting or unique thing that has ever happened to you and/or what is the most interesting thing about you?
I was able to represent Saskatoon in the 2011 T.V. Show Wipeout Canada.
What is your career ambition and what are you doing or plan to do to accomplish that goal?
I have a few that involve health and wellness. I am currently working on my personal training certificate. I would also love to take a few courses this year for Reflexology and Thai massage. This also gives me an opportunity to travel to take these courses and hopefully be able to spread the word about massage therapy and its benefits on the body.
What would be your "dream job" in life?
Dream job would involve some sort of healing through massage/energy work or healing the mind and soul by laughter. Being a traveling comedian would be a very fulfilling job.
Are you currently a student?
No
Are you currently employed?
Yes
If yes, what is your occupation?
As a Registered Massage Therapist at Sutherland Chiropractic Clinic.
Describe where you were raised and what your childhood was like.  
In Saskatoon, Saskatchewan. I am the youngest of five sisters so it was always fun loving, loud but never a dull moment.
List any interesting or unusual jobs you may have had. 
The Fun Factory- Organizing children's birthday parties
Tim Horton's- Baking/Assistant Manager
Shark club- Bartending
List any volunteering you have done.
Tele-miracle, Sherbrook nursing home, blades games, breast cancer walk, the dance shack and Sundog.
What is your most unusual talent? 
I call it the "Monkey Walk" a mixture of silly dance moves/voices and interesting facial expressions. I don't mind risking a little bit of embarrassment on my end if it results in other people laughing and smiling.
Where is the most interesting place you have been to?
Costa Rica
What do you hope to be doing in ten years?
I hope to have a family by then, while still maintaining a healthy lifestyle. It would be ideal to take my family away for half the year and go to different countries and spread the word of massage therapy and how to live life without the daily need of medication, if not necessary. I think it is very important for people to experience different places in the world to gain more knowledge and be able to help others in need.