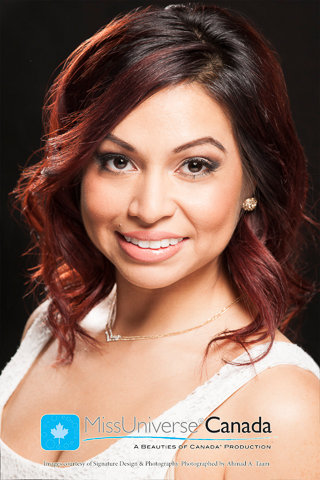 Age: 26
Hometown: Kitchener, ON
Heidi Fuentes was born in Montreal, Quebec with Nicaraguan decent. Heidi graduated with Honors from the University of Waterloo with a degree in Social Development Studies and Social Work and a diploma Public Health. She currently works two full time jobs, Parents for Community Living and Bayshore Home Care. At Parents for Community Living Heidi supports individuals with developmental and physical disabilities. Over the past three years Heidi has supported five ladies where she refers to them as the "Golden Girls" due to their inspiring, loving, and creative personalities. Heidi's second job is focused in Palliative Care where she provides support to the patient and families during the patients' end of life journey. The two career paths have inspired Heidi through experience, and constant learning she is determined to continue her studies in the medical field as either a physician or RNP.
Heidi's mother Fidelina Fuentes is Heidi's greatest supporter, motivator, and inspiration. As Fidelina Fuentes who would repeatedly reminded Heidi, "tiempo perdido los santos lo lloran" (Time wasted = the saints cry). As a young first generation Canadian those words resonated deeply within Heidi. Fidelina Fuentes arrived to Canada from Nicaragua in September 1988 with one luggage, five Canadian dollars, and a dream to build a life full of opportunities for her daughter Heidi and generations to come. On October 2014, Fidelina Fuentes was diagnosed with stage four Melanoma. Heidi took on the role to be the caregiver for her mother in her home where she was by her side from the beginning to her Mothers new beginning, where Fidelina Fuentes courageously passed with grace on December 5th, 2014. Canada is not only home for her but also where her mother planted her roots for the future generations to come. Canada has given her many opportunities as a female. Heidi continues to apply her mother's words and give them meaning and purpose in everyday life by sharing her story as a way to inspire others.
October 2013 Heidi ran her first full Charity Marathon raising $5,500.00 for the Leukemia and Lymphoma Society of Canada. She was served as a Director of Patient Services on the Board of Director for the Grand River Hospital Volunteer Association for two years. Her role was too provide a positive experience to patients and families who stayed-over night at the Grand River hospital. Some of her initiatives were to bring flowers to new moms on mother's day, give journals as gifts to patients at the Cancer Center on Christmas, provide Thanksgiving cards for patients made by local students in the Kitchener-Waterloo area, and hygiene kits for the Intensive Care Unit. Heidi also volunteered as an aesthetician for four years at "Look Good Feel Better", where her role was to teach women with cancer how to feel beautiful through make-up and skin care tutorials shown by her and other aestheticians. Heidi is always looking for new opportunities to grow as an individual while giving back to her community.
Heidi values each individual she comes into contact with. She appreciates everyone's unique story and strongly believes in providing others with a strong support system. Heidi's self-driven attitude and immense dedication has led to numerous recognitions by past and present employers and even was nominated in 2013 for Waterloo Regions Top40under40. Heidi enjoys the outdoors and being physically active through weightlifting, long distance running, and more recently hot yoga. Heidi fills her down time with reading diverse books that capture her interest. Above all, she aspires to be the change she wants to see and continues to persevere. She is described as passionate, creative, resilient, compassionate, and loving. Heidi believes that Miss Universe Canada will provide her with the platform to be an example that anything is possible when you are the truest version of yourself and love yourself unconditionally. She wants to inspire and empower her Latino community and many young Canadians from an array of backgrounds and communities and create a cycle of positive change.