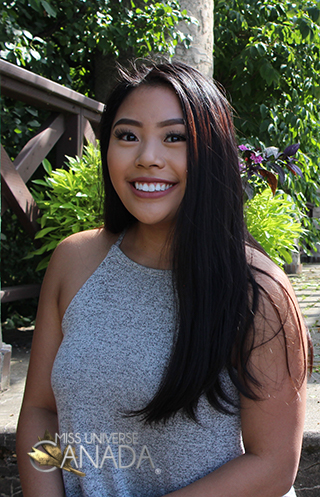 Height: 5'1
Hometown: Winnipeg, MB
Languages: English, French
Occupation: Student at University Of Manitoba
Amanda Louangxay is a confident, motivated and passionate student. She was born in the city of Winnipeg, Manitoba. Her parents are Chinese and Laotion and she grew up learning those languages as well. She grew up learning French, Chinese, and little parts of Laos. Amanda is very interested in other cultures which is why she loves Canada! She has travelled almost everywhere in Canada; each city, town, or province is something she will always remember and cherish. Travelling each year is important to her because she grew up travelling to places from time to time.
Amanda is very passionate about being active and playing sports. She started playing soccer in grade 4. Soccer became one of her favorite sports as well as many more! Going to the gym and staying active is very important to Amanda. It does not matter how long her days are or how late it is, she will always find time to stay active. She finds her happiness from working out and seeing results. Trying out new sports is her thing; she likes to be competitive and always focuses to do the best she could.
Aside from her active mind, she is very interested in science. More specifically, biology and chemistry. She found her love for science in the beginning of high school. Science is a part of our everyday lives which is amazing! Amanda was always excited to do labs in high school, and especially in university. Her parents supported her with all the decisions she made and loves her unconditionally. She is very fortunate enough to have a loving and supportive family throughout her entire life.
Q&A
What are your interests and what do you enjoy doing the most?
I love sports. Physical activities are best thing ever. Whenever my friends and I hang out, we usually play basketball or football during the summer or ice skating in the winter. My favorite season is Winter and I absolutely love ice skating. I currently take Muai Thai (kick-boxing) and it is one of the best sports that relaxes me. Other than sports, I do enjoy cooking and do people's/ my own makeup.
List any special training you have had (music, art, drama, dance, etc.)
I used to take guitar lessons and as I mentioned above. I am currently taking Muay Thai training.
In what sports, if any, have you participated?
These are the following sports that I've participated in: basketball, soccer, track and field, rugby, muai thai, and volleyball.
Name one person, other than your parents, who has had the most influence on your life. Why?
I would have to say my grandma is the most influenced person in my life because she was always there for me when my parents worked long hours. She would always pick me up from school, always packed me lunch, talked to me when I'm feeling upset, etc. She has been a great role model in my life and always made me happy. I love her to bits and wish she was still here with me today.
What is your proudest personal accomplishment (other than participating in this pageant)?
One of my proudest personal accomplishment is graduating from high school. I'm proud of it because it is one of those milestones in life that you cannot re-live. I'm proud that I got an early acceptance to University and there will be more accomplishments as I go because I'm still young.
What is your career ambition and what are you doing or plan to do to accomplish that goal?
I've been very interested in the medical fields since I was 12. The reason behind it is, my grandma was hospitalized and very sick. I was in a very sad place. I was still young and sort of had an idea of what was going on. After she passed away, my other grandmother got sick. I was devastated but spent every day with her to take care of her in the hospital. I very much enjoyed taking care of her. So, from that experience it made me realize I want to be a doctor when I grow up.
What would be your "dream job" in life?
I would love to be a Cardio Surgeon or Doctor in the future.
Describe where you were raised and what your childhood was like.
I was raised in the city of Winnipeg. My childhood involved lots of playing. I remembered that I used to build lots of puzzles with my grandparents and that was one of my favorite things to do as a kid. I also remember watching lots of Disney movies which made me want to be a princess when I'm older. It was great being a child
List any interesting or unusual jobs you may have had.
I have not had any unusual jobs yet.
List any volunteering you have done.
I've volunteered at my local temple, WIT tournaments (basketball), West End Biz clean up (Neighborhood cleaning), pre-school tutoring (grade 2 & 3's)
What is your most unusual talent?
I have not discovered it yet.
Where is the most interesting place you have been to?
I have travelled around North America. An interesting place that I've been to is New York. I thought it was unusual that there were sidewalk jams. What makes New York interesting is the people and the tall buildings.
What do you hope to be doing in ten years?
In ten years, I hope to be somewhere in the medical fields. Hopefully pursuing my "dream" job. I'd like to have success financially and in my health. I would like to be taking care of my parents and let them retire. It's very difficult to see the future therefore, it's best to do what you can to make the best of it.
Is there anything you would like to add that we haven't asked?
Yes, I would like to remark that everyone is beautiful inside and out. Everyone should be confident and pursue their dreams. For me, my bucket list is representing my country, Canada for Miss Universe 2017. Canada is the best country in the world because we are fortunate enough to get access to free health care, we have a great education system, our government provides us with child care, and the list can go on and on! Did I mention that Canadians are very friendly? That is one of the perks living in Canada, your neighbors will brighten up your day.