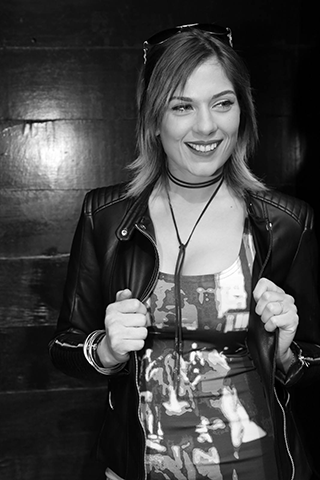 Height: 5'6
Hometown: Etobicoke, ON
Languages: English
Occupation: Sub-Prime Credit/Finance Specialist and Sales Agent
Meghan Clarke was born and raised in the big city of Toronto, Canada, and attended all three levels of schooling within the same city. Always having a passion for law and doing good by society, she entered into the Paralegal Diploma program at Humber College North Campus. Although she had graduated the course and passed the Paralegal Licensing exam, she had been working for a local Pre-Owned Vehicle Dealership simultaneously and grew a love and passion for that field – more than what her schooling had taught her about Law.
Currently working for a larger, more complex Pre-Owned Vehicle Dealership, Meghan strives to make a huge difference in the lives of people who have had hardships in their lives which had in turn allowed their credit standings to take hits from both minor and major instances. As one of the skilled Sub-Prime Finance Managers, she helps people in hard situations on a daily basis both get into a vehicle they couldn't have ever dreamed of getting into, while simultaneously increasing their credit standing. One of her favourite things in this world to do is to make people happy and put a smile on their face – her job allows her this pleasure on a daily basis and she couldn't be happier!
Q&A
What are your interests and what do you enjoy doing the most?
Nature walks and everything really that has to do with Nature is interests me. I love going for walks with my dog around the neighbourhood and also new areas that are more exciting to explore with my fur-baby by my side. I also love to watch Movies and read exciting Books!
List any special training you have had (music, art, drama, dance, etc.) 
I was training to play pool for a couple years when I was younger. I'd love to also say that I'm natural in Drama, my mother always called me a Drama Queen while I was growing up – haha!
In what sports, if any, have you participated?
I've played many sports – Soccer, Baseball, Badminton, Trampoline, Track and Field
Name one person, other than your parents, who has had the most influence on your life. Why?
Other than my parents, I would have to say that my current Boss is one of the main people who have influenced my life in a very positive way. He's incredibly motivating and always looking for ways to help me be more successful for both my benefit and his. He's always had an awesome and positive look on life, whether he's having a good day or a bad one. Every time I feel low, I always look to him for some moral support.
What is the most interesting or unique thing that has ever happened to you and/or what is the most interesting thing about you? 
The most unique thing about me I think, is the fact that I am a twin. I have a Fraternal Twin brother named Brett. I also really enjoy the fact that we have an amazing birthday – St. Patrick's Day! Not only do we celebrate on this day, but everyone else gets to have a great time as well!
What is your career ambition and what are you doing or plan to do to accomplish that goal? 
When I was younger, I always had a huge interest in the Law. I took college courses to become a Paralegal, and passed the Licensing exam, but since then, I've come to realize that Sales, particularly in the Auto Industry is my true ambition. I've been working at Dealerships since the age of 18, and recently within the past 3 years, I've gained the knowledge and experience to now be one of top Sub-Prime Finance managers at my current Dealership.
What would be your "dream job" in life?
My "Dream Job" in life would probably be to manage my own dealership one day. I work very closely with my boss now, and I would like to possibly become a General Manager some day with the knowledge and experience that I have already and continue to gain on a daily basis.
Describe where you were raised and what your childhood was like.
I was raised in what most people would call a "ghetto" neighbourhood in Toronto, the Jane and Finch area. I was a minority in my school, as well as the street I lived on. My mother was afraid to let us out of her sight, as the neighbourhood wasn't the safest. Even though there were all these negatives growing up, I did have a very good childhood, even with my single mother. My father would see us a couple times a year as well, but my mother is the person who raised us all – 3 kids all within 16 months of each other. She's definitely my hero.
List any interesting or unusual jobs you may have had. 
I worked for a Luxury/Exotic car dealership for a few months which was an amazing experience for the most part. My boss would let me drive some pretty awesome super cars – Ferrari, Lamborghini, Masserati, Audi R8, just to name a few!
List any volunteering you have done.
Gift Wrapping at Yorkdale when I was in High School, various events in the Toronto Techno Music scene raising money for charities and cancer awareness – there will be an event held on May 27th for the Daily Bread Food Bank
What is your most unusual talent?
I am dislocated in both my middle knuckles (weird, I know)
Where is the most interesting place you have been to?
The most interesting place I've been to, by far, has got to be Islands of Hawaii. I went there to vacation back in 2015 and managed to get to 2 of the 4 Islands of Hawaii. While I was there, I was able to take in some really breathtaking views of the Ocean, the palm trees, volcanoes and even had the privilege of hanging out with some old sea turtles at Black Sands Beach. I went snorkeling and swam with some beautiful and colourful fish! One of the most memorable aspect of the entire trip has to be the day we spent at Pearl Harbor. The sheer thought of walking around and looking at all the history that had happened all those years ago back on December 16th, 1941, was incredibly emotional and breathtaking as well.
What do you hope to be doing in ten years?
In 10 years, I hope to have my career blossomed and bloomed to the point of no looking back and only looking forward. I want to stay in my field, as I am very confident that I am great at what I do and experience will only sharpen my skills further. I'd like a family, a child or two, my own home either still within Toronto on somewhere close so I can still be close with to my family.