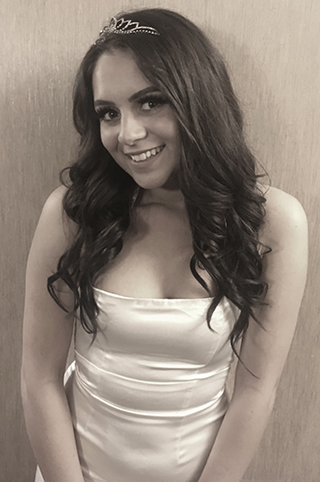 Height: 5'4
Hometown: Richmond, BC
Languages: English, Spanish
Bio Coming Soon…
Q&A
What are your interests and what do you enjoy doing the most?
I love music, dancing, food and I enjoy travelling. 
List any special training you have had (music, art, drama, dance, etc.) 
Drama
Name one person, other than your parents, who has had the most influence on your life. Why? 
My best friend JP. He changed my life in more ways than one.  He just made me see myself in a different way, in the way he saw me.
What is your proudest personal accomplishment (other than participating in this pageant)?  
Overcoming mental illness.
What is the most interesting or unique thing that has ever happened to you and/or what is the most interesting thing about you? 
the most interesting thing that happened to me was when me and my friend won tickets to Coachella and it happened to be day of our last exam, we went to class with our suitcases, finished the exam, booked it to the airport where we went to palm springs for the music festival. it was so crazy because we just found out the day before and so it was such a last minute adventure. 
What is your career ambition and what are you doing or plan to do to accomplish that goal? 
I am striving to get into the business program next year, and to major In marketing. My career goal is to be successful in business.
What would be your "dream job" in life?
Editor-in-chief at Vogue.
Describe where you were raised and what your childhood was like.  
I was raised in Richmond and my childhood from what I can remember was the most imaginative fun childhood anyone could have, I didn't have much as a kid as my parents were divorced and we were going from apartment to apartment, but that's not even the part I remember. My brother and i would play as if we were in the jungle, or sky, or kingdom, I just remember everything and anything was possible when I was a kid. 
List any interesting or unusual jobs you may have had. 
I worked at a tween spa once, just like a regular spa or sail salon but the clients were between the ages of 2-12. Definitely an interesting experience.
List any volunteering you have done.
High school grad committee president
Community center day care
Community center volunteer activities
Rotary/interact club (all fundraisers year round)
Over 200 hours of grade 12 fundraising for grad
What is your most unusual talent?
I can rap.
Where is the most interesting place you have been to? 
Lima, Peru. 
What do you hope to be doing in ten years? 
Working in New York and travelling.