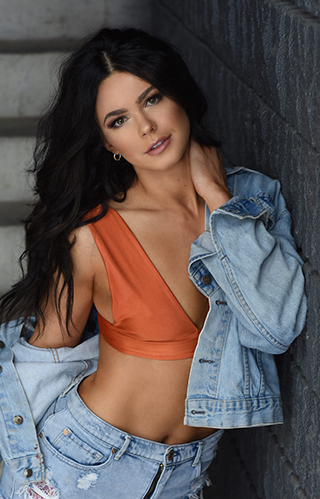 Height: 5'10
Hometown: Sackville, NS
Languages: English, French
Occupation: Ultrasonic Technician
Rachel is a Dalhousie alumnus, ultrasonic technician, bikini competitor, model and a proud Nova Scotian. Currently, she contracts herself out for employment in Alberta and is able to manage her own schedule. Rachel enjoys spending her flexible time off with family and friends, training for fitness competitions and exploring her beautiful province. She has a kind heart, a contagious smile and is passionate about helping others. Rachel plans to use her degree in neuroscience to further her education and pursue her life long dream of becoming a medical doctor.
Rachel is an advocate for the body positive movement whom loves expressing herself and showcasing her creativity through modelling. Having experience working in numerous areas of the fashion industry including editorial, catalogue, runway and fitness, Rachel recently decided to expand her horizons and make her debut into the beauty pageant industry. She aims to make a memorable impression on the national pageant stage and hopes fulfill her childhood ambition of representing Canada at the international Miss Universe Competition.
Q&A
What are your interests and what do you enjoy doing the most?
Modelling has always been a passion of mine; I love being in front of the camera and showing my creative side. My physical health and fitness are also very important to me, and I spend a lot of my time training at the gym or hiking/running outside. For me, it is important to maintain a healthy balance between cardio and weight training to reach my fitness goals.
Being passionate about fitness and modelling, I recently decided to combine the two by entering the bodybuilding world and I competed in my first bikini competition. I loved being able to see how my body is able to transform with proper training and nutrition while prepping for the show. Being on stage gave me back the confidence that I lacked at the time, and just made me feel genuinely good about myself. It was such a memorable and rewarding experience!
I work away from home so when I have time off work, it is happily spent with my family and friends. I also enjoy baking, cooking, reading, hiking and travelling.
List any special training you have had (music, art, drama, dance, etc.) 
Over the years I have participated in a variety of modeling boot camps and workshops that train and teach aspiring models how to pose in front of the camera and how to perfect their runway walk. I've participated in drama classes in high school and I absolutely love being on stage, whether it be for a fitness competition or for showcasing a designer's fashion collection.
In what sports, if any, have you participated?
From a young age, I led a very active life style. I participated in a variety of sports including ballet, gymnastics, soccer, swimming and badminton. During my high school career I focused more on improving my competitive volleyball skills and training for track and field.
Name one person, other than your parents, who has had the most influence on your life. Why?
My grandmother, Georgina, has always been a huge influential figure in my life and has had a profound impact on the woman I am today. Growing up, she was my best friend and she always encouraged me to step out of my comfort zone and try new things. She was a strong, kindhearted, selfless and loving woman who always inspired me work hard for the things I wanted to accomplish in life. It was a devastating loss when she passed, but I still feel her presence with me everyday and I know that she would be proud of me for following my heart and pursuing my dreams.
What is your proudest personal accomplishment (other than participating in this pageant)?
From a young age, I was passionate about education and helping others. My parents taught me that knowledge is power, and that it is something that no one can take from you. After many years of hard work and dedication, I am proudly able to say that I graduated from Dalhousie University with my Bachelor of Science degree, majoring in Neuroscience. Shortly after graduating from Dalhousie, I received my diploma in Ultrasonic Technology from the College of the North Atlantic. My motivation to register in this particular program was fueled by my desire to make my own schedule and have extended periods of time off, which would allow me to spend quality time with my family and friends.
What is the most interesting or unique thing that has ever happened to you and/or what is the most interesting thing about you?
At the ripe age of 14, I competed in Top Model Search Canada and that's when I was fortunate enough to make my debut into the fashion industry. Over the years I received representation from notorious agencies such as Giovanni, Next, Numa and Chantale Nadeau. I had the privilege to walk in Toronto Fashion Week and work with the most talented teams in the fashion industry. This was all made possible because Dan Grant, a man who I still consider a great friend to this day, scouted me at the convention. I pursued modelling while staying on top of my studies in high school, and loved every moment of it.
What is your career ambition and what are you doing or plan to do to accomplish that goal?
My career ambition is to return to eventually return to medical school and become a doctor. That being said, I know that medical school will require my full and undivided attention and there are some other goals that I would like to accomplish before I return, such as becoming Miss Universe Canada!
What would be your "dream job" in life?
From a young age, I always dreamed of becoming a neurosurgeon. Not for the wealth or the title, but for being able to help others. I've experienced significant losses of loved ones in my life due to medical complications, and it would be rewarding and fulfilling accomplishment to work in a progressive field that is dedicated to improving the well being others.
Describe where you were raised and what your childhood was like.
I was raised in a small fishing community called Northwest Cove and it was a wonderful place to grow up. I spent a lot of time outdoors exploring and our family had two amazing dogs that would accompany me everywhere I went. My fondest childhood memories were spent at the dock, fishing and spending quality time with my dad. When I was five, I had the privilege of becoming an older sister and it has been such a blessing to form close bonds and friendships with my siblings. I have been fortunate to have such a loving family that always encourages me to be ambitious and to chase my wildest dreams. My parents always made sure that I had the opportunities that they perhaps did not, and I am so grateful for all the positive experiences and memories that I have from my childhood.
List any interesting or unusual jobs you may have had.
I completed my co-operative education placement as a pharmacist technician and I was offered a permanent position after I completed the hours required for my course. It was a great experience working along side the pharmacy team and it inspired me to pursue a career in the medical field.
I also worked in a variety of laboratories while completing my undergraduate degree; one of my favorites was a songbird neurology lab. In this particular lab we studied the "neural real estate" that was dedicated to the complex behaviors of song learning, perception and production in zebra finches. In this research lab we would study the perception and early gene response in different perceptual regions of the brain. We would look at a variety of environmental factors that would affect neurogenesis, and see how stress affects song learning and brain development in male and females.
List any volunteering you have done.
After I graduated High school, my volleyball career sadly came to and end but I wanted to still be involved with the sport that I grew to love so much. I continued to be involved with the high school girls' volleyball team by volunteering as an assistant coach. I volunteered at fundraisers, team practices, games and tournaments. We traveled to various provinces to compete in Division 1 volleyball events and won several titles.
During university, I had the privilege of assisting in various laboratories as a volunteer and as a teaching assistant over the course of my undergraduate degree. I believe that these opportunities have really helped me further develop my interpersonal and communication skills, while allowing me to feel a sense of fulfillment by helping peers and professors. I also volunteered as an orientation camp leader at Dalhousie during frosh week, where I was able to mentor large groups of students that were new to the university campus and organize events for them to participate in.
I really enjoy being involved and giving back to the community when I can. I love animals and being able to spend my free time visiting shelters and taking dogs for walks; when I have extended periods of time home I enjoy fostering dogs that are searching for their forever homes.
What is your most unusual talent?
I'm pretty flexible and can still do a variety of flips I learned in my gymnastic days!
Where is the most interesting place you have been to?
I haven't really travelled much outside of Canada, but with that being said my most memorable trip would have been one that my mom took me on when I graduated from high school. We flew to Calgary, rented a car and went on a road trip through Alberta for a couple weeks. It was such an amazing experience that we had together; we visited the Miette Hot Springs in Jasper, which feature the hottest mineral springs in the Canadian Rockies, and Banff where we went on a gondola to the top of the mountains. We both are terrified of heights so it was quite the thrill conquering this fear together and getting to see the spectacular view of six Canadian Rockies mountain ranges.
What do you hope to be doing in ten years?
It is hard to predict what the future will bring, just as our bodies change while we grow from children to adults, our nature changes along with it. In ten years, I hope that I will have had the opportunity to travel more, help others, have a rewarding career and start a family. For me, happiness is the key to success and I truly believe that if you love what you are doing, you are bound to be successful. I would love to return to my studies when the time is right, and graduate from medical school. Becoming a doctor and being able to devote myself to helping others would be such a fulfilling career.
Is there anything you would like to add that we haven't asked?
Becoming Miss Universe Canada would be the highest honor and a great achievement. I would be so grateful to have the opportunity to represent my country while helping support and fundraise for charities. Receiving the national title would allow me to inspire others to follow their dreams and never give up on their goals and ambitions. I would use this platform as a means to speak on the behalf of those who cannot be heard, and use it to raise awareness for causes that I strongly stand for while making Canada proud.