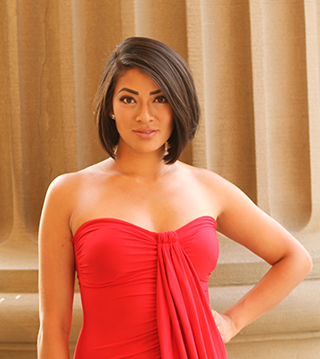 Height: 5'8
Hometown: Edmonton, AB
Languages: English
Occupation: Server
Sage Bouchier is a proud Canadian born and raised in Canada in Alberta's capital city, Edmonton. Since the age of six, she was in Arts classes such as dance, voice, piano and acting/modeling. While practising arts, she's always been a dedicated employee in the hospitality industry. She was also an outstanding student to accomplish her plan to graduate a year early  from Jasper Place High School with a major in cosmetology to pursue a Hairstyling trade. 
As much as she liked making people look good being a hairstylist at Beaners Fun Cuts For Kids, she returned to the hospitality industry because she enjoyed being social and has an appreciation for people's everyday happiness. She had been a shift leader and even a guest service manager and is grateful to have the training experience she had received to not only teach her about management, but also taught her a lot about herself and working with people. 
During Sage's busy week of work, quality time with family and friends, staying healthy and active, she is currently writing a business plan to become a metis/vietnamese women entrepreneur. She is seeking and speaking to mentors to ensure she gets the proper guidance she needs to succeed her new goals. She loves to be inspired and to inspire healthy living in the mind, body and soul. 
Q&A
What are your interests and what do you enjoy doing the most?
I am interested in healthy living and enjoy working out and eating healthy.
List any special training you have had (music, art, drama, dance, etc.) 
Dance ( jazz, tap, hip hop, ballet, lyrical)
Music (voice and piano)
Acting and modelling
In what sports, if any, have you participated?
I have not been in any sports other than learning sports in school, finishing with 98% in physical education.
Name one person, other than your parents, who has had the most influence on your life. Why? 
I have always looked up to my auntie Amy because she has always been so open minded, understanding and loving no matter what the situation.
What is your proudest personal accomplishment (other than participating in this pageant)?
I am very proud of myself for deciding to get baptized.
What is the most interesting or unique thing that has ever happened to you and/or what is the most interesting thing about you? 
I started traveling alone and never realized how many more people I would meet. Traveling alone was definitely the most interesting experience I have done because I learnt so much more than I had when I traveled with others.
What is your career ambition and what are you doing or plan to do to accomplish that goal? 
I would love to be an entrepreneur and I plan to first write up a plan, speak with mentors and continue to make connections to accomplish my goals.
What would be your "dream job" in life?
My dream job would be to be famous for being a triple threat ( model, actress, singer).
Describe where you were raised and what your childhood was like.  
I was born and raised in Edmonton, Alberta and growing I had my mother and sister as my biggest support team through out all my talent classes and competitions. As a family, we had our struggles, but that only made us stronger and closer, to continue bringing each other up and keeping our heads high through all life's obstacles.
List any interesting or unusual jobs you may have had. 
Other than working in 4 different restaurants, I worked in a children's salon.
List any volunteering you have done.
Ballet teachers assistant
The cup of care (cooking soup for the homeless)
What is your most unusual talent?
Other than my performance arts talents, I would say my unusual talent is being a server; being able to balance a tray with a lot of drinks in it, balancing three plates on my arms and memorizing orders and names during a shift.
Where is the most interesting place you have been to? 
I loved how interesting Halifax Nova Scotia was! It's such a beautiful place with cool history.
What do you hope to be doing in ten years? 
In ten years, I hope to be successful in my business plan up and running, and to be helping more charities.
Is there anything you would like to add that we haven't asked?
I love quality time with people, I am an animal lover even though I'm allergic to most, and I am a workaholic.