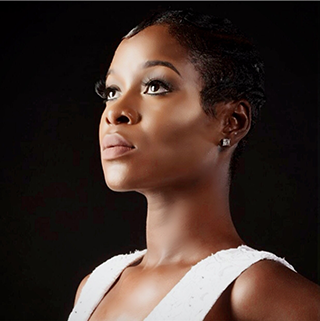 Height: 5'7
Hometown: Brampton, ON
Languages: English, Twi
Occupation: Student at Ryerson University (Global Management)
Vanessa Otuo-Acheampong was born in Canada of continental African parents from the nation of Ghana. Vanessa is proud of her heritage, and the diverse faces of beauty in Canadian society. She is inspired and eager to represent African beauty and the beauty of African culture.
Vanessa Otuo-Acheampong is a multi talented entertainer, model, and entrepreneur. Her drive, dedication and passion have led her to success across various disciplines. As an entertainer, Vanessa Otuo-Acheampong sings, raps, dances and acts. She is a co-winner of a 2012 African Entertainment Awards (Canada). She has opened for such international music stars as afrobeat artist and Wizkid collaborator Iyanya whose songs have more than 18 million views on YouTube (Wizkid of Drake's song Come Closer and One Dance). She has also opened for BET award winning international music star Sarkodie whose songs have as many as 42 million hits on youtube.
Vanessa's prolific pageant history include Ghana's Most Beautiful Canada 2011 (WINNER), Miss AfriCanada 2014 (WINNER), and Miss Universe Ghana 2015 (2nd Runner Up). Vanessa Otuo-Acheampong is a proponent of the beauty of all shades, shapes, and sizes. She has started a business providing leadership and training to prospective pageant contestants, and she is also a beauty/image consultant and stylist.
Her love of her homeland in Africa inspired her to fund a charity called Project Rhythm which is an initiative which promotes arts education in Ghana . Vanessa founded this charitable endeavour leveraging her and visibility as the winner of Ghana's Most Beautiful Canada 2011 as a platform to tell others and inspire youth to pursue their passion. Future endeavours for Vanessa Otuo-Acheampong include proposed musical collaborations with major international music stars and continuing her charitable work. Setting up businesses internationally is also one of her goals, and Vanessa is pursuing a degree in Global business management at Ryerson University in Toronto to strengthen her business acumen. Vanessa hopes to use her spotlight as the future winner of Miss Universe Canada to focus attention on positive initiatives and campaigns, locally and internationally.
Q&A
What are your interests and what do you enjoy doing the most?
Working out, traveling, designing clothes and anything to do with music (including recording my own).
List any special training you have had (music, art, drama, dance, etc.) 
Music and cultural dance
In what sports, if any, have you participated?
Tennis, basketball, track & field (100m, relay 4×100 and shot-put) and volleyball.
Name one person, other than your parents, who has had the most influence on your life. Why? 
The person who has had the most influence in my life would have to be my best friend Janet . She is one determined person who never lets anything get her way of accomplishing her goals. She has always stuck by me and encourage me to chase my dreams and achieve the impossible.
Her support in helping me achieve my goals has shaped me in becoming the fearless woman I am today.
What is your proudest personal accomplishment (other than participating in this pageant)? 
My proudest personal accomplishment is not giving up when told I was not able to achieve my goal.  Although at times the outcome may have not been in my favor, sticking to the plan amongst all circumstances shows that I have overcome.
"Think like a queen. A queen is not afraid to fail. Failure is another steppingstone to greatness." – Oprah Winfrey
What is the most interesting or unique thing that has ever happened to you and/or what is the most interesting thing about you?
The most interesting thing has happened to be was being honored by the Saldenah band in 2015. Their theme that year was called 'Out Of Africa' and I was Queen of the section called Ashanti which was named after the tribe I am from in my native country Ghana.What is your career ambition and what are you doing or plan to do to accomplish that goal?
My career ambition is to become a lifetime achiever of entertainment. To accomplish that goal I am currently taking global management in school and with the help of charitable organization 'Project Rhythm' I am to able seek assistance in which coincides with my future endeavors as an entertainer.
What would be your "dream job" in life?
My dream job in life would be to own several businesses of my own . I am fortunate enough to be on that path in making my dreams come true.
Describe where you were raised and what your childhood was like.
I was born and raised in Toronto on the south side of Jane. Though the living conditions may not have been the best,  I can honestly say it holds some of the best experiences in my life. We grew up very cultured, making sure we do not forget our heritage. I was always the entertainer of the family. My grandparents started a cultural dance group in early 90s and had brought my sisters and I in by the age of four. Although we didn't have much, my parents made sure we never lacked in anything.  Not having everything made me fortunate of everyone and everything around me. It taught me a lot about hard work and cherishing every moment for it may not last forever.
List any interesting or unusual jobs you may have had. 
I worked in a recycling company for about two weeks. (I couldn't stand the smell.) I now understand the importance of recycling and the less damage effect it has on the environment.
List any volunteering you have done.
Annually I do events at local schools across the GTA. Students showcase their talents in front of the entire student body followed by a dance workshop where I teach African dances.
What is your most unusual talent?
I am the champion of staring contests.
Where is the most interesting place you have been to?
Las Vegas
What do you hope to be doing in ten years?
I hope to have all my business I am working to pursue established.