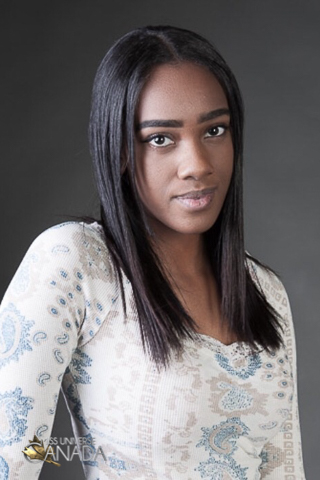 Height: 5'8
Hometown: Ottawa, ON
Languages: English
Occupation: Catering
Bio coming soon…
Sponsors
Family and Friends
Q&A
Languages spoken fluently (please include your native language if English is not your native language).
English
What are your interests and what do you enjoy doing the most?
I enjoy painting and reading and going to the gym. I also like cooking and learning to cook new things.
List any special training you have had (music, art, drama, dance, etc.) 
I've taken classes for clarinet, and the guitar. I took a production class and performed in multiple plays in front of an audience.
In what sports, if any, have you participated?
Basketball and track and field
Name one person, other than your parents, who has had the most influence on your life. Why?
My older sister Lisa. We have been close since I was a little girl, and she's had an influence on me because she was someone I looked up to.
What is your proudest personal accomplishment (other than participating in this pageant)? 
Getting into the routine of living a healthy lifestyle (eating properly, working out regularly).
What is the most interesting or unique thing that has ever happened to you and/or what is the most interesting thing about you? 
My mother is of Indian descent and my father is of African descent so although I don't look like it, I'm half Indian and half African American
What is your career ambition and what are you doing or plan to do to accomplish that goal? 
I would like to work in the government, and to do that I will be attending school in the Fall.
What would be your "dream job" in life?
My dream job would to be a model.
Describe where you were raised and what your childhood was like.
I was raised in south Ottawa, which is near the airport. It was an area with a lot of kids my age so it was easy to make friends that lived When I was a child I would play outside, and I spent a lot of time with my siblings. I started enjoying reading from a very early age, and I used to read frequently when I wasn't spending my time playing. I loved barbies and Pokémon cards and I loved making clothes for my dolls and styling and cutting their hair as well.
List any interesting or unusual jobs you may have had. 
I've worked in a hotel as a housekeeper.
List any volunteering you have done.
I volunteered 3 years in a row at WE day at the Canadian Tire Centre as a crowd pumper (keeping the audience energized and participating).
What is your most unusual talent?
I'm able to do many accents and voices.
Where is the most interesting place you have been to?
Trinidad and Tobago
What do you hope to be doing in ten years?
Raising a happy and healthy family, and working at a job that I enjoy, and travelling several times throughout the year.