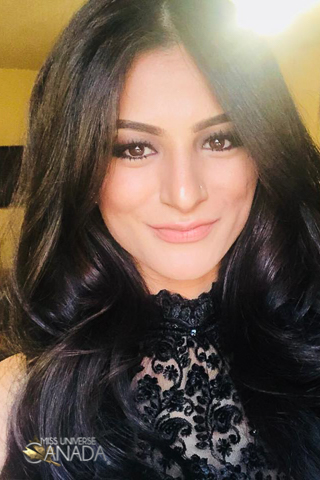 Height: 5'6
Hometown: Toronto, ON
Languages: English, Frasi, Hindu, Urdu
Occupation: Account Manager
Farishta Barez was born in Afghanistan and raised in Pakistan, and now a proud Canadian Citizen living in Toronto. She graduated from the University of Toronto where she pursued a double major in Urban Planning and Public Policy. Currently, she is working as an account manager at an IT consulting firm. She hopes to advance her career in consulting and work for one of the top consulting firms in the world. She also aims to be an accomplished business woman and help with philanthropic initiatives.
She is a proud woman that stayed resilient through the struggles of escaping war, settling in different countries and starting a new. In accordance with her father's advice – "lend a helping hand to those less fortunate", Farishta wishes to create a platform where people can first-hand help the orphans and the poor in underdeveloped countries.
Farishta is a traveler – she wishes to travel the world to observe and celebrate different cultures, languages, and lifestyles. Most importantly, she is interested in social justice. Thus she wishes to observe the world from a social justice lens and wishes to volunteer at different organizations and help those in need.
Sponsors
Family and Friends
Q&A
What are your interests and what do you enjoy doing the most?
I love travelling, reading, dancing, hiking, mountain climbing, and yoga.
In what sports, if any, have you participated?
Badminton and Volleyball
What is your proudest personal accomplishment (other than participating in this pageant)? 
My proudest accomplishment was when I landed in Canada and started a new life. Assimilating into a new culture, new language, new country, education system and employment was not easy but it was worth it. Today, I am a proud Canadian, I stayed resilient through all the challenges of life.
What is the most interesting or unique thing that has ever happened to you and/or what is the most interesting thing about you? 
I have never been to the gym, I maintain my body and lifestyle by eating healthy and engaging in outdoor activities.
What is your career ambition and what are you doing or plan to do to accomplish that goal? 
I aim to become an accomplished business woman. Every day I make sure I do one thing that will bring me close to my goal. It can be in the form of self-growth.
What would be your "dream job" in life?
My dream job is to be a successful entrepreneur that support philanthropic initiatives. My aim is to be an accomplished business woman to lend a helping hand to those less fortunate.
Describe where you were raised and what your childhood was like.
I was raised in Afghanistan, I grew up watching my family, relatives, my people struggle to escape war & prosecution and live a peaceful life with dignity. I grew up observing social issues at every level and that's when I determined to change the world starting with myself.
List any interesting or unusual jobs you may have had. 
In last year of university, I was involved in a research program with my professor where I got to work first hand with children of low-income families.
List any volunteering you have done.
I have volunteered throughout my life with different organizations. I always believed in lending a helping hand to those in need. One organization that stands out is Afghan Women Organization which helped new refugees assimilate into Canadian lifestyle and labour market by promoting different programs.
What is your most unusual talent?
I can dance – shuffling.
Where is the most interesting place you have been to?
Last year I visited Dubai – I was in awe seeing a such a luxurious man made city. However, what struck me and disappointed me the gap between the rich and the poor. I initiated conversations with taxi drivers, shop keepers – skilled labourers from other underdeveloped countries and I was disappointed to see such an imbalance in that part of the world.
What do you hope to be doing in ten years?
Aside from owning my own business, I hope to create a platform where people can first-hand help the poor, needy and orphans from underdeveloped countries. To work towards betterment of the humanity.
Is there anything you would like to add that we haven't asked?
I am part of a spiritual group – Sufism. Sufism is the mystical side of Islam that promotes the spiritual side of Islam to the west amidst the misunderstanding created by the media.