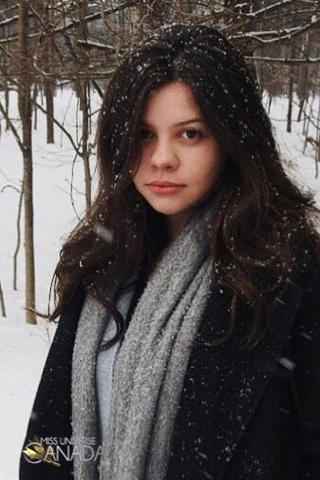 Height: 5'2
Hometown: Brampton, ON
Languages: English, Spanish
Occupation: Student at University of Toronto (History)
Michelle-Rocio was born and raised in Toronto, Ontario and later moving to Brampton. Coming from a Latin American background, Michelle learned to embrace her Hispanic roots as well as Canadian heritage and to learn about different cultures that Canada happily displays. Michelle can understand and speak almost perfectly in Spanish. Michelle is currently studying at the University of Toronto Mississauga, and majoring in History with the double minor of Political Science and English. She hopes to get into law school to fulfill her life-long dream of becoming a lawyer.
Since Michelle has a lot of love for history, it made her fall in love with the cinematography of other eras which lead to collecting footage from different periods and putting them together to music. Michelle also enjoys photography and photographing the world around her.
Early on in life, Michelle was diagnosed with Social Anxiety. Interacting with other people became a nightmare to get through and everyday life tasks became harder to do. Though with the help of the Canadian healthcare system, Michelle was able to gain access to therapists, medication and accommodations that helped deal with it and cope with Anxiety. This challenge has made Michelle more determined and persistent to overcome obstacles that her anxiety would keep her from doing. To move forward, Michelle continuously looked for opportunities to volunteer, this is a reason why Michelle made it an effort to volunteer in her schools Health Center to promote its services that helped her. This became one of Michelle's passions to advocate more about Mental Illnesses now that more people are talking about it and giving it more awareness.
Michelle spends most of her time at school working towards graduating and participating in her church with choir and teaching the kids about Christianity and understanding the Bible.
Michelle hopes to inspire and encourage young women and men on positivity and being brave to face challenges in life and find ways to get through them. "In any case you mustn't confuse a single failure as a final defeat" – F. Scott Fitzgerald.
Sponsors
Family and Friends
Q&A
What are your interests and what do you enjoy doing the most?
My interests vary from a genre of interests. I love photography, collecting period footage and putting them together, reading, watching movies with the people I love, singing at my church, and walking around.
List any special training you have had (music, art, drama, dance, etc.) 
I have been singing ever since I was very young, and I continue to do so at my church. I use to participate in my high schools drama club and took the acting courses.
In what sports, if any, have you participated?
I have always appreciated sports, I am a big fan of Soccer and Basketball, but I never participate. I am not a very coordinated person. I use to do Cross Country in elementary school, but that is as far as my participation goes.
Name one person, other than your parents, who has had the most influence on your life. Why?
I would not say one person has influenced me; but many people whom I have cross paths with have influenced me and shaped me into the person I am. It could be the most negative or the most positive, but I took something from those people and turned it into something that I am proud to take along with me in my life. But, if I had to choose one person I would say my brother. My little brother has autism and was told he couldn't achieve certain things or even go to college. He was able to surprise everyone by going to college and showing that he is not defined by his disability.
What is your proudest personal accomplishment (other than participating in this pageant)? 
My proudest moment was getting accepted to the University of Toronto. It was the school my Father wanted me to go to and I am grateful that I am currently a student.
What is the most interesting or unique thing that has ever happened to you and/or what is the most interesting thing about you? 
The most interesting thing about me is that I actually write poetry, which not many people know about. I love the play on words and how a small phrase can hold powerful and real emotion and memories.
What is your career ambition and what are you doing or plan to do to accomplish that goal? 
My career ambition is to become a Lawyer. It has been such a long-term dream of mine, and it is a career that I am very passionate about. I am currently doing my undergrad and plan to apply for Law school in the near future.
What would be your "dream job" in life?
My dream job would be a Human Rights Lawyer. I grew up knowing I wanted to do something with my life that involved helping people, and I
I want to be able to represent those whose rights are/were violated through the law.
Describe where you were raised and what your childhood was like.
I was born in Toronto, and grew up in Etobicoke and later moved to Brampton. I grew up with my parents and my two siblings. Since my parents immigrated from Paraguay, we did not have any extended family close by, so we only had each other and close family friends. I had an amazing childhood; my family and I are very close which I am so thankful about. A unique thing that separated my family from my peers was that my brother has autism; so helping my brother was the main focus in my family growing up. It made me into a more understanding and patient person because of this.
List any interesting or unusual jobs you may have had. 
I worked as a seasonal Merchandise handler at a clothing warehouse. It was very physically demanding with balancing my schoolwork but very fulfilling because I was able to earn my own money. It made me appreciate the value of hard work as this was my first job and I gained and learned many work ethics and life lessons.
List any volunteering you have done.
Cuddler – TCA (Toronto Cat Rescue- Petsmart)
Sterling Dentistry – Philanthropy walk
HCC (Healthy Campus Crew) – University of Toronto Mississauga
Arts and Crafts helper + Dance leader- Summer Camp – Iglesia Vida
CN Tower Climb
What is your most unusual talent?
I am double jointed and can bend my fingers back.
Where is the most interesting place you have been to?
The most interesting place I have been was going to my parent's country, Paraguay. It is a beautiful country and I love visiting and seeing the buildings and the area my parents grew up. Seeing my family is a big plus too. J
What do you hope to be doing in ten years?
In ten years I hope to be a well-established Human Rights Lawyer and successful at that, and hopefully have a masters in history specializing in either British history or WWII. I would also like to have a family; having a family of my own is something that I have always wanted over everything.
What I earnestly hope in ten years is that I am happy, with whatever the outcome may be, I hope for happiness.
Is there anything you would like to add that we haven't asked?
I am utterly thankful that I am getting the chance to participate in Miss Universe Canada 2018; this is something I would never have expected to participate in. This started as wishful thinking and I completely honored to have this opportunity.