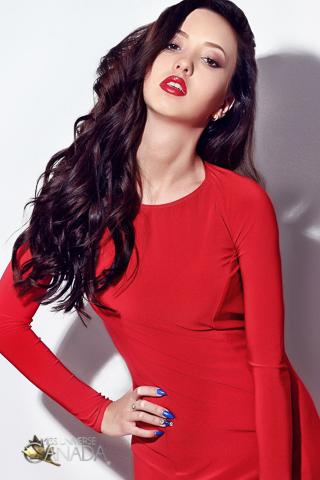 Height: 5'5
Hometown: Montréal, PQ
Languages: English, French, Russian, Ukrainian
Occupation: Student at Concordia University (Economics)
Olga was born in Ukraine and moved to Canada at a young age. Ambitious and motivated, she taught herself to work hard with dedication to achieve her goals. She is passionate about learning new things and is ready for any challenge that life will throw at her. From learning new languages, making new acquaintances to winning multiple ballroom dance competitions she is determined to be "number 1" at anything she does.
Olga studies Economics at the Concordia University and currently interning in that domain in a local firm. She teaches dance classes and attends multiple competitions. In the future, she would like to work as a Senior Economist in a well-established structure such as the Bank of Canada. She likes to travel, discover new cultures and the way of life abroad. She often visits museums and multiple art expositions because it enriches her inner world. When she's not at school and off work, she spends her time with her family and friends. Socializing with people is something she can't live without!
Sponsors
Family and Friends
Q&A
What are your interests and what do you enjoy doing the most?
I love to travel, read books, and spend time with my family and friends
List any special training you have had (music, art, drama, dance, etc.)
I took acting, modelling and dancing classes.
In what sports, if any, have you participated?
I did ballroom dancing for over 15 years. I participated in many local and international competitions.
Name one person, other than your parents, who has had the most influence on your life. Why?
My first elementary school teacher. She is the one who planted in me love for learning, knowledge and art. I think that she had a very special bond with every student. Thanks to her, I grew up curious, goal driven, strong-willed and decisive.
What is your proudest personal accomplishment (other than participating in this pageant)?
I moved to Canada with my parents when I was only 13 years old. I learned two new languages in one year, was transferred to a regular class and graduated school on time with my peers. At the same time, I graduated Russian school with enriched science, worked part time and never dropped my dance classes! Therefore, my proudest personal accomplishment is overcoming all the challenges and seeing the pride in the eyes of my parents and my loved ones.
What is the most interesting or unique thing that has ever happened to you and/or what is the most interesting thing about you?
Few years ago, a very popular Russian singer came to perform Montreal. I was hired as one of the two back-up dancers for the show. This was probably one of the best experiences of my life because I grew up to his songs. That day, I was able to perform with him on the same stage!
What is your career ambition and what are you doing or plan to do to accomplish that goal?
I plan on graduating University with my bachelor degree in Economics and continue with a masters degree in a relevant field. To accomplish my goal, I'll stay focused and continue challenging myself endlessly.
What would be your "dream job" in life?
I would dream to work as a Senior Economist in some very important institution such as Bank of Canada. Yes, that would be great!
Describe where you were raised and what your childhood was like.
I was born in a small town in the East of Ukraine. There, I graduated with "excellence" my elementary school. I started dancing and competing when I was only 5 years old. I could say that I spent my childhood on the stage. I would have up to 3 competitions/performances a week. My life was all about sports, education and learning. When we moved to Canada, I had to mature faster as I had to deal with new responsibilities and integrate in a new environment.
List any interesting or unusual jobs you may have had.
I will never forget the time when I was hired for a reality talent show.
List any volunteering you have done.
I love helping people and serving my community, but the lack of time has been a very big issue. Although I do my best by participating in charity events and fundraisers such as "walk so kids can talk".
What is your most unusual talent?
My most unusual talent is playing card games.
Where is the most interesting place you have been to?
Crimea is probably one of the most beautiful places in the world to me and it is very rich in history,
What do you hope to be doing in ten years?
In ten years, I see myself growing professionally in the field of economics. I would be happy to have a small enterprise to myself. Also, I dream about sponsoring children in need. I think that every child on Earth must be provided with education, safety, protection and health.