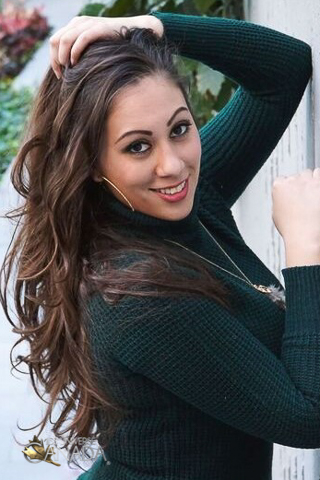 Height: 5'10
Hometown: Calgary, AB
Languages: English
Occupation:  Catering Event Lead
Samantha Morris was born in Regina, Saskatchewan and has been living in Calgary, Alberta for the last 15 years. She graduated in 2010 from CDI College of business, technology and Healthcare with her Medical Administrative Assistant Diploma and is currently working at a car auction as a Receptionist and Auction Clerk. On the weekends she also works at a catering company as an event lead. Hard work has gotten her higher positions and added responsibilities in any work place that she has entered and her plan in the near future is to attend Mount Royal University for the event planning course so that she may start her own small event business.
She believes that women have the ability to become strong leaders and active members in their community. Samantha is hoping to create an event to help women gain confidence and truly feel beautiful. She also hopes to teach others to embrace their differences and grow as individuals. She also wants to help women improve on their public speaking abilities but also encourage them to get involved in charity work and volunteer opportunities.
As a child, Samantha was constantly ill. Her visits to the doctors and hospitals became more common after she had appendicitis. So as an adult she supports a healthy lifestyle and does her best not to allow any restrictions into her life. She is a kind, caring and spontaneous individual who is self-motivated and for the most part self-inspired.
Samantha loves working with children and wants to motivate people to follow their hopes and dreams. By setting an example following her dreams, volunteering her time for charities and assisting others to do the same. She has also been the head judge at Central All Canadian Pageants, Alberta Division. Which she has been volunteering at for approximately four years. She has volunteered at the Mustard seed, Scotia bank marathon, and Breast Cancer runs as well. In previous years she has also volunteered for the Calgary Zoo lights during one of her previous titles. She hopes her experience in previous pageants nationally and internationally will help her to achieve her ambition of representing Canada as well as her community and Cree Heritage in the Miss Universe Competition.
Sponsors
9Round Woodbine, Ctrl V Calgary, Calaway Park, Heritage Park, House of Cars Macleod Trail, Monster Mini Golf, Shakers Fun Centre, VRkade, Exit Escape, Level1 Escape, Around the Bend, Sorrenti's Catering, Bijoux Hair Salon, Venetian Nails, Earls Barlow, Beddington Dental, Free House of Dance Plus, Venetian Spa, Family and Friends
Q&A
What are your interests and what do you enjoy doing the most?
I love self-development. Anything that I find interest in that I can to do to better myself is amazing to me. I love learning new things and meeting new people.
I also enjoy listening to music, interval training, baking, and helping other people get involved with volunteering opportunities.
List any special training you have had (music, art, drama, dance, etc.)
In high school I took Art and Broadcasting. Art gave me a deep understanding for different aspects of life while Broadcasting helped me to embrace music of all kinds and find peace and rhythm in music. I have also previously competed in many other competitions over the past years.
In what sports, if any, have you participated?
When I was in the early elementary years I played little league baseball for a few years, and in later elementary days I tried out for the cheer leading team as well as played a few games of basketball. I play bowling with friends and family and I also played Ringette when I was younger as well and was on the provincial Saskatchewan team three years in a row. I loved Ringette and loved being on the ice.
However, after my appendix burst, the surgery was so intense that I was told that I would be unable to return to sports right away because I would have to rebuild my stomach muscles.
Name one person, other than your parents, who has had the most influence on your life. Why?
There were two people that I could have chosen however; my boyfriend has been very influential in my life in the past 3 years. I always thought I was an independent person and that I was being the best version of me that I could have ever been. But since I met him, he has encouraged me to step outside the boundaries that I had placed upon myself; he has helped me to overcome my fears and to take a leap of faith when I normally would not have. He has stuck by me in the good times and bad times and when my biggest supporter, my step-father died, my boyfriend stepped up and encouraged me to do my best and follow my dreams. When I didn't want to wonder, "What could have happened if I competed for Miss Universe Canada again?" He supported the idea for me to compete because it makes me happy. After all "You can't make someone happy, you can only make yourself happy and share a life with another happy person."
What is your proudest personal accomplishment (other than participating in this pageant)? 
Becoming almost debt-free and winning the National Costume Award internationally are my two biggest accomplishments.
At the age of 27, besides my car payments, I am debt free. Years ago I had gotten myself into debt with student loans, loans, credit cards, etc. and I am so happy to be debt free after a lot of hard work, in today's society it can be very hard to be debt-free and I am so glad I was able to get to this important point in life that I can enjoy life. As well, when I competed internationally in Dominican I won the National Costume Contest while representing Canada. This made me so unbelievably happy since that was the award my father and I had worked so hard to design.
What is the most interesting or unique thing that has ever happened to you and/or what is the most interesting thing about you? 
The most interesting thing about me would have to be my will to fight through challenging situations. I have been able to push through difficult situations such as a severe appendicitis as a child that I had been in surgery for approx. 5 hours for but also to go through the passing of my step-father and travel to represent our country 3 days later internationally.
When something bad happens I am able to move forward, pick myself up quickly and look at the positive aspects of adversity. Everything that I have gone through has made me the strong women I am today and I wouldn't change anything.
What is your career ambition and what are you doing or plan to do to accomplish that goal? 
My career ambition is to make other people happy. I would like to host events such as weddings and confidence pageants. I am planning an event this year, much like a pageant, that allows amputees, and people of all ages to compete, learn and grow!
What would be your "dream job" in life?
My "dream job" would be to own a few small businesses. One being an event planning business so that I can continue to encourage women to embrace change, have confidence, strength, and love themselves more as individuals. I would also love to own a small bakery, but also to have the ability to volunteer my time to different charities around the world.
Describe where you were raised and what your childhood was like.
Until the age of 12 I was raised by a single mother in Regina, Saskatchewan. Often times my mother worked two, sometimes three jobs so it was up to my sister to help raise me. This was challenging as my sister is only a year and a half older than me so she missed out on a big part of her childhood trying to raise a younger more rebellious sister. However, after my appendix surgery my mother reconnected with an old friend and moved us to Calgary where together they did the best they could to give us the structure and stability that my sister and I needed to do well and enjoy life. They encouraged us to go out into the world and travel and follow our dreams.
List any interesting or unusual jobs you may have had. 
Being that I have an interest in encouraging youth to be themselves and have fun, I am so glad to work with Central All Canadian Pageants here in Alberta. Even though it is a Volunteer position I love going and seeing the kids have fun on stage and embrace their differences.
I also was a card dealer at a casino here in Calgary for a few years. I dealt a variety of table games and it was here, at the casino, that I met my boyfriend and I am so lucky to have had this experience but also to have met someone truly amazing.
List any volunteering you have done.
I have worked for the Samaritans Purse in Calgary a few times over the years inspecting present shoe boxes that go all over the world to kids for Christmas. As well I have done some volunteering with the Mustard Seed in Calgary in their sorting facility.
One of the Volunteer positions that I hold dear is the volunteering I do with Central All Canadian Pageants. Seeing kids happy and having fun is important to me, as well as helping other ladies get involved with volunteer as we usually need judges for many events throughout the year.
Some other places that I have volunteered are:
Zoo lights
Breast Cancer Run
Boo Halloween Party
SOS children's Charity fundraising in 2012
My work raising money for many charities every year
What is your most unusual talent?
I don't think this classifies as a talent per-say but I have this ability to laugh at myself when I fall. Whenever I take a tumble, instead of getting upset or becoming closed in I get up and dust myself off and have a chuckle and carry on. To me it isn't about falling and looking bad but more the lesson that you learn. Whether you fall in a career setting or fall down in life it is a lesson to help you learn and grow.
Where is the most interesting place you have been to?
There are two places that have stuck with me that were interesting places in different ways. Firstly, when I competed in Dominican one of the appearances that we had was to take school supplies to children in an orphanage there. This was a very special moment for me because I got to see children that were not only happy but the most amazing part was to see how truly grateful they were for simply a pencil and paper. Second, I remember in elementary school my class went on a ducks unlimited field trip. We went outside the city to a conservation park and explored and we were taught the importance of taking care of the environment. We see it all over the news, animals becoming extinct, environment changing and we are losing huge amounts of natural land due to poor judgement. These two places were unique and interesting in the fact that the memory has stuck with me and will for the rest of my life.
What do you hope to be doing in ten years?
Learning is something that I am passionate about however, I also believe in investing time into the community and youth. In ten years I hope to continue to work closely with charities and also travel with charitable organizations to different places in the world, but also to be hosting events that will teach other people in the community the importance of self-development, community service and charity work.
Is there anything you would like to add that we haven't asked?
I have previously competed in many pageants. Some of those pageants include city level, nationals and international pageants. I hope to use my experience to create an event much similar to a pageant for people who don't necessarily want to compete in a big competition but want to gain confidence, interview skills and stage presence.
It is extremely important to me that people learn how to love themselves as individuals. I do believe that bullying is something that needs to continue to be addressed and as national delegates we have the power to speak out and stand up against it. We also have the power as individuals to help others in our communities who have gone through tough situations and give people a safe and positive image to look up to.
Every woman has the ability to be beautifully confident with a purpose, we have the power to make a difference in the world. We need to work together make positive changes in our communities and I truly believe that the world can change.