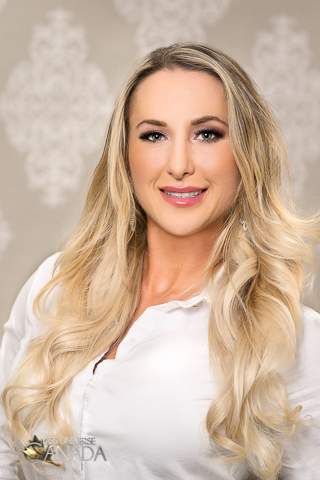 Height: 5'4
Hometown: Calgary, AB
Languages: English
Occupation: Registered Nurse
Sarah Hungar was born and raised in Calgary, Alberta with her mom and dad and younger sister who is also a nurse. She graduated from the University of Calgary with her Bachelor of Nursing degree, while being recognized on the Dean's list. She is currently working as a Registered Nurse in the Operating Room as well as at Glo Antiaging Treatment Bar in Calgary. She loves that her career constantly challenges her, that she is touched by so many lives and that she can impact many lives. Once she gains enough experience, she hopes to volunteer overseas to assist surgeries in third world countries.
She is a brand ambassador for a variety of companies that embrace the lifestyle she lives including ANS Performance supplements, Balance Everywear activewear and Big Sky Fitness training facility.
Fitness and health are a big part of her life and she has competed in four fitness competitions, placing top five at each one. At the2016 Alberta Bodybuilding Association (ABBA) show she was awarded the Ripped Femme award and is now a provincially qualified athlete. She was recently recognized in Inside Fitness Magazine in their Top 100 Hot and Fit.
When she isn't doing pushup challenges or volunteering in fitness competitions, she loves to enjoy the outdoors, whether it be camping, hiking or swimming. If she could be any superhero she would chose superwoman as she embraces strength, femininity and her outfit is always "on point"!
A quote she encompasses in everyday is "Be Kind, for everyone you meet is fighting a hard battle" – Ian Mclaren. It teaches us to sympathize for those who are struggling in some way, it may not be visible at the time, but a little act of kindness goes a long way.
Sponsors
Family and Friends
Q&A
What are your interests and what do you enjoy doing the most?
I love fitness and health improvement and have competed in four fitness competitions, placing top five in each. I love summer activities such as hiking, swimming, camping and enjoying a good camp fire with family and friends!
List any special training you have had (music, art, drama, dance, etc.) 
I am currently taking gymnastics classes weekly, as I have always had an interest and want to learn it and love to constantly challenge myself in learning new things.
In what sports, if any, have you participated?
I have played soccer and basketball growing up.
Name one person, other than your parents, who has had the most influence on your life. Why?
My best friend Jaclyn. Even though we haven't known each other that long, I feel like I have known her my whole life. She is one of those people that, when you meet them, you instantly have a connection and a shared purpose. She is incredibly thoughtful and we have the most fun of times together. Jaclyn has had a great amount of influence on my life through supporting me with everything and always making me laugh. I have so much to thank her for, and she truly inspires me every day with how hard working she is, her positive soul and her admirable outlook on life.
What is your proudest personal accomplishment (other than participating in this pageant)? 
Completing my nursing degree and making the Dean's list throughout my Program. I put my heart and mind into studying, participating in class and ensuring that I took every chance to further my education to the best that I could. Nursing school was challenging, and I learned so much about myself, about the public and interacting with people and caring for those in need. I am proud to be in career that is ever-changing and that I can impact peoples lives and that there are always ongoing learning opportunities.
What is the most interesting or unique thing that has ever happened to you and/or what is the most interesting thing about you? 
The most unique thing that has happened to me would be winning the Ripped Femme award at the 2016 Alberta Bodybuilding Association show, which was given to me out of over one hundred individuals. I worked so hard for this show, followed as my coach advised and gave it my all. I truly felt like hard work paid off.
What is your career ambition and what are you doing or plan to do to accomplish that goal? 
I want to advance my career as a Cosmetic Registered Nurse. I am currently working at Glo Antiaging Treatment Bar in Calgary where I am building upon my skills and knowledge. I love the ability to enhance individuals looks, provide education and learn new skills daily.
What would be your "dream job" in life?
I can honestly say that I have completed my dream job as being a Registered Nurse. It is a career where I am constantly learning and get the pleasure of taking care of many patients who impact my life as well as having an impact on their life. I feel a lot of people go through life in a job that "pays the bills", I figure if your going to be at your place of work for a good portion of your life, you should enjoy it, and it should not feel like a task each and every day.
Describe where you were raised and what your childhood was like.
I was born and raised in Calgary, Alberta by my mother and father. I have a younger sister, Nicole. My dad was surrounding by females, including our female dog, Molly, who lived to be 19 years old! It was a busy household, my parents worked full time jobs, my father working two jobs. We were very blessed to be able to go to school, play sports that we were interested in, as well as activities with friends. We had a very close neighborhood; all the parents would have garage get togethers and the kids would play games outside such as kick the can. My sister and I were always busy doing something and spent a lot of time together.
List any interesting or unusual jobs you may have had. 
I worked at the Calgary Stampede Casino for events and promotions which included Vegas themed events and UFC events.
List any volunteering you have done.
I have volunteered for the Mother's Day walk and Run here in Calgary where I participated in the First Aide team.
I have also volunteered at the mustard seed making lunches for those in need.
I continually volunteer at the Alberta Bodybuilding Association fitness competitions in Alberta, either helping to hand out awards or helping prepare the athletes backstage.
I had the pleasure of being a judge on the Miss All Canadian pageant team in March 2018.
What is your most unusual talent?
I excel at arcade basketball!
Where is the most interesting place you have been to?
Haiti. I was in my late teens when we stopped in Haiti for a cruise vacation. Seeing the culture and the poverty that encompassed the island was an eye opener. Seeing the joy in the residents faces and the happiness despite being barely able to barely meet basic needs, showed me the value in appreciating life for what is it, and taking each day as it comes.
I came to realize that happiness doesn't come from what you have, it comes from your outlook on life, the people who you surround yourself with and the simple joys that the world brings.
What do you hope to be doing in ten years?
I want to participate in a mission trip. I have been working on gaining more education and leadership roles working in the operating room. I would love to help over seas in a third world country and assist in providing surgery and care to those in need of it.
Is there anything you would like to add that we haven't asked?
I love meeting and learning about new people. I believe everyone has a story to share and getting to listen to individuals journeys makes my heart warm and drives me forward!