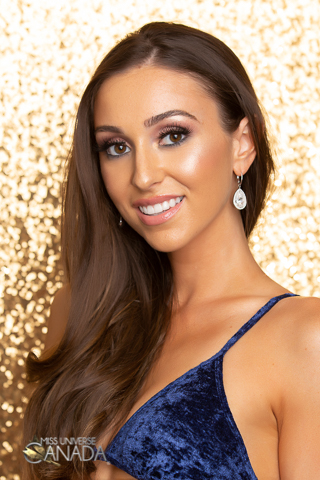 Height: 5'8
Hometown: Windsor, ON
Languages: English, French, Italian
Occupation:  Doctor of Pharmacy student, Pharmacy Assistant, Lifeguard/Swim Instructor, and Research Assistant
Nicolette Santilli is a hardworking, ambitious, and goal driven 23-year-old from Windsor, Ontario. Coming from a family of Italian immigrants, Nicolette is grateful for all the opportunities that Canada has provided her and her family. She is not shy to indulge in her Italian heritage, but considers herself a proud citizen of Canada, a country that has embraced and celebrated her diversity.
Nicolette is a firm believer that an education is one of the most valuable achievements in life. Nicolette obtained her Bachelor of Health Science degree and is pursuing a career as a pharmacist. She is currently in her third year of the Doctor of Pharmacy program at Wayne State University and was elected by the school to serve as the class vice-president. With a nearly perfect GPA, Nicolette was invited to join the Rho Chi Honour Society for ranking amongst the top 15 students in the entire program. She is passionate about her profession and plans to open her own pharmacy to serve her patients in the Windsor region.
Nicolette extends her passion for healthcare beyond the classroom and currently works with St. Frances Cabrini, a non-profit clinic where she provides free medications and health services for the homeless and underserved. Through this, Nicolette has realized how so many people lack quality healthcare. Nicolette hopes to use her pageant involvement to continue advancing her platform of serving both local and international underserved communities through healthcare.
In her spare time, Nicolette enjoys all things fitness. She has run 3 half marathons and hopes to run her fourth this October. She has been practicing yoga for 3 years and considers herself a "yogi-in-the-making." Her active lifestyle has led to several modeling opportunities.
Nicolette had the honour of being crowned Miss Via Italia in 2016 and placing in the top 5 of the Miss Universe Canada Western Ontario Preliminaries. With a well-rounded background and confident stage presence, Nicolette hopes to serve as an inspiration to young girls everywhere that no matter your upbringing, with hard work and dedication, you can achieve anything.
Sponsors
Video
Q&A
What are your interests and what do you enjoy doing the most?
Living a healthy and active lifestyle is my passion. I love going for runs and practicing yoga. I enjoy baking and putting my own healthy spin on everyday recipes- my friends and family call me the "avocado queen" because I'm always looking to substitute this healthy superfood into recipes.
List any special training you have had (music, art, drama, dance, etc.)
Competitive Dance (Tap, Ballet, Jazz, Contemporary, Ballroom, HipHop)
Improv Training
Public Speaking
Piano
Flute
Certified Aqua Fitness Instructor
Certified Spin and Land Fitness Instructor
Certified National Lifeguard
CPR/AED/First Aid
In what sports, if any, have you participated?
My younger brother and I have always been extremely close, so my parents enrolled us in multiple sports together. I have so many fond memories of soccer, golfing, swimming, and chess and I'm so glad I got to experience these times with my brother, Tyler. We still play all of these sports today.
I played on a soccer team for 4 years but decided to end my involvement because I wanted to try golfing. Some of my best times and worst sunburns all happened on the golf course. I have played in 6 local, 2 provincial and 2 national golf tournaments and my best score on an 18-hole round was 81. With a busy schedule now, I only have time to golf during the summer or when on vacation, but I still enjoy it! One sport I especially enjoy is swimming. I completed all my swimming levels which led to me being a certified Lifeguard. Lastly, I played on a chess team growing up and I competed at the national level twice. Needless to say, I am always ready for a good chess match.
Name one person, other than your parents, who has had the most influence on your life. Why?
Dr. Thair H. Yousef. When I was 13 I shattered my left arm in a gymnastics accident. I lost mobility of my elbow joint and was told I would never be able to move my arm from the shoulder downwards. My parents contacted several orthopedic specialists who all told them there was nothing they could do for me. I'm grateful that my parents didn't give up and that they found Dr. Yousef. After several operations and 9 months of physiotherapy I have nearly full mobility of my arm with only a few scars to tell the story. Being so active, I can't imagine what my life would be like without Dr. Yousef's intervention.
What is your proudest personal accomplishment (other than participating in this pageant)?
My proudest personal accomplishment was when I crossed the finish line of my first half marathon. I had trained nearly 10 months for that moment, and I felt on top of the world.
What is the most interesting or unique thing that has ever happened to you and/or what is the most interesting thing about you?
I was on my way to a volunteer trip in British Columbia, and just as my plane landed, I heard a woman screaming. Being a lifeguard, my first instinct when I sense trouble is to react. I ran to the front of the plane and observed her 6-year-old child choking. I encouraged the young girl to stand up and I performed the Heimlich maneuver. After a quick 5 seconds, her airway was cleared. The entire airplane gave me a standing ovation, and I later found out that the young girl's mother was also participating in the volunteer trip. I still keep in contact with them today.
What is your career ambition and what are you doing or plan to do to accomplish that goal?
My career ambition has always been to become a Pharmacist. I love how accessible pharmacists are in their community. I am actively working towards this goal and have nearly achieved it- I am in my third year of the Doctor of Pharmacy program at Wayne State University.
What would be your "dream job" in life?
My dream job would be working as a healthcare provider and business woman. I want to open my own Pharmacy to serve the patients in my community that I know and love.
List any interesting or unusual jobs you may have had.
My first job was working in a teacher supply store. I loved it. This experience made me truly appreciate teachers and all the hard work they put into their classrooms.
List any volunteering you have done.
Healthcare is my passion. I am proud to volunteer with St. Frances Cabrini, a non-profit clinic where I help to provide medications and health services to homeless and underserved populations. I work with a variety of patients with a number of health conditions. Some patients enter the clinic with a sore throat or cold and we treat them quickly. Other patients with chronic diseases like diabetes or high blood pressure are managed long term. Regardless, I enjoy building a relationship with each person, addressing their healthcare needs, and getting them back on a path to health. In addition, I have experience volunteering with Windsor Regional Hospital Cancer Center, Canadian Cancer Society, Transition to Betterness, Fighting Aids with Nutrition (FAWN), and Dragon Boats for Breast Cancer.
What is your most unusual talent?
As a result of my yoga training, I can hold a headstand for up to 5 minutes.
Where is the most interesting place you have been to?
Eagle Plains in Yukon Territory. I got to witness the Northern lights and it was incredible. This was truly the most exquisite and amazing display of nature I have ever experienced.
What do you hope to be doing in ten years?
In ten years I hope to be a successful healthcare provider, business woman, and humanitarian. As a future Pharmacist, I want to open my own Pharmacy to serve the patients in my community that I know and love. In addition, I hope to establish and operate non-profit clinics both locally and internationally to provide healthcare services and medications to underserved communities.
Is there anything you would like to add that we haven't asked?
I would like to thank Miss Universe Canada and Beauties of Canada for giving me the chance to compete to represent Canada internationally. I am determined to make my friends, family, and country proud!