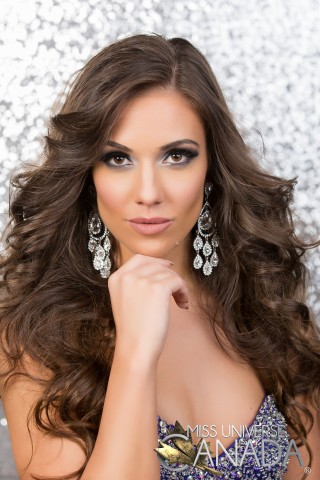 Amber Bernachi, the first runner up at the 2016 Miss Universe Canada competition will be representing Canada at the Miss International 2016 pageant taking place in Tokyo, Japan on October 27th 2016. We would like to wish her the best of luck in the competition.
Amber Bernachi is a confident, independent woman who believes anything is possible with a strong vision and positive approach. She is a goal setter and achiever who won't let anything prevent her from attaining her dreams. She has a passion for traveling, volunteering, reading and fitness. She was raised in the small, riverside town of Amherstburg, Ontario. Her passion for living life to the fullest drives her to step outside of her comfort zone as often as possible. She loves to inspire others to do the same and believes that there are no limits to life, except for the ones we create ourselves. A positive attitude and determination is Amber's strategy for success.
She recently graduated with a Masters of Business Administration degree from the University of Windsor, completing her last semester as an exchange student in Rouen, France. She has also earned three other degrees; Honours Business Administration, Bachelor of Arts: Political Science and Bachelor of Education, from the University of Windsor. Academics have always been an important priority in her life.
Amber likes to balance hard work with exciting and rewarding experiences. Amber enjoys traveling around the world and experiencing new cultures, landscapes and meeting different people. The most impactful experience of her life was when she had the opportunity to travel through Thailand as a volunteer, working in an orphanage, a day care center and within the underdeveloped communities. The children made a huge impact on Amber's life and will forever hold a spot in her heart. She hopes to one day return to Thailand and to also travel to other areas of the world that are in need. She has visited over 30 countries and is always looking forward to her next opportunity to travel. She believes that life is enriched by the people you meet and the experiences you create with them.
Volunteering has always played an important role in Amber's life, whether it is coaching minor soccer, dance, figure skating or traveling halfway across the world to work with children. She enjoys fundraising and has organized many events within her community. She has also volunteered at a number of events held by Transition to Betterness, a local charitable foundation, which provides comfort to those in hospice care. In 2014, Amber co-founded the charitable organization, Karma Crew, which has hosted events to raise money for the purchase of a 3-D mammography machine for a local community hospital. Amber is a confident, positive role model who hopes to inspire others to be fearless in pursuing their own passions. She believes that life is truly what you make of it and there are no limits.
The most important lesson Amber has learned is that the secret to happiness is found in the acceptance of self. Life is about finding yourself and your passion, it is about being happy in your own skin and accepting yourself for who you are; mind, body and soul. Her motto is, if you don't like something about your life, change it. Everyday is a new chance to start over and become the person you want to be.