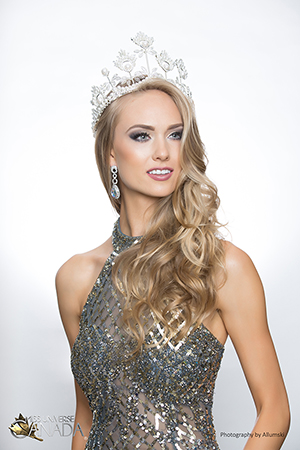 Lauren is a recent Industrial Engineering graduate who is working as a project manager, actress, model, sports host and entrepreneur. As a self-proclaimed "geek", Lauren is passionate about using digital tools to develop creative and innovative solutions to problems facing both businesses and people in need. She aims to encourage young women to explore STEM-related fields and provide them with the technical knowledge they need for success and creating lasting change in their communities. Lauren is a health and fitness advocate who enjoys photography, filmmaking, hiking, scuba diving, snowboarding and surfing in her spare time.
While studying at the University of Toronto, she realized how creative ideas combined with science and technology have the power to shape the world we live in. For example, she traveled to high density, low-income neighbourhoods of Mumbai with an organization to help design and implement sanitation facilities that use waste recycling technologies to create grey water and biogas.
Having been a provincial field hockey athlete, sports and fitness have always been central to her life. While in her final two years of University, she worked as the In-Arena Host for the Toronto Maple Leafs. This involved her speaking to a live audience of 20,000 individuals at each home game, regularly interviewing athletes, alumni, special guests and some of the best fans in the NHL. She has also hosted for the IIHF World Juniors, the 2016 Toronto Pan Am Games, the 2016 Grey Cup and the 2017 Rogers Cup. After graduating, she worked in Sales Strategy at adidas Group Canada. Across all these experiences, she began to see the direct impact of how sport has the power to change lives. Lauren strives to continue this mission through her continued involvement in the industry.
Having traveled to all seven continents by the time she was 19 (including Antarctica!), Lauren has always had a natural inclination to learn about different cultures. She has volunteered with multiple not-for-profit organizations internationally, including Ghana, India, Peru and Nicaragua and has photographed the Norwegian Arctic under the mentorship of a National Geographic photographer. Using the reporting skills she has developed throughout her life, Lauren aspires to create short films that will help amplify the voices and stories of individuals whose voices are not heard as loudly as the rest of the world.
Lauren's public speaking skills, education, humanitarian nature, ambition and determination compliments her pageant experience as Miss Teen Canada 2011, 4th Runner Up at Miss Teen World 2012 and 2st runner up at Miss Universe Canada 2014. Lauren is determined to make Canada proud on the Miss Universe Stage.
Our Titleholders
2016 – Siera Bearchell
2015 – Paola Nunez
2014 – Chanel Beckenlehner
2013 – Riza Santos
2012 – Sahar Biniaz
2011 – Chelsae Durocher
2010 – Elena Semikina
2009 – Mariana Valente
2008 – Samantha Tajik
2007 – Inga Skaya
2006 – Alice Panikian
2005 – Natalie Glebova
2004 – Venessa Fisher
2003 – Leanne Cecile