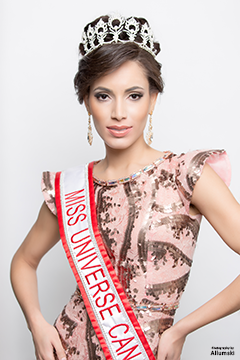 Paola Nunez was born in the Dominican Republic and raised by a large and musical family, many of them performers born for the stage, and Paola was no exception. She began dancing when she was six and had her big television debut a year later. When she was ten her mother brought her to Canada but the transition was difficult, in large part due to the language barrier, and Paola was frequently bullied at school. She made it her mission to become fluent in English so she could stand up for herself and quickly impressed her teachers with her cleverness. Her confidence increased, and she graduated as an honors student with an academic achievement award.
As a student council member in high school she remained physically fit, participating in numerous sports while training extensively in jazz, hip hop, ballroom, samba and belly dance. She joined a dance group, performing at private and charitable events and at different Latin festivals in Miami, LA and New York. She also became captain of the school dance team, winning them numerous trophies. In addition to dancing she worked as a model, doing fashion shows for fundraisers to support worthy causes. She was a natural on camera, and her poise, grace and charisma won her much praise.
Paola passionately believes in giving back and dreams of making a difference. She has volunteered her time at numerous fundraising events, among them building schools for needy children in the Dominican Republic, assisting victims of the Haiti earthquake and for the Sickle Cell Association in Ontario. She learned to value self-reliance, education and resilience from her grandmother, a key influence in her life. Considered personable, outgoing and generous by her peers, her outlook on life is overwhelmingly positive as she always strives to be a better human being. She considers the only limits you have are the ones you set for yourself.
This will be Paola's third pageant. To this competition, she brings a pride in her Canadian identity and the diversity associated with its culture, along with a maturity exceeding most girls her age. Obtaining the title of Miss Universe Canada would allow her to pursue her many dreams, among them a career in television, culinary training and entrepreneurial ventures. She will graduate in business-accounting at Humber College in June and hopes to open her own restaurant. Most of all, it is her goal to participate in anti-bullying initiatives, drawing on her own experience as fuel in the quest to help others. An altruist at heart, she puts a high premium on a healthy lifestyle: exercise, sleep and a well-balanced diet.
Our Titleholders
2014 – Chanel Beckenlehner
2013 – Riza Santos
2012 – Sahar Biniaz
2011 – Chelsae Durocher
2010 – Elena Semikina
2009 – Mariana Valente
2008 – Samantha Tajik
2007 – Inga Skaya
2006 – Alice Panikian
2005 – Natalie Glebova
2004 – Venessa Fisher
2003 – Leanne Cecile