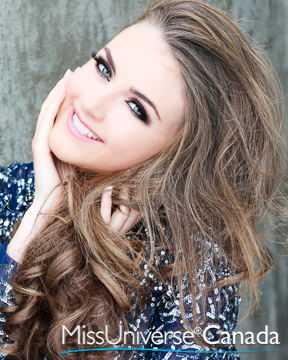 Height: 5'7″
Hometown: Tecumseh, ON
Alyssa was born in Sudbury, Ontario, moved to Windsor with her family when she was two years old. She graduated with honors from St. Anne's High School, and is presently pursuing her academic path in Business at the University of Windsor, with hopes to specialize in advertising. She leads a very active lifestyle, seeking every opportunity to sample the simple pleasures in life. Her energetic and enthusiastic behavior allows her to get involved. Sports have been an integral part of her life. She has participated in numerous sports predominantly soccer, hockey, and dance. Tapping into her artistic side she has developed an interest in drawing that she continues to pursue as a side hobby. She has sampled music through piano and singing lessons. She makes every minute count, for in between her classes and activities, she works part time as a dancer for Windsor Express, and a hostess for Buffalo Wild Wings. Recently she sought volunteer work that integrates her love for athletics with her interest in the elderly. On a weekly basis, she helps out with aerobic classes, teaching the seniors the importance of exercise, a fulfilling experience. In spite of her busy schedule she always makes time for friends and family.
Languages spoken fluently (please include your native language if English is not your native language).
English
What are your interests and what do you enjoy doing the most?
I enjoy the thrill of sports whether it is watching it or participating as a player, especially hockey. I am not limited there for I spend much of my spare time dancing, cheerleading and working out. For leisure activity I love vacationing with my family and spending time with my friends whether it be at school or just hanging out in the evening.
List any special training you have had (music, art, drama, dance, etc.)
Over the years I have found interest in the arts, taking lessons in singing, drawing, piano and dance. My focus was directed in dance, where I spent 5 years specializing in jazz, hip-hop and lyrical. This training landed me the opportunity to become a dancer for the Windsor Express basketball team.
In what sports, if any, have you participated?
Sports participation is an incredible past time for me. I have played hockey as a goaltender in the winter months for six years, while soccer has been my summer sport since I was four years old. In high school I was on the soccer and dance team. I have sampled other sports by taking lessons in golf, swimming, skiing, gymnastics, and cheerleading.
Name one person, other than your parents, who has had the most influence on your life. Why?
My nonna is one of the most hard working and energetic people I know. The hardships she has endured over the years, has set an example of determination and perseverance. She overcomes what ever is thrown her way, for she will not be defeated. Her strength has inspired me to do my best in everything that comes my way, no matter what obstacles stand before me.
What is your proudest personal accomplishment (other than participating in this pageant)?
My proudest personal accomplishment was obtaining the recognition of honour roll in grade 12 at the academic level. It was so much more satisfying because at the grade 8 level I was recommended to pursue an applied pathway. In spite of that advice, I did not want to limit any potential I may have had.
What is the most interesting or unique thing that has ever happened to you and/or what is the most interesting thing about you?
The most interesting thing about me is that I dream big. I strive to reach the unattainable, and I don't settle for less.
What is your career ambition and what are you doing or plan to do to accomplish that goal?
My career ambition is to be part of the business world, with the focus in sports marketing or advertising. I presently attend the Odette School of Business at the University of Windsor as the foundation to attain this goal.
What would be your "dream job" in life?
My "dream job" is to be an ice girl for a professional hockey team. It is an amazing opportunity to combine the love of hockey with the passion of dance. This is a new and unique role for the game of hockey.
Are you currently a student?
Yes
If yes, where?
The University of Windsor
Area of study:
Business Major, Mathematics minor
Are you currently employed?
Yes
If yes, what is your occupation?
Hostess/Cashier at Buffalo Wild Wings
Describe where you were raised and what your childhood was like.
I was raised in Tecumseh, Ontario by two loving parents along with my older sister and younger brother. There was always laughter, fun and good times. I was fortunate to be given the opportunity to participate in various activities and sports. These experiences have provided me a well-rounded foundation, allowing me to build on my strengths. My family's continued support and encouragement have permitted me to follow my dreams, and for that I am very thankful.
List any interesting or unusual jobs you may have had.
Dancing for Windsor Express is a unique job. I have the opportunity to perform in front of an audience while cheering for a team.
List any volunteering you have done.
I have volunteered at Extended Care Nursing home, cleaned Pike Creek, taught in a hockey clinic, and now I am an assistant at "Life after Fifty" as an aerobics instructor.
What is your most unusual talent?
My hips are double jointed; I have a full 180 turn out and can do the middle splits.
Where is the most interesting place you have been to?
The most interesting place I have been is the Grand Canyon, one of the seven natural wonders of the world. The depth and width are amazing while the colours are breathtaking.
What do you hope to be doing in ten years?
In ten years I hope to be established in a successful company, married with a family.
Is there anything you would like to add that we haven't asked?
There are two groups of people I would like to support.
The first is people with mental illness. Having friends and family that have been affected by this, it is my hope that I can bring some awareness to the community. First hand, I have seen the need for more community-based programs to integrate these individuals.
The second group of people is the elderly. With a growing senior population who remain quite healthy and active, more programs should be provided for them to mingle and find companionship. It would give them a sense of belonging and fulfillment. I feel that we should give back what was given to us.