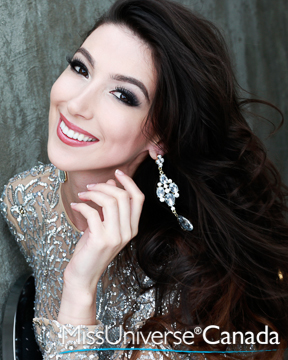 Height: 5'10″
Hometown: Mississauga, ON
Andrea was born in Sarajevo, Bosnia in 1987. This was a pivotal time in the separation of the former Yugoslavia that uprooted many families, including Andrea's to Belgrade, Serbia and eventually Mississauga, Ontario. Having not spoken a word of English upon her arrival, Andrea was fluent after only 3 months! As an energetic, positive, and charismatic child, she found herself interested in dancing, acting, and modeling.
Andrea dreamed of being a performer, which led her to attend Cawthra Park Secondary School for the Arts. She would later live out that dream on a variety of stages, including TV series, commercials, print campaigns, and modeling for runway shows during Toronto Fashion Week.
Although Andrea loves modeling and acting, you can tell she has the whole package by her educational achievements. Andrea holds a degree from the University of Toronto, in political science and a diploma from Sheridan College for Digital Communications and is currently working toward getting her Canadian Securities Certification.
Andrea was working for an online advertising company in downtown Toronto but has decided to take a leave of absence to pursue her dream of being an international fashion model and is currently living in Shanghai, China. An ambitious young professional, Andrea strives to one day run a business of her own.
Her love of travel has led her to explore over a dozen countries, and she plans to visit all eight wonders of the world; she's already crossed three off her list!
Andrea gladly welcomes the unknown and unfamiliar and looks forward to tackling any challenge that comes her way!
Sponsors:
Jumbleberry, Whitestoneauto, Qi Tranquility Spa & Laser
Languages spoken fluently (please include your native language if English is not your native language):
Serbian and English
What are your interests and what do you enjoy doing the most?
I would consider myself to be very adventurous. I think it's healthy to step out of your comfort zone and do something that scares you every once in a while. I love to challenge myself, so last year I started learning how to ride a motorcycle! I am a complete foodie, whether I am cooking at home or out for dinner somewhere new. My love for travel has taken me to over a dozen countries, where I try to live like a local while taking pictures of the scenery and architecture the whole way.
List any special training you have had (music, art, drama, dance, etc.) 
Acting for Film; Filmprov Course with Tony Babcock
Audition Workshop with Sevag Savgherian/Impact Casting
On Camera Audition Techniques with Gloria/Steven Mann
Communication Workshop at Second City
Dance (Hip Hop) with Sean Byfield
Dance (Jazz) with Laura Furtado
In what sports, if any, have you participated?
My newfound love is yoga! But I've also participated in skiing, swimming, tennis, volleyball, ice skating, biking, soccer, rollerblading, badminton, basketball, baseball, rock climbing, sailing, water skiing, fishing, canoeing.
Name one person, other than your parents, who has had the most influence on your life. Why? 
My aunt has had the most influence on me. Being a war widow, she has been faced with many obstacles in her life that she has overcome with a positive attitude. She is a strong woman who taught me to always be thankful for what I have, remain positive no matter what life throws at you, and keep pushing forward!
What is your proudest personal accomplishment (other than participating in this pageant)? 
Growing up, my parents taught me that independence and intelligence are the two most important things a woman can possess. Following their advice, I made it my priority to finish University and become self-sufficient as early as possible. I paid for both my University degree and College diploma out of my own pocket. Going through that experience taught me the value of a dollar and better prepared me for the real world. The level of satisfaction I felt when I graduated was indescribable!!
What is the most interesting or unique thing that has ever happened to you and/or what is the most interesting thing about you? 
Every time I talk about someone I haven't seen for a long time, they have a weird way of coming back into my life shortly thereafter. I must have a strong, magnetic energy!
What is your career ambition and what are you doing or plan to do to accomplish that goal? 
My career ambition is to turn my passion for fashion into a career. I think I'm well on my way to accomplishing this goal with a big head start having been involved with fashion and modeling for many years. I was recently working for an online marketing company, where I learned business, advertising and e-commerce fundamentals. I plan on taking the knowledge and skills I have acquired and applying it to a position in the fashion industry. Eventually, I'd like to start my own online fashion business.
What would be your "dream job" in life?
It would be my dream job to be a television journalist. I would love to travel the world speaking with people from all walks of life to bring light to their stories. I believe everyone has a story to tell and if they chose to, I would be honored and humbles to be able to communicate their story through a medium like television for the world to see.
Are you currently a student?
Yes
If yes, where?
CSC Global Education
Area of study:
Canadian Securities
Are you currently employed?
Yes.
If yes, what is your occupation?
International Model / Project Coordinator for an online marketing company
Describe where you were raised and what your childhood was like.
I had an interesting childhood, having been born in Sarajevo, Yugoslavia during a time of war and civil unrest. The war forced my family to move to Belgrade, Serbia when I was 5 and then, eventually, Mississauga, Ontario when I was 8. Despite the difficulty of having to move from country to country at a young age, it has instilled in me a desire to continue traveling and explore the world. Having been around a lot of different races, cultures, and religions, I learned to be understanding, respectful, and accepting of everyone around me. Through traveling, I gained a lot of independence and life experience in a short amount of time. These experiences have had a lasting impact on my life and have helped shape me into the person I am today.
List any interesting or unusual jobs you may have had. 
I was in a Chinese Victoria's Secret fashion show. The whole show was an imitation of the official Victoria's Secret Fashion show from last year with the same songs and outfits. Each model represented one of the supermodels from the official show; I was the red angel, who was Adriana Lima in the real show.
List any volunteering you have done.
I volunteered for and non-profit organization called Women in Film and Television. Their goal is to provide tools and workshops for Canadian women in film and television to further their career. I've also participated in dozens of charity fashion shows in Toronto and all around the GTA. I am also involved with a charity called Scribble Me Silly that works to bring the arts to young victims of violence through creative workshops put together by local artists. I've had the privilege of speaking at these workshops and it was such a rewarding experience.
What is your most unusual talent?
I can hula hoop for a very, very long time!
Where is the most interesting place you have been to?
I've been fortunate enough to travel to a lot of incredible places but the most interesting has been China. It differs greatly from North America that you can't help but feel way out of your comfort zone. While living in Beijing, I got to visit and walk along the Great Wall of China, which was a humbling and breathtaking experience. And at night, both Beijing and Shanghai are vibrant and full of energy. I love it! Can't wait to go back!
What do you hope to be doing in ten years?
In 10 years, I hope to have achieved something that I can be proud of, that brings me daily happiness and content. I hope to be living out my dream as a successful fashion entrepreneur with the resources to help other woman entrepreneurs in my community make their dreams a reality. I see myself as a loving wife and mother, surrounded by a happy and healthy family. I hope to be a published author and inspire people with my life story, which is one of hard work, persistence, and positivity.
Is there anything you would like to add that we haven't asked?
It would be a dream come true to represent my country at the Miss Universe competition. I feel that the ideal candidate is recognized for her beauty, intelligence and class equally, which are the things I value the most in myself, and women around me. More than just winning a crown, the title would allow me the opportunity to represent my country, and through my story, hopefully inspire young woman to be empowered to achieve their dreams.
I would also like to thank the whole Miss Universe organization and the Miss Universe Canada staff that has been so incredibly patient and supportive. Thank you for this opportunity and for allowing me to be a part of this unforgettable experience! BIG THANKS to my sponsors, family and friends for their endless love and encouragements, I couldn't have done it with out you!!!!