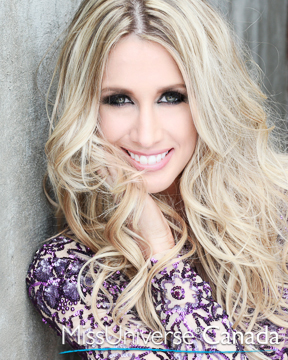 Height: 5'9″
Hometown: Ottawa, ON
"Be inspired by what you understand, and driven by what you do not" – Scientists Manifesto
A saying Ashley constantly applies to her life, always searching for new opportunities and ways to make a difference. Countless hours of watching National Geographic and fishing with her father sparked curiosity and inspired her from a young age to pursue a career in science. This passion for discovery has resulted in her obtaining two Bachelor of Science degrees in Biomedical Science and Biology and a Masters in Microbiology. Her MSc has provided her the opportunity to work with a variety of organisms and present at numerous conferences, even being honored with awards for her research. She plans to continue her education and obtain a PhD in Microbiology.
Ashley applies this ambition for learning and discovery to other aspects of her life as well. Experimenting by day, she spends evenings and weekends playing sports such as soccer, basketball and volleyball. She is always ready to try new activities, and has recently found herself enjoying Muay Thai and yoga.
In her spare time Ashley enjoys baking, cooking and playing the guitar, and was ecstatic to FINALLY manage to play bar chords this past year. She also loves anything and everything Sci-fi and often finds herself reading about our Universe and theoretical technologies (did you know NASA is actually beginning work on Warp drives?).
Ashley strives to be a compassionate and generous person, helping others in any way she can. She is determined to accomplish goals she has set for herself and to empower and inspire others. Success is defined on an individual basis and that what is important is that you set goals and pursue your dreams.
"If you are afraid to be wrong, you will never learn anything new"
Sponsors
The Heart and Crown, Susan Creasy Financial Inc, Makeup Muse, UMTBC, Gongshow Gear, RD Cooper Appraisals, Friends and Family
Languages spoken fluently (please include your native language if English is not your native language).
English
What are your interests and what do you enjoy doing the most?
I love playing sports! I've mainly stuck to volleyball basketball and soccer, however recently I've dabbled in Muay Thai and flag football as well. Involvement in both recreational and competitive contexts has not only contributed to my fitness but also played a tremendous role in my social life. Sport is a vehicle I use to decompress during times of stress, and provides physical and mental challenges that allow me to grow.
I also love baking, cooking, and playing the guitar (a passion which continues to grow with every new song I learn).
List any special training you have had (music, art, drama, dance, etc.)
I was a dancer for 10 years (jazz and ballet), but gained more of an appreciation for the arts and music when I was introduced to the flute and the guitar. Learning these instruments came surprisingly easy to me. Although I have mastered neither, I really enjoy playing music and find it allows me to zone out and express myself.
In what sports, if any, have you participated?
I played on the high school track, basketball, volleyball and soccer teams and have participated in multiple championships including three trips to OFSAA provincial championships (Ontario Federation of School Athletic Associations). I also played on an Ontario Basketball Association (OBA) team for a year and participated in swimming lessons throughout my youth. Soccer was my favorite sport growing up which resulting in my coaching and reffing the sport throughout school. I continue to play on intramural and recreational sports teams as well as participating in Muay Thai and the occasional yoga class.
Name one person, other than your parents, who has had the most influence on your life. Why?
My thesis supervisor Dr. Catherine Carillo has had the largest influence on my life. She is one of the most intelligent, down-to-earth, esteemed scientists I've ever met. Her ability to constantly produce new experiments and ideas fascinates me. Although she is extremely busy with her own family and career she is always available to someone in need. I aspire to accomplish what she has in life, and can only hope to do so with the same amount of creativity, compassion, grace and humor she has exhibited.
What is your proudest personal accomplishment (other than participating in this pageant)?
I have been extremely fortunate to have achieved many wonderful accomplishments in my life. My proudest accomplishment thus far would have to be the completion of my Masters in Microbiology. (Thesis writing has taken much longer than I anticipated. It was a long road, but definitely worth all of the late nights and broken flasks.)
What is the most interesting or unique thing that has ever happened to you and/or what is the most interesting thing about you?
Something I find unique/interesting is that at the age of 26 I have yet to break a single bone in my body (knock on wood).
What is your career ambition and what are you doing or plan to do to accomplish that goal?
I am intrigued by everything in the science realm. Throughout childhood I always enjoyed watching documentaries and learning about the universe, and all of the organisms that thrive here on Earth. With age my interests have swayed towards microbiology and immunology. Having always been fascinated with viruses, and unfortunately watching many friends and family members succumb to cancer, I am hopeful to begin research in the field of oncolytic viral therapy (fighting cancer using viruses as vectors). I would like to complete a PhD in microbiology and immunology and some day command my own research laboratory.
What would be your "dream job" in life?
My dream job would allow me to not only be in charge of my own lab, but also travel the world and collaborate with other scientists and groups towards a common research goal. Ideally I will be able to take a multidisciplinary approach to experiments, and work with others learning new techniques and meeting people of different backgrounds along the way.
Are you currently a student?
Yes
If yes, where?
University of Ottawa
Area of study:
Master of Sciences in Microbiology and Immunology
Are you currently employed?
Yes
If yes, what is your occupation?
Laboratory technician by day, bartender at night
Describe where you were raised and what your childhood was like.
I was raised in the small town of Amherstview, Ontario, right outside of Kingston. My younger brother and I spent the majority of our time outdoors biking, swimming, and playing soccer. We also frequented our grandparents' farm during the summers. Our parents were incredibly encouraging and supportive of all our endeavors (of which there were many) and allowed us to play any sport or instrument we desired. The praise I received from the people and the city last year following the Miss Universe Canada 2013 competition was incredible. I am very proud of that beautiful little town, which seems to grow more and more every time I travel home.
List any interesting or unusual jobs you may have had.
* Soccer Referee
Reffing a sport gives you an appreciation for the patience, observational skills and attention to details referees have.
List any volunteering you have done.
Soccer coach – 4 years in Amherstview
Fight for a Cure and Fashion for a Cure
What is your most unusual talent?
I am sometimes ambidextrous when working in the lab or bartending, and occasionally when I'm cooking. However, this may just be a result of me trying to finish work efficiently (as quickly as possible). I also do a lot of voice impressions, not of anyone in particular, but just voices I make up in my head. I have yet to determine whether my close friends find this irritating.
Where is the most interesting place you have been to?
A few years ago I spent some time in Kelowna, BC. It is a gorgeous town complete with pristine lakes, forests, beaches and mountains. The views are spectacular, the hiking is an enjoyable workout, and the vineyards sparked my interest for wine.
Travelling to more places in the world is one of my goals. I feel that this is one area of my life where I am lacking, having only begun flying a few years ago I have only been to the Caribbean and a few cities in the United States. I will change this over the next few years though, and hope to visit Africa and Australia at some point.
What do you hope to be doing in ten years?
In 10 years I hope to be a successful research scientist in the field of microbiology. Ideally I would have a position that allows me to manage a group of people towards my own research goals, I would however settle for some discoveries and publications in prestigious journals in only 10 years. Working in the science field has taught me that it is ok to be wrong, in fact, you should prepare for it. That is how new discoveries are made, if nothing goes as planned re-assess, search for a solution to the problem, try again. I hope to inspire and empower not only women, but all youth to pursue their dreams, set goals and work towards them.
I also hope to be starting a family sometime in the next 10 years.
Is there anything you would like to add that we haven't asked?
I was pleasantly surprised to find all of the contestants in the Miss Universe Canada competition to not only be kind, but extremely intelligent. Contrary to popular belief this competition is not just about physical appearance and a crown, but rather serves as an opportunity for young women to become leaders, represent Canada on an international level and hopefully make a difference. It teaches the importance of setting goals and pursuing your dreams.