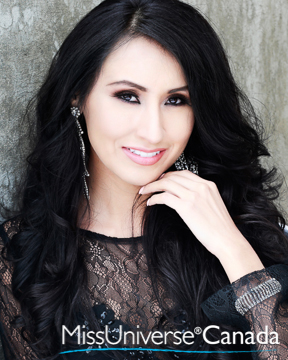 Height: 5'7″
Hometown: Calgary, AB
Carrissa Lowhorn is a First Nation woman from Siksika Nation; she has always been passionate about helping others in need. Her humanitarian instincts have lead her towards a path in pageantry, and for that very reason Carrissa discovered that pageants gave her opportunities to speak and volunteer on issues that were important to her. Carrissa explains: I grew up on a First Nations reserve where I have seen and experienced many unfortunate events that forever changed my perception on life for the better. I wanted to make a difference, I first started with making positive changes within myself, and in turn I was able to build positive healthy relationships with others. I realized that it did not matter where you came from all that mattered was that you believed in yourself. I began to believe in myself.
Carrissa's journey started in 2011 when she was selected a National finalists as Miss Southern Alberta by Miss Canada Globe Productions, and went on to compete nationally.  Based on her performance and education background, Carrissa went on to winning a national title (Miss Canadian Scholarship Ambassador) as well as a scholarship grant. Carrissa carried this title for a year, which gave her the opportunity to enhance her volunteer efforts, as well as speak to youth on the importance of education. Carrissa feels strongly about the importance of education and helping others. As a young girl Carrissa faced adversity within the education system, "I was told that I was a special student with "basic" potential, and currently I am proving them wrong".
This past July 2013 Carrissa was selected nationally to represent Canada on an international level in the Miss Tourism Planet pageant in Athens Greece, where she won the Miss Cosmopolitan award. The Miss Cosmopolitan award is awarded to a person who is most familiar with and at ease with many different cultures. Just as she was about to embark on her adventure to Greece, Calgary and surrounding areas were affected by a major flood. Over 200 hundred homes in Carrissa's community (Siksika Nation) were devastated by the flood, including her family home. Carrissa managed to help a few days before she left, and continues to help her community in any way that she can.
Based on Carrissa's previous success in pageantry and dual citizenship status, on October 2013 she was selected to represent USA in a major international pageant (2013 Miss Globe World Finals) in the Republic of Albania. Carrissa went on to winning the Miss Cosmopolitan award for the second time. For the past few years Carrissa has been juggling being a student, working, and volunteer work. All of Carrissa's hard work is finally paying off, Carrissa graduated with her Bachelor of Arts in International Indigenous Studies at the University of Calgary. Carrissa says that competing internationally is something she will never forget, she made lifelong friends with many amazing women from all over the world, and most importantly she was given the opportunity to show case her First Nations culture she grew up with.
Carrissa story was featured in a number of publications where she was displayed on the cover of New Tribe twice for January 2012 and August 2013 (A magazine published in Calgary and distributed throughout the city and surrounding communities), First Nations Drum Newspaper, Native Max 2013 winter addition (a magazine based out of Denver Colorado USA), Iksokapi an online publication (Carrissa's story was selected for the publications first ever featured profile). With Carrissa's story being shared she hopes to inspire others to reach their highest potential all while chasing their dreams.
Today Carrissa works for one of North America's leading energy infrastructure companies, working with First Nations people and making sure that they are treated fairly through consultation, relationship building, and community investment. Recently Carrissa was scouted to an acting agency where they will promote her for future potential acting jobs. Carrissa future goals include continuing her education, acting, helping her community Siksika Nation, working with First Nation communities through her job, and helping with the prevention of Aboriginal teen suicide with Dr. Peter Eppinga's Love My Life campaign.
Sponsors:
Dr. Crowfoot, Siksika Nation Chief and Council, Family and Friends, Thosh Collins (Thoshography)
Languages spoken fluently (please include your native language if English is not your native language).
English and Blackfoot
What are your interests and what do you enjoy doing the most?
Hot yoga, working out, hiking, and spending time with loved ones.
List any special training you have had (music, art, drama, dance, etc.)
I've taken Dance and Fine arts class at the University of Calgary.
In what sports, if any, have you participated?
Growing up I played hockey.
Name one person, other than your parents, who has had the most influence on your life. Why?
My grandmother has had the most influence on me growing up, she taught me the true essence of being humble and the importance of being an independent woman. Without my Grandma I would not be who or where I am today.
What is your proudest personal accomplishment (other than participating in this pageant)?
Graduating from University is one of my greatest accomplishments.
What is the most interesting or unique thing that has ever happened to you and/or what is the most interesting thing about you?
I carry very old oral traditional stories and teachings, in which my grandmother passed down to me from generations to generations.
What is your career ambition and what are you doing or plan to do to accomplish that goal?
I would like to further my education, I plan on applying to law school or to a masters program fall 2014.
What would be your "dream job" in life?
I would love to travel the world and work with Indigenous people of the world.
Are you currently a student?
No I graduated November 2013 with my Degree (B.A. International Indigenous Studies).
Are you currently employed?
Yes
If yes, what is your occupation?
TransCanada within the Aboriginal Relations Department.
Describe where you were raised and what your childhood was like.
I was raised in Siksika Nation, Calgary, Ontario, and B.C. I moved around a lot during my childhood years.
List any interesting or unusual jobs you may have had.
Librarian
Dr. Assistant
Project coordinator for a short film on youth gang prevention.
Guest attendant at museum
Dermatology clinic assistant that took place over video known as tele-health (took pictures of peoples skin conditions).
List any volunteering you have done.
Volunteer Work:
Calgary's Endeavor arts volunteered in the art class for Adults with disabilities
Terry Fox Run
CIBC Run for the Cure Canadian Breast Cancer Foundation Oct, 2011
Guest speaker at the Old Sun Community College 40th annual anniversary
Siksika Nation High School Princess pageant (Guest Judge)
Siksika Health Services Diabetes Run and walk July 2011
Iktomi's Web fundraiser fashion show 2011
Dream Catchers Gala: Model for the Artifaax Fashion Show
Running Rooms New Year's Eve Run 2012
The Rainbow Society of Alberta Daddy's Little Sweetheart Ball
Celebrating women in Business Luncheon volunteer model for Fashion Show (Las Vegas Mandalay Bay). 2012
Guest Speaker at the Siksika Outreach School 2012
Diabetes Run & Walk 2012
Guest Speaker at the 14th Annual First Nations Entrepreneur youth Symposium
2013 Albert flood (Siksika Flood Relief Center)
Mustard Seed Fundraiser Fashion Show
Alberta Children's Hospital Fundraiser Fashion Show
Love My Life Suicide Teen Prevention Campaign with Dr. Eppinga
What is your most unusual talent?
I can braid really well, I use to corn row my friend's hair before their basketball games.
Where is the most interesting place you have been to?
The Republic of Albania
What do you hope to be doing in ten years?
I hope to be finished all my educational goals, and hopefully working my dream job! Also hopefully by this time I have inspired/helped as many people as I could.