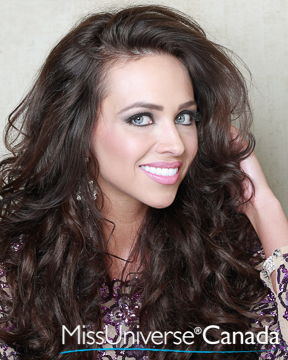 Height: 5'8″
Hometown: Caledon, ON
Chanel Beckenlehner was born and raised in picturesque Caledon, Ontario. She attended the University of Toronto as a Political Science Specialist. Down to earth, positive and approachable, Chanel has dedicated much of her life to giving back to the community by working with several charitable organizations that help orphaned young children by providing food, health care and shelter to families in need.
Chanel has a wide variety of hobbies through which she maintains a strong balance between sports and the arts. In her spare time she enjoys trying different culinary experiences, fashion, health and fitness, golfing and traveling the globe experiencing new cultures and languages. She is a strong, confident woman who is not afraid of a challenge. Having elite athlete training in the equestrian sport of Dressage, she understands the winning mindset needed to compete internationally. She surrounds herself with an environment of excellence preparing for competition; her team, coaches and sponsors. She has the confidence, attitude and belief that anything is possible.
A natural in front of the camera or on stage, one of her ambitions in life is to pursue an entertainment career, particularly as a television presenter. Obtaining the title of Miss Universe would allow Chanel to bring attention to important issues around the world, especially those that involve women and children.
Having spent an entire year studying HIV/AIDS specifically, she feels well prepared, educated and motivated to be a spokesperson for awareness and prevention. Her research efforts have concentrated on women's health and reproductive issues, the social determinants of health, and the role of power / empowerment, stigma and harm reduction. Her goal is to be an empowering role model of beauty, health and leadership. Here lies the chance to be a positive role model for young women empowering them to strive for their personal and career goals.
The Miss Universe Canada ambassador embodies a truly global citizen. She is a proactive leader that encourages service above self, action and change.
Sponsors:
Plaza Nissan, Innovative Fitness, Nora Norway by Kingo Couture, Visions Hair & Esthetics Academy, White Space Showroom, Nicole Miller – (NYC Madison Avenue Boutique), Deborah Krymuza (Makeup Artist) – Nature's Own Cosmetic Company
Languages spoken fluently (please include your native language if English is not your native language).
English and conversational Spanish.
What are your interests and what do you enjoy doing the most?
I savour any type of culinary experience. There is nothing better than enjoying a fabulous meal with great company! I have always had a passion for traveling and have been fortunate enough to have the opportunities to travel to several countries in South America, Asia, Europe and North America including the Caribbean. Discovering new places and meeting new people is so exciting! I would love to see myself exploring the world in the years to come.  I am also a major fashion enthusiast! Health and fitness are very important to me.  I live a very active lifestyle; working out, riding horses and golfing are activities I engage in regularly.
List any special training you have had (music, art, drama, dance, etc.) 
Acting (Theatre and On-Camera)
Runway
Public Speaking
Sports Psychology + Mindset Training
Competitive Level Dancing (Ballet, Tap, Jazz and Modern)
Competitive Level Dressage (Equestrian Discipline)
Makeup and Hair Styling
Singing
Piano
Belly Dance
Kick Boxing
Fitness and Nutritional Training
Golfing
In what sports, if any, have you participated?
I am an avid golfer. I love challenging myself by playing new courses. This is such a great way for me to spend my downtime in the summer months.
Elite athlete training in the equestrian sport of Dressage. I trained at the Federation Equestrian International level and have competed nationally. I have been riding horses since the age of two.  I am the proud owner of a German bred Warmblood horse named Prinz Wilhelm. Both Willy and I were silver medal recipients of the Dressage Canada Rider and Horse Achievement Awards.  In addition, I was also the recipient of the Lauren DiLanni Memorial Fund Award, which is given to riders who display excellence in the sport. One of my goals is to represent Canada at the Summer Olympics Games in the sport of Dressage.
Name one person, other than your parents, who has had the most influence on your life. Why? 
There is no one particular person, but rather a collective group of people and scenarios that have influenced my perspective on life.  I am who I am today because I have learned to rise above those who have tried to pull my spirit down. I have experienced verbal, social and cyber bullying. The actions and behaviors of these individuals included ganging up, jealousy, intimidation, manipulation and isolation. These adverse experiences have given me a voice to stand up for myself. Through having a positive attitude and maintaining my integrity, I have been able to persevere through these challenges. I respect and embrace these experiences because it has taught me about character building and the impact we have on others.  Thank you to those individuals who have made me a stronger person and to be a role model for other young women.
What is your proudest personal accomplishment (other than participating in this pageant)? 
At the age of thirteen, I was selected to present a clinic series and run an exhibit at the Royal Agricultural Winter Fair on 'Starting the Young Horse for Work Under Saddle'. I was the youngest clinician ever in the history of the Royal Agricultural Winter Fair to conduct, teach and present numerous clinics to a large captive audience. I was also given an award of excellence regarding my presentations.
What is the most interesting or unique thing that has ever happened to you and/or what is the most interesting thing about you? 
I love to perform and entertain people! I feel at home on stage, in front of the camera or speaking in front of large crowds. Whether I am acting in a role that demands variety and flavour, in commercial work where I am asked to sell a product, speaking to the youth in my HIPP presentations or representing Canada at Miss International, I light up because performance is in my blood and is my passion!
What is your career ambition and what are you doing or plan to do to accomplish that goal? 
My career ambition is to work in the media and entertainment industry. I definitely see myself in the position of a TV personality, particularly as a television presenter. I plan on pursuing a Masters in communication and media studies while gaining on the job experience through interning for a television network. Eventually, I would like to see myself hosting a show. Both Anthony Bourdain and Mike Rowe are two TV personalities that I really look up to. Their presentation styles exude zest for life, energy and wit, which highlight their vibrant personalities. They engage the viewer to the utmost and that is why both Bourdain and Rowe, are role models that I hope to follow in their accomplished footsteps. Closer to home, I really respect the career pathway of Melissa Grelo who is one of the co-hosts of the Canadian talk show 'The Social'. She was my first equestrian coach (starting at age two) and I spent my younger years training with her and her family at their equestrian academy.
What would be your "dream job" in life?
At this time in my life, my dream job is the position of Miss Universe Canada 2014. I am prepared, committed, researched and ready to take on all of the responsibilities of representing Canada at Miss Universe 2014 as well as the duties that the position carries throughout the year. Here lies the chance to be a positive role model for young women empowering them to strive for their personal and career goals. Having such a platform to work from, provides the opportunity for reaching out, being approachable and helping those in need.
Alongside my goals in pageantry, is my ambition to be an international equestrian trainer for competitive level Dressage riders and horses. I hope to become a full time elite athlete, training for the Summer Olympic Games in the sport of Dressage. Coaching never feels like work to me.
Are you currently a student?
Yes.
If yes, where? 
University of Toronto – St. George Campus.
Area of study:
Political Science Specialist.
Are you currently employed?
No.
Describe where you were raised and what your childhood was like.  
I feel fortunate to have grown up in the rolling hills of Caledon, Ontario. Living in the country has inspired a love for nature, animals and the environment. Many of my interests and hobbies are based out of the country lifestyle. However, being located just an hour north of Toronto, has given me the opportunity to understand, explore and appreciate the cultural diversity of city life.
Family has played a significant role in building my character. Through my mom I have learned happiness, patience and giving of yourself expecting no return. The absence of my father throughout my entire life has taught me perseverance, independence and how to face adversity with grace. My grandparents have encouraged a strong work ethic and to value the meaning of family. Through my horse, the value of friendship, the meaning of goal setting, dedication to sport and working as a team.
List any interesting or unusual jobs you may have had. 
Event coordinator and organizer (profit and non-profit).
Organizer of fashion shows.
Keynote speaker.
Commercial television work.
Beverage Cart Operator with ClubLink Corporation.
Equestrian coach for the discipline of Dressage.
Tradeshow Exhibitor for presenting clinics and running an information booth.
List any volunteering you have done.
For the past several years, I have been actively involved in organizing charitable fundraisers in support of providing housing projects and family based care in Nicaragua. SOS Children's Villages is an independent, non-governmental social development organization, which has been active in the field of children's needs, concerns and rights.
I also lead interactive peer workshops for secondary and elementary students. Help Increase the Peace (HIPP) is an interactive peace program, which builds bridges across cultural and racial barriers. These workshops focus on peer harassment, bullying, violence prevention, social skills and counseling.
Canadian Cancer Society Relay For Life.
Coral Restoration Foundation.
American Nicaraguan Foundation.
Peer mediator, leader and helper.
Peer tutoring for drug and alcohol prevention workshops.
Conducting makeup and hair demonstrations (age appropriate skills/ techniques).
Conducting self-image and confidence workshops. (The Look Good Feel Better Program through the Canadian Cancer Society).
Various golf tournaments in support of different charities.
Have produced and organized several online eBay charitable fundraisers.
What is your most unusual talent?
I can make a three-leaf clover with my tongue!
Where is the most interesting place you have been to? 
Nicaragua.
I have worked closely with SOS Children's Villages the past several years in producing many events, creating awareness and ultimately raising proceeds that have benefitted those in need. I was honoured to be a part of a goodwill trip of a lifetime to the beautiful country of Nicaragua. I travelled to several orphan villages in Managua, Leon and Estelí as well as a number of schools. This allowed me to see first hand how much benefit the SOS Children's Villages have brought to Nicaragua. Yet, it also enabled me to understand that much more help is needed. Having met hundreds of sweet, innocent children the common denominator is the basic need of love. Without it how can anyone survive and grow into responsible, productive individuals that can give back to society? I witnessed the beauty of the country's scenery but most importantly, the kind and welcoming nature of the Nicaraguan people. At the same time however, I was also exposed to the grueling reality of the living conditions in Nicaragua. This whole experience was an excellent opportunity to reach out and help others! It has inspired to me continue on with such work in the future.
What do you hope to be doing in ten years? 
Career wise, I hope to be working as a well-respected television presenter. In my personal life, I foresee that I have started my own family and am in a married, loving relationship. It is an exciting time to be a woman. We can be mothers, daughters, sisters, friends, spouses and career go-getters all at the same time. I will be working towards creating a well-rounded balance in my life that provides the opportunity for me to achieve my personal and professional goals.
Is there anything you would like to add that we haven't asked?
I tackle every task, regardless of its nature, to the best of my ability with 100% commitment and the right attitude!  Having very strong social and communication skills, I can be put into any environment and relate to the subject or people that surround me with ease and confidence!