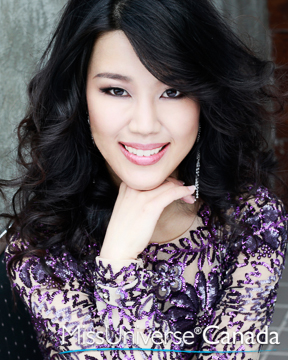 Height: 5'7″
Hometown: Hamilton, ON
"Dazzle" is what her friends call her. Just like its definition, she is someone who always strives to stand out and shine brighter by influencing and inspiring people around her.
Dasol was born in South Korea and moved to Canada when she was nine. She is the oldest of her four siblings. She graduated as valedictorian in her graduating class, graduated with summa cum laude, and studied Chemistry at Queen's University. She plans to pursue a degree in education.
When it comes to her professional growth, she is ambitious and determined. Dasol plans to pursue and excel in two fields: acting and teaching. She has many work and volunteer experiences as a teacher: tutoring, musical instrument lessons, Sunday school teacher, teaching assistant and as a full-time middle school teacher. Her passion for acting began to grow when she was eleven years old and she still strives to this day to improve as an actor. Her favourite part of acting is taking on the challenge of preparation to go into a character. To her family and friends, she is compassionate and loyal. She loves spending time with the people she loves and she always challenges everyone around her to strive for their best. To herself, Dasol is honest and enthusiastic. She stands strongly on her will and she is always challenging herself to improve and become a better person.
Dasol is a well-rounded woman who plays the piano and violin. She participated in competitive Track and Field as a sprinter and jumper, as well as participated in Model United Nations and was also a member of Queen's University's Dance Club – Advanced Hip Hop. Dasol is always up for an adventure, whether it is enjoying a walk along the beach or bungee jumping.
Sponsors:
Prospect Variety, Jinkyoo & Jongbun Lee, Anna Kim at Anna's Beauty and Motives Cosmetics, Alyce Paris Dresses, Rachel Ko, Sunny Nam at ATM Canada, Joshua Austin & Sunyoung An, Pandora Mapleview Centre, Bellair Laser Clinic
Languages spoken fluently (please include your native language if English is not your native language).
English, Korean and French (intermediate)
What are your interests and what do you enjoy doing the most?
Today, we live in a fast-paced society that makes it challenging to slow down and take the time to appreciate the little details. Therefore, to make sure I can really enjoy these small treasures, I enjoy taking long hikes. With my comfortable shoes on, I go on adventures to explore the beauties of nature, architecture and scenery. 
List any special training you have had (music, art, drama, dance, etc.) 
I have been formally trained in music, more specifically in playing the piano. I have completed up to Grade 10 with the Royal Conservatory of Music. I competed in various music festivals and competitions, in which I placed in top three in all. I have been a member with the East Hamilton Strings and Westdale Orchestra as a First Violinist. In dance, I was a previous member of Queen's University Dance Club – Advanced Hip Hop. I also took acting classes, which included improv and mime.
In what sports, if any, have you participated?
I have competed as a sprinter, long jumper and triple jumper in competitive Track and Field since elementary school. I was also a member of soccer team and baseball team for few years.
Name one person, other than your parents, who has had the most influence on your life. Why? 
Other than my parents, it would be my aunt.  She is strong-willed, independent and ambitious and I am inspired and encouraged by her. She immigrated to Canada with practically nothing, but has worked very hard to establish herself as a successful business proprietor. Now, she helps people start their own business and succeed in them. Many people look up to her and come to her for help and advice. I want to become someone who succeeds in my field and who is able to provide help to others in need.
What is your proudest personal accomplishment (other than participating in this pageant)? 
My proudest personal accomplishment is my commitment to being the pianist at my church for 13 years. I have been volunteering as a pianist since I was 11 years old and hope to continue contributing as long as I can. Being able to use a talent that I have to contribute to people around me is a great privilege.
What is the most interesting or unique thing that has ever happened to you and/or what is the most interesting thing about you? 
The most interesting about me is that I am very adventurous. I am not scared to try something new. I do not wish to miss out on once-in-a-lifetime opportunities. Recently I got a chance to go Ice Fishing with my friends to Lake Simcoe. There, I got a chance to stand on top of a frozen lake. Many of my friends were scared to walk across the frozen lake but I had so much fun walking and running across it. Few of things on my bucket list are: go skydiving, drive a racecar, attend a Stanley Cup final game and visit the penguins in the South Pole
What is your career ambition and what are you doing or plan to do to accomplish that goal? 
My career ambition is to pursue and excel in both fields: acting and teaching. . I want to become an actress as well as a teacher so I can pass on my adoration, skills and knowledge to future aspiring actors. Acting is what I have a passion for. I enjoy analyzing scripts, learning about a character, doing background research on the character and becoming that character temporarily. I plan to continue taking acting classes and take on a role in the film industry. In addition, teaching is what I am good at and what I have been doing for many years (tutoring, private lessons and full-time teaching). I plan to obtain a teaching degree tin the near future.  
What would be your "dream job" in life?
I believe that the wisest and the luckiest people are those who choose and do what they love for a living. I am unsure of what my "dream job" could be but I know it must be composed of the elements that I know will make me love my job: acting, teaching, and having the flexibility and opportunity for adventures.
Are you currently a student?
No
Are you currently employed?
Yes.
If yes, what is your occupation?
Right now, I am enjoying my time off working as a part-time sales associate at a retail store as well as tutoring, giving piano lessons and working on movie sets.
Describe where you were raised and what your childhood was like.  
I was raised in Hamilton, Ontario. When my family immigrated to Canada 15 years ago, I had to learn a new language and new culture all on my own. At first, I had difficulties at school as well as making friends due to the language barrier. Looking back, I was blessed to have a wonderful family, teachers and friends that helped me and supported me every step of the way. They made my transition easier and I was able to adjust to a new environment quickly.
List any interesting or unusual jobs you may have had. 
One interesting job that I had was attending to a long line of customers and keeping them entertained. It was part of a retail job during the busy Christmas shopping season. It was interesting because I got to meet many people in a short amount of time and I got to hear the wonderful stories of their loved ones whom they are shopping for.
List any volunteering you have done.
I have been involved in volunteering as a pianist and violinist at my Church for 13 years. I also volunteered as a teaching assistant at Hamilton Korean Heritage Language School for few years. I volunteered with Le Festival de Mission en Afrique to help raise money for the organization and manage the conference. For the annual conference, I was the translator for three languages: Korean, English and French. I also was in charge of managing guest speakers and organizing logistics. For the awareness and promotion, we held a car wash to help people in the community know about the organization as well as raise money washing cars and selling baked goods. The money raised helped support volunteers abroad to build schools and donate computers to children in villages.
What is your most unusual talent?
When I hear a song, I can play it on piano without the music sheet.  
Where is the most interesting place you have been to? 
When I was in South Korea, I had the chance to visit the Demilitarized Zone of Korea, which I had only learned about in History class.  To be present near the DMZ was a completely exhilarating experience. It made me think about the history of Korea and the war that never ended.
The most memorable place in the DMZ was one of an infiltration tunnel. The shuttle took us 73m below ground and I could feel the air getting colder the deeper we went. It was a challenge to go through the tunnel that was less than 2m high.
What do you hope to be doing in ten years? 
As a professional, I see myself pursuing and excelling in the fields of teaching and acting that I am passionate about. As an individual, I want to strive to be the type of person who is thankful in every moment, appreciative of the little things and relationships that bring happiness to life, and a giver who always aims to help others without expecting anything in return.