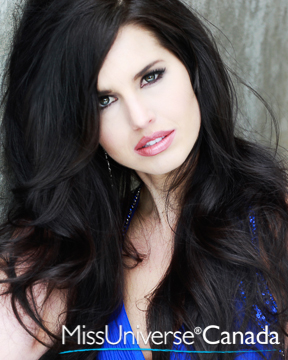 Height: 5'5″
Hometown: St. Albert, AB
Daylin is in her last year of studies in Human Resources and Labour Relations through Athabasca University, while working full-time as an Aquatic Supervisor. Daylin brings extensive leadership roles including her previous position as Aquatic Manager, on the youngest acting Presidents for Union local in addition to her certifications including Group Exercise Instructor, Yoga Instructor, Spin Instructor and Swim Coach.
With her love for culture, diversity and travel Daylin has had the opportunity to visit thirteen countries, three continents, live in one territory and two provinces. Daylin has always been active through community involvement as well as physical activity including competing at a provincial level for both speed swimming and figure skating as well as participating in triathlons and a half-marathon. Her upcoming races include an open water swim in the Okanagan and a marathon this summer.
Sponsors:
Sharon Ryan. Remax River City, Art & Soul Salon Ltd., Family & Friends
Languages spoken fluently (please include your native language if English is not your native language).
Native language is English and is studying French.
What are your interests and what do you enjoy doing the most?
I enjoy anything that keeps me active including swimming, running, tennis, biking, triathlons, volunteering, yoga and surfing.
Traveling is at the top of my list as the list of interests with an ever-growing list of places I would like to visit.
List any special training you have had (music, art, drama, dance, etc.)
I competed at a provincial level for figure skating, including on and off ice dance training.
In what sports, if any, have you participated?
I've competed in several sprint distance triathlons, a half marathon, badminton, volleyball, gymnastics and basketball. I also had the opportunity to compete at a provincial level for speed swimming and figure skating.
Name one person, other than your parents, who has had the most influence on your life. Why? 
My sisters have been a tremendous influence and support in my life. Being the younger of my two sisters: Stacey and Janelle, they have shown me first-hand how to deal with varying situations including means of striving through studies, career and giving back. They've both served as a tremendous source of influence through perseverance, giving back to a need greater than them as well as handling tough situations. They're both such caring and loving women with fantastic families and I feel that they have been a strong influence in setting a positive example for me in my life.
What is your proudest personal accomplishment (other than participating in this pageant)?
My accomplishments include obtaining milestones towards a Human Resources and Labour Relations Degree through including a Human Resources Certificate and Business Administration Diploma.
With my current and continuing education I've had the opportunity to sit on various boards for the City of Lloydminster including the employee benefits committee as well as represent the City as the youngest Local Union President in Alberta.
What is the most interesting or unique thing that has ever happened to you and/or what is the most interesting thing about you?
I completed my Deep Water Diver and Adventure Diver scuba certification off the coast of Australia in the Great Barrier Reef. I had the opportunity to swim with a hammerhead shark, do a 25-meter deep-sea dive and swim with several reef-tip sharks.
What is your career ambition and what are you doing or plan to do to accomplish that goal?
My career ambition is to be a Labour Relations Officer. I have had the opportunity to be a representative for employees with the City of Lloydminster and have gained significant experience sitting on boards and acting as an advisory.
What would be your "dream job" in life?
My dream job would be to travel the world and work towards a cause greater than myself.
Are you currently a student?
Yes
If yes, where?
Athabasca University
Area of study:
Human Resources and Labour Relations
Are you currently employed?
Yes
If yes, what is your occupation?
Aquatic Supervisor
Describe where you were raised and what your childhood was like.  
I've been raised in a few different locations including: Lloydminster, Assiniboia and Swift Current. Our family had moved on several occasions for my dad's work. Growing up my mother stayed home with my two older sisters and me. Not only did she look after the three of us, but she also babysat for the other children in the community, which meant we had a very busy household.
While living in smaller towns in Southern Saskatchewan, our family always stayed busy in the community through sport including: figure skating in the winter and speed swimming in the summer.
With all the time that was spent at the rink and pool I was able to compete at a provincial level in both sports. Our family traveled quite a bit in order for my sisters and I to compete, which provided us the opportunity to grow close with the other families in community.
My parents have always been supportive and have stayed true to morals and values in the way I had been raised. Growing up, I had the opportunity to volunteer for various causes whether that was raising funds for classmates with cancer, visiting the elderly in care homes or assist with sporting events. I've been very fortunate to have the support and encouragement from my parents in my development years as well as my life today.
List any interesting or unusual jobs you may have had.
I worked for a construction company. In the summer time I would work with a crew to prepare the sub-grade for paving. During this time I was responsible for operating various types of heavy equipment including: a skid-steer, packer, tractor and front-end loader in the City limits.
List any volunteering you have done.
Throughout the positions I've maintained with the City I've had the opportunity to organize and assist with fundraisers for the SPCA including a local Cake Boss and celebrity-judging panel, Habitat for Humanity swim night and Big Brothers and Sisters events.
Other types of volunteering activities I've been able to be a part of include: visiting the elderly in care homes without families, highway clean-up, Residence Assistant for my dorm, fundraising events for SOS Children's Villages as well as acting in water safety campaigns with the local fire department including performing simulated rescues for children.
What is your most unusual talent?
The splits!
Where is the most interesting place you have been to? 
The most interesting place I've been is skydiving off the coast of Australia just outside of Cairns. The reason I say this is you could see parts of the rainforest meet up with beach and make out the Great Barrier Reef all from one location. It was absolutely breathtaking and made for a beautiful fall!
What do you hope to be doing in ten years? 
My dream has always been to start a charity and or travel to Africa to assist with charity work, so in ten years I hope that I would have done or be completing both those dreams. It has also been a dream of mine to adopt and so I would love to have started a family by then.
In ten years I see myself leading a Human Resources team while raising awareness for equality as well as health and safety in the workplace. I also hope to have completed other dreams including completing my degree with honors, having completed a marathon as well as having the opportunity to visit all seven continents.
Is there anything you would like to add that we haven't asked?
Yes, I feel that my values for education, respect and diversity will transpire as a positive representative for Miss Universe Canada.
"When you dance, your purpose is not to get to a certain place on the floor. It's to enjoy each step along the way." – Wayne Dyer