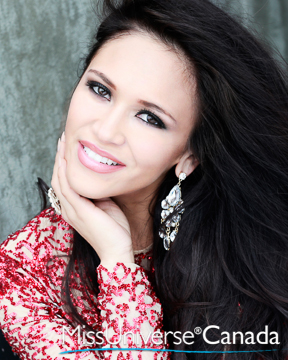 Height: 5'4″
Hometown: Sarnia, ON
Denise was born in Sarnia, Ontario where she spent the first six years of her life… She had very humble beginnings early on in life but both her grandmother and mother did everything they could to provide for her and her siblings. Life works in mysterious ways. Shortly thereafter Denise felt blessed to finally have a father figure in her life when her mother got married. Denise and her family then moved to Michigan where she than spent the next eight years of her life. Raised religiously, her parents were ministers of Mt.Zion church in Clarkston, Michigan and were then sent out as missionaries to the country of El Salvador. She was resistant to the idea of moving to El Salvador at the time having to make adjustments and make new friends in high school. However, as she soon found out, that one year she spent in El Salvador would forever change her outlook on life. El Salvador is truly a beautiful country however, poverty and hardship best describe how people lived on a daily basis. This made her realize how fortunate she was to live in Canada and appreciate the smaller things in life that were taken for granted by others. That eye opening experience made her realize that she wanted to help others in need and make a difference in the world. Coming back to Canada at the age of fifteen, she lived with her grandmother and together with much love and determination they made a great life they could both be proud of. Her grandmother has always been by her side teaching her valuable life lessons, giving her the ability to stand on her own two feet and showering her with nurturing advice or as she would say to her "Te doy un consejo".
Denise had a major role in raising her younger brother. In the process she fell in love with the innocence of children and how they see the world with such a fun and positive way. Denise has never met her biological father and even though he denied her it has never pulled her back from pursuing her dreams. She still has hope that one day she will have the opportunity to meet him, she stays positive and believes that everything happens for a reason. This situation has made her become a stronger and more independent woman which she hopes will inspire other young women out there in the same situation to follow their dreams despite not having their real dad in their life. Her mother has always taught her to never judge, but to love and respect everyone despite their race, colour, beliefs or weaknesses because in the end we are all God's children and in his eyes we are all perfect. She's a strong believer that together we are stronger and together we can overcome anything.
Denise's journey has shaped her to be the woman she is today and never once has she regretted her choices or the cards she's been dealt. Her friends and family have described her as driven, loyal, loving, and independent with a charismatic personality. The positive energy she portrays is very contagious and has been told numerous times that she lights up a room with just one smile. Denise's interests have always revolved around her passion for dance which consistently brings so much joy to her life. They say laughter heals all, well for Denise that is exactly what dance does, her personal way to heal. Her other passion is and will forever be fashion. She expresses herself through fashion and prides herself on her innate ability to spot whats "trending" in the industry, specifically with her rapidly growing shoe collection. She loves sketching new designs, being creative, artistic and has aspirations of owning her very own global fashion line. Another aspiration Denise has is to start a program where the under privileged can be trained in dance, singing, modelling, and acting so they may pursue their dreams in a safe and positive environment.
Denise graduated from Lambton College with honours in the Esthetics program, and says the best part of her career is the ability to turn around someone's day by pampering them or making them feel special. Making people feel great about themselves is her ultimate satisfaction. She has always supported many different events and has volunteered to lend a hand to those in need. Growing up with so little and raised in the Church has taught her the importance of helping those families who are going through the same struggles. Denise has given back by sharing her gift of dance with others by teaching as well as participating in dances at churches for various special occasions in Sarnia, ON, Clarkston MI, and El Salvador. Denise has also modelled for many local businesses and has volunteered her esthetic services to high school students. Other organizations Denise has been involved within Sarnia are charities like Inn of the Good Shepard "Empty Bowls", A Cinderella Story, T's & Tiara's, The Canadian Cancer Society, and her most proudest accomplishment is organizing her very first charity fundraiser benefiting The Women's Interval Home in Sarnia-Lambton. She will continuously keep giving back to her community as much as she can.
Sponsors:
Chris Ttofalli at "Sharky's Athletic Club" and "O2 Fuel Performance Training", Mike Beggs at Enviro Trends Sarnia, Hardcore Auto-Tech, Trijan Industries, Lisa Murray, Franco Filia at The Co-operators, Fabien Jagoo at The Co-operators, John's Restaurant, Ole Country Diner
Languages spoken fluently (please include your native language if English is not your native language).
Fluent in English and Spanish
What are your interests and what do you enjoy doing the most?
Dance
Sketching fashion designs
Fitness training especially Zumba
Spending quality time with loved ones
Cleaning and organizing
Decorating
Planning Events
List any special training you have had (music, art, drama, dance, etc.)
Trained and competed competitively in Ballet, Pointe, and Hip-Hop
Familiar with Jazz, Lyrical, Contemporary and Salsa
In what sports, if any, have you participated?
Gymnastics
Name one person, other than your parents, who has had the most influence on your life. Why?
My older sister Erika has always been my hero and my inspiration. She followed her dreams and now owns a thriving hair business in Michigan; in addition she has built a name for herself.  Her ambition for life is not only refreshing but also rare to find in today's generation. She has always encouraged me to pursue my dreams and never give up. Being an older sister she continuously has her best interest at heart for me. She is my fuel, my supporter, and my best friend and I'm happy to call her my sister.
What is your proudest personal accomplishment (other than participating in this pageant)?
Putting together my very first Charity fundraiser "Comedy for a Cause" and all proceeds go to The Women's Interval Home in Sarnia. I truly hope I can make this event an annual fundraiser and inspire others to lend a hand because together we are stronger.
What is the most interesting or unique thing that has ever happened to you and/or what is the most interesting thing about you?
I truly believe I am OCD when it comes to cleaning. I am a cleaning machine, and I like things done a certain way and to the best of my ability. The best part of it all is that I truly love doing it. After a long stressful day I like to come home, turn on some music and clean because it soothes me.
What is your career ambition and what are you doing or plan to do to accomplish that goal?
My career ambition is to be a Global Fashion Designer. I presently sketch designs and I am currently saving to go back to school for Fashion Design.
What would be your "dream job" in life?
To be in Spanish Soap Operas aka Telenovelas, leave the drama on the TV.
Are you currently a student?
No
Are you currently employed?
Yes
If yes, what is your occupation?
I'm currently the Esthetician at Enviro Trends salon in Sarnia, along with managing the desk/retail section. I'm also a part-time model with Productions Plus- The Talent Shop in Michigan.
Describe where you were raised and what your childhood was like.
My childhood was all over the place, but I have always grown up in church. The aroma of Mexican food is consistently in all my childhood memories. Even though my family is spread out we are very close and we do the best we can with the distance. Till this very day I haven't met my biological father and even though he has never wanted to acknowledge me I'm still hopeful that one day I will have the opportunity to meet him.
List any interesting or unusual jobs you may have had.
I actually haven't had an unusual job but I loved when I taught ballet to the 2-3 year olds. The way they would light up as soon as they walked into the dance room and began jumping and twirling around completely melted my heart.
List any volunteering you have done.
Taught dance for 3 years to all ages (different locations)
Modelled for Lambton College's marketing (website, ads and flyers) 2 years in a row
Participated and helped with Lambton Mall's fashion shows (offering esthetic services) 4 years in a row
"Empty Bowls" Inn of the Good Shepard
Church Functions/Special Events
Church house keeping
"T's & Tiaras"
"A Cinderella Story"
Canadian Cancer Society
"Frugal & Fabulous" May 2014
"Comedy for a Cause" my very own charity fundraiser for Women's Interval Home in Sarnia (May 2014)
"Kid's Kickn' it Old School" my very own charity event (July 2014)
What is your most unusual talent?
I don't know if it's considered a talent but I've been told I can eat a lot, I have even been given the nickname Pac Man. On the other hand, my interesting talent would be that I sketch and design shoes.
Where is the most interesting place you have been to?
My traveling has been limited but between the culture, food and weather hands down El Salvador.
What do you hope to be doing in ten years?
I hope to be married to the love of my life, onto my third child, running my global fashion line and still overseeing my charities all while being in my heels. I want to show women all over the world that having a family, pursuing a career and giving back to society are all realistic goals if you are driven and focused. As my favourite saying goes, "Act like a Lady, think like a Boss".
Is there anything you would like to add that we haven't asked?
I'd first like to thank all my sponsors for supporting me, and to everyone who has always encouraged my dreams. Most of all I'd like to thank those who believed in me every step of the way. Secondly, to the Miss Universe Canada foundation for putting this pageant on as it gives women a platform and the opportunity to make a difference in the world. Becoming Miss Universe Canada would truly be a dream transformed into reality.