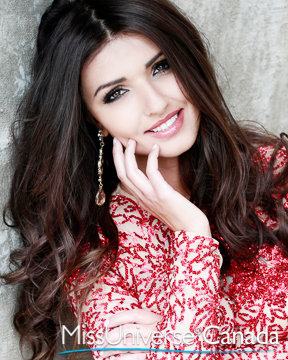 Height: 5'8″
Hometown: Calgary, AB
Diva Mangal was raised in Moscow, Russia, after the passing of her father, her family immigrated to Canada in the year 2000. Diva's mother wanted to provide her 5 children with a bright, successful future filled with equality, endless opportunities and education.
After completing high school, Diva moved to Calgary, Alberta to obtain a post-secondary education in the Bachelors of Management with a concentration in International Business.
Diva's mixed heritage has embraced her with the love for languages, arts, travel and cultures. Through her family beliefs and values, Diva learned at an early age that a woman must be independent, hard working, and intelligent in order to be a strong leader and successful in life.
Having experienced loss and sufferings at a young age, Diva has learned to be a true optimist. To always maintain a hopeful and positive attitude, she strongly believes it is the key to living peacefully and happily. The motto she lives by is "Dream big and dare to fail." Diva believes failure is our number one teacher, what we don't do right at first, we do even better the second time. Without facing failure, we wont ever figure out what works and what doesn't. Also you should never be afraid to dream big, no matter how ridiculous your dreams may seem to others around you, they are not in control of your dreams, you are.
Diva also gives back to the community in her personal life, whether through volunteering to residents of the Supportive or Independent Communities at Silvera for Seniors, or at the Social Housing in Action for the Lethbridge Emergency Shelter and Emergency Youth Shelter, to support and assist reduction of homelessness in the community and their immediate survival and shelter needs. Diva is also a committed and generous donor to the Humane Society for Prevention of Cruelty to Animals to provide care for surrendered, neglected, abandoned, and abused animals.
Diva is also strong believer in living a healthy, happy and active life style. In her spare time she loves spending valued time with family, who she considers her rock, guidance, support and unconditional love.
Sponsors:
JKB Consulting Corp, Wrangler Well Servicing Ltd, Okanagan Life Magazine, Family and Friends
Languages spoken fluently (please include your native language if English is not your native language)
English, Russian, Pashto (conversational), Spanish (conversational)
What are your interests and what do you enjoy doing the most?
I love to sing and song write, for as long as I can remember, singing has played an important role in my life. It is a way of expressing my thoughts and feelings. I also love to travel, it strengthens your willingness to expand your limits, provides learning and education about places and history. Most importantly, helps us discover ourselves better: the true you.
List any special training you have had (music, art, drama, dance, etc)
I love the fine arts and I have had many years of experience in every category.
Dance: Ballet, Contemporary, Hip-Hop, Salsa, Belly Dance and Jazz.
Music: The Music and Technology, Instrumental Music, Instrumental Music Stage Band/Jazz Combo
Drama: 7 Years of Experience in Drama Classes, taken throughout Elementary – High School.
In what sports, if any, have you participated?
Dance
Soccer
Basketball
Track and Field
Cross Country Running
Horseback Riding
Volleyball
Name on person, other than your parents, who has had the most influence on your life. Why?
Aside from my parents, my eldest sister Meeno has had the strongest influence on my life. She is the strongest woman I know, who is extremely intelligent and compassionate. I was 3 years old when my dad passed away, ever since she's been my mothers backbone, sacrificed her childhood to help raise my sisters and I. She genuinely cares for the people she loves and always puts our needs before those of her own. Her selflessness, determination and dependability, inspires me to be just like her. She has always encouraged my sisters and I to live our lives to the fullest and never have regrets. She is my role model and my best friend.
What is your proudest personal accomplishment (other than participating in this pageant)?
My proudest accomplishment would be being independent. I moved out at the age of 17, I was a full-time student and employed.  It is such a self-accomplishment to feel confidence doing things on your own! Independence is something women should strive for. The ability to be self-sufficient and in charge of your own life, making our own choices and decisions is an important part of being independent. Sometimes we make the wrong choices, but those are often the experiences in life which are the most valuable, learn the most and the situations that teaches a great deal.
What is the most interesting or unique thing has ever happened to you and/or what is the most interesting thing about you?
The most interesting thing about me is that I am a true optimist, I always look at the glass half full and no matter how many times I have failed, I am always determined to succeed and dream big. In my lifetime I have experienced great hardships, losses and traumas but I have always believed that defeat is a temporary setback, its causes are limited to that one situation. I strongly believe that maintaining a hopeful, positive, yet real perspective in the face of hardship can be a real challenge, but it truly is essential to living peacefully and happily. Just as it is important to recognize what is unfair in our lives and the world, it is equally important to see the beauty, love, generosity, and goodness as well. Being gentle and loving with ourselves when we make mistakes, or when bad things happen is key to being hopeful and optimistic. And even if you're not sure it's possible, you can do it!
What is your career ambition and what are you doing or plan to do to accomplish that goal?
My career ambition is to be a successful and respected entrepreneur. I am fascinated by arts and designs, so would love to get involved in the clothing and or interior design business. To achieve this goal, I want to obtain my Bachelors of Management Degree with a concentration in International Business, as well as travel the world and study and observe the beautiful hidden fine arts and designs that the world has to offer.
What would be your "dream job" in life?
I am a "dreamer", and I have many dream jobs I aspire to accomplish in my lifetime. I am changing and growing every single day and I am always aspired to achieve new things at every stage of my life. Since I do love to sing and song write, I would love the opportunity to become an aspiring singer. 
It would also be such an honor to be a role model for young women that are dealing with all types of physical and psychological pressures of adolescence, through puberty, criticism, academic athletic and peer pressures, dating challenges, which causes many to struggle with self-esteem issues. I want to work in a field where I can promote female empowerment and confidence in young women. The opportunity to speak to young women about what it really means to be beautiful and comfortable in your own skin. I want to develop a program where I can promote female empowerment at the young age and help young girls feel comfortable and beautiful no matter what shape, size, or colour they are.
Are you currently a student?
Yes
If yes, where?
University of Calgary
Area of study:
Bachelors of Management Degree with a concentration in International Business.
Are you currently employed?
No
Describe where you were raised and what your childhood was like.
I was raised in Moscow, Russia and immigrated to Canada in the year 2000. My childhood was definitely not the usual. With a single widowed mother and 5 kids including myself, life was extremely challenging. We all hardly spoke any word of English and had absolutely nothing when we first immigrated. It was an enormous culture and society change, very hard to manage. Learning English was important for our success, and strong work ethic was our deep commitment to pursue our dreams. My most cherished and memorable memories were the activities we did as a family, spending time with my mother and siblings.  My childhood definitely gave me an enormous appreciation for the simple things in life, and to live my everyday life to the fullest! It has also made me the person that I am today.
List any interesting or unusual jobs you may have had.
Growing up, I was always very responsible and mature for my age. When I was 12 years old, I babysat an infant for several days! It was such an exciting and rewarding experience, but definitely a lot more work than I thought.  I had to follow a set routine, including the times of feeding, nap times, playtime and bedtime, and I was only 12!
List any volunteering you have done.
The Calgary Humane Society
Hanna's Day Care – Volunteered 40 hours a month for 3 months
Silvera for Seniors
What is your most unusual talent?
I don't know if you would consider this a talent, but I am hypermobile (double-jointed) in the elbows, knees and hands. My second unusual talent would have to be Palmistry. I can evaluate a person's character or future by studying the palm of their hand.
Where is the most interesting place you have been to?
One of the most interesting places that I have been to would have to be China. My mother and I went on a two-month trip all over China, visited Shanghai, Hong Kong, Beijing, Guangzhou, Xi'an, Hangzhou and Nanjing. We saw the Great Wall, which was beyond anything I could have imagined, as well as the Forbidden City, the Bell Tower and the Summer Palace. It was such a fascinating mix of the rich history, architecture and culture. It was an eye-opening and learning experience, not only did it force me out of my comfort zone, but made me appreciate the comfort of ordinary routines and find a new found respect for the life that we often wish to escape.
What do you hope to be doing in ten years?
In ten years I would like to be successfully established in my career, to be happy and fulfilled with what I have accomplished in my life. I believe life is all about taking chances and seeing where the new exciting opportunities will take you! I am constantly growing and evolving, and since I am such a big dreamer, there are so many exciting opportunities I want to take upon in the next ten years, so I cannot pin point exactly where I will be, but I know for sure with my determination, passion and work ethic I will be successful at whatever I do!
Is there anything you would like to add that we haven't asked?
I am incredibly honoured and grateful to have the opportunity to compete in the Miss Universe Canada competition and want to thank each and everyone who has supported me through this exciting journey. It is a chance of a lifetime, great learning experience and truly life changing.