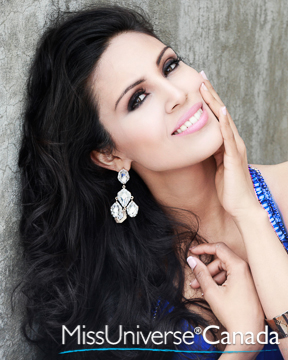 Height: 5'10″
Hometown: Pickering, ON
As Coco Chanel once said "Beauty begins the moment you begin to be yourself". Kiran Nandi is a principal advocate of the statement, as she believes beauty resides in every individual. Finding yourself, your passion, strengths and identity is not only the greatest gifts you can give to yourself, but to all those around you.
Born in Dubai, originally from India, and raised in Toronto, Kiran Nandi has grown into an aspiring young woman who continues to strive for success in every aspect of her life, from career, to her relationships, and healthy living. She has a progressive career in Finance and has completed her designation as a Certified Managerial Accountant. Given she has a foundation in accounting, and a passion for people, Kiran has volunteered her expertise by being part of the community volunteer tax program – a program targeted to help low income families.
Kiran's passion for traveling has taken her all around the globe, where she has seen, lived and experienced the vast different cultures out there! Traveling has taught her the importance of appreciating the smallest measures of life and enjoying every moment to its fullest. Being brought up in Toronto, one of the most multicultural cities in the world, her experience has helped her understand the challenges faced by many new Canadians residing in the city. With so many Canadians below the poverty line, Kiran plans on working with families who have newly immigrated to Canada to help them secure a stable life in the city.
The Miss Universe Canada pageant has been Kiran's childhood dream, and she has then been preparing for her quest toward the crown ever since. She is not only excited about the competition, but is thrilled about the people, the experiences, and the journey that await her!
Sponsors:
The DressBoutique, Lissa Veilleux Photography, North View Print, Norstar Portrait Inc., Miss Lee for Motives, 2337176 Ontario Inc – Real Estate Investment Company , The Behar Group, Imprint Marketing, Family and Friends
Languages spoken fluently (please include your native language if English is not your native language).
English, Hindi & Bengali
What are your interests and what do you enjoy doing the most?
I love working out, dancing, cooking, and traveling.
List any special training you have had (music, art, drama, dance, etc.)
Trained in salsa, bellydancing and classical Indian dance.
In what sports, if any, have you participated?
Volleyball & basketball
Name one person, other than your parents, who has had the most influence on your life. Why? 
As women, we are blessed to be living in 2014 where we can stand shoulder to shoulder with men; however we must wear multiple hats.   My sister in law, though only 2 years older than me, is a mother of two, juggling relationships, career and health.  In my eyes, she is a Superwoman as she embodies the strength, courage and positivity that all women of today's world must strive for.  She has always had a strong influence in my life as I have known her for over 10 years and she been supportive of all decisions, guiding me with advice, compassion and optimism.
What is your proudest personal accomplishment (other than participating in this pageant)?
My proudest personal accomplishment is living a well-rounded balanced life. I have worked hard to attain success in all areas in life, from career, relationships, fitness, volunteering, and hobbies.  I believe that happiness and self-fulfillment stems from achieving satisfaction in everything you stand for.
What is the most interesting or unique thing that has ever happened to you and/or what is the most interesting thing about you?
I skydived 13,500 ft.  It was the most exhilarating experience I have ever had!  The feeling of pushing yourself outside your comfort zone and freefalling in midair for 65 seconds puts a whole new perspective to life.
What is your career ambition and what are you doing or plan to do to accomplish that goal?
My career ambition involves combining my strength with my passion for helping others.  Already having a progressive career in Finance, in the future I plan on transitioning into the Not for Profit sector where I can employ my skills and make a positive change in the community.
What would be your "dream job" in life?
Global Ambassador for Climate Change, speaking about the effects of global warming; educating, inspiring and working with countries around the world to apprehend the accelerated effects and make a change.
Are you currently a student?
No
Are you currently employed?
Yes
If yes, what is your occupation?
Finance
Describe where you were raised and what your childhood was like.  
I was born in Dubai and raised in Toronto.  As every family, we endured some hardships when my family first immigrated to Toronto.  However, it was these moments that made us even stronger as a family unit, as we overcame each hurdle.  My parents have always been supportive of both my brother and my dreams, big or small and have worked hard to raise us into educated, thoughtful, and ambitious individuals. I have lived in 3 different countries each with very different cultures, all contributing toward shaping me into the individual I am today.
List any interesting or unusual jobs you may have had.
I worked at the Carnival when I was 15.  It was the most unusual, yet interesting job I have ever had!
List any volunteering you have done.
Yonge Street Mission, organized annual charity drives for Christmas
Family Services Toronto – Events Representative
Green Peace Representative
Free the Children Representative
Volunteered as a Program Coordinator for multiple nursing homes
Big Brother Big Sisters
Organized a clothing drive for Oasis Clothing Bank
Volunteered at homeless shelters, soup kitchens and food banks in Toronto
Tax Clinic Volunteer
Conducted workshops on Healthy Living for Youth for 360 kids
What is your most unusual talent?
Mini Golfing – I never miss!
Where is the most interesting place you have been to? 
Thailand.  The country is absolutely rich in culture.  Apart from the beauty of the country, Thai locals are the most gracious, well-mannered, polite individuals I have ever met!  I was blown away by how appreciative the people are of the simplest things around them.  It made me realize how important it is to be thankful for everything we have and appreciate the littlest moments in life.
What do you hope to be doing in ten years? 
I always believe in living a balanced life, and my ten year plan is similar.  I plan on progressing in my Finance career, volunteering and being more active in our local communities and/or international projects. I will also continue to be an advocate of healthy living for youths, as I am extremely passionate about the topic.  As cliché as it may sound, I also wish to be married with children. I was blessed with a strong family foundation and intend to keep the tradition alive.
Is there anything you would like to add that we haven't asked?
My favourite quote I stand by:
"I think, therefore I am." – Descartes