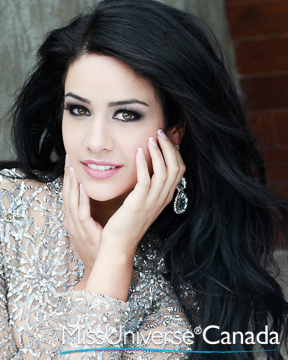 Height: 5'6″
Hometown: Windsor, ON
Laura Coppola, 19, was born and raised in Windsor, Ontario. She is described as an outgoing, positive, loving and compassionate person.
Laura is the middle child of three and comes from an Italian heritage that she is very proud of. She loves the culture, tradition and foods.
On her spare time she enjoys spending time with her family and friends, cooking, and volunteering for a variety of local organizations with fundraising for We Care For Kids, Transition To Betterness and Alzheimer's Society. Laura also enjoys spending time with children she babysits and is a role model to many of them.
Past accomplishments are 2013 Miss Via Italia winner, and winning Miss Photogenic and Miss Talent in the 2012 Miss LaSalle pageant.
Laura started at a young age to watch the Miss Universe pageants and always admired the beautiful girls and wished one day that would be here. Dreams can come true because here she is as a contestant for the Miss Universe Canada, Western Division.
Sponsors:
Mels Videography, Advance Security, Cabana Court Chiropractic, Koi Sushi, Just 4 U Hair Design, PricewaterhouseCoopers (PWC), Maximum Training Centre, Seannifer
Languages spoken fluently (please include your native language if English is not your native language).
English is the language that I speak fluently.
What are your interests and what do you enjoy doing the most?
My interests are playing the piano, dance, eating different types of cuisine, and what I enjoy doing the most is spending quality time with family, friends and children that I babysit.
List any special training you have had (music, art, drama, dance, etc.)
I took Piano lessons for 8 years, dance lessons in high school such as hip-hop, contemporary, jazz and swimming lessons for 10 years.
In what sports, if any, have you participated?
Sports that I have participated in are volleyball and martial arts.
Name one person, other than your parents, who has had the most influence on your life. Why?
My grandfather has had the most influence on my life because he immigrated to Canada with only a suitcase, worked hard and started a family. He always put his family first. He taught me how important family is and also has taught me the value of hard work, the importance of culture, tradition and respect.
What is your proudest personal accomplishment (other than participating in this pageant)?
My proudest personal accomplishment is overcoming my fear of dogs. I went to extreme measures to overcome this fear and I believe that a powerful woman should face her fears head on.
What is the most interesting or unique thing that has ever happened to you and/or what is the most interesting thing about you?
The most interesting and unique thing about me is myself because there is no one in the world exactly like me.
What is your career ambition and what are you doing or plan to do to accomplish that goal?
My career ambition is to become a registered nurse. My mother who is a nurse has inspired me because she has changed the lives of many people by helping them and taking care of them, and being an advocate for the patients who were unable. I would love to help others the way my mother does. To accomplish my dream I am going to go to nursing school.
What would be your "dream job" in life?
My dream job in life is to become a nurse and work on a cruise ship while traveling the world. I would also like to become a food critic because I love eating food and appreciating good and various cuisine.
Are you currently a student?
Yes
If yes, where?
St. Clair College
Area of study:
Taking courses to enter the nursing program
Are you currently employed?
Yes on a part time basis.
If yes, what is your occupation?
I work seasonal at a jewelry store and babysit.
Describe where you were raised and what your childhood was like.
I was raised in Windsor, Ontario. I had a great childhood because it was happy, fun, lots of food, travelled, dancing and a lot of time spent with family. I have a lot of great memories.
List any interesting or unusual jobs you may have had.
An interesting job I have is being a babysitter because children are unpredictable so there is always something new everyday. It is so funny at times the questions the children ask and things they do.
List any volunteering you have done.
We care for kids-
Transition to Betterness (T2B)
Italian heritage program
Cut- a-thon for cancer patients
Alzheimer's Society
Assumption High School- prepare activities
What is your most unusual talent?
My most unusual talent is doing that I can fold my tongue in an unusual way.
Where is the most interesting place you have been to?
The most interesting place I have been is the Panama Canal (International waterway) when my family went on a cruise. It was amazing going through the channels and seeing how ships pass between the Atlantic Ocean and Pacific Ocean.
What do you hope to be doing in ten years?
In ten years, I hope to be finished school, working in my nursing career, married and starting my own family.
Is there anything you would like to add that we haven't asked?
I would like to add that dreams could come true because at a young age I always watched the Miss Universe pageants and always admired the beautiful girls and wished that one day I would be able to be a part of it. Now here I am fulfilling my dream as one of the contestants in the Miss Universe Canada pageant.