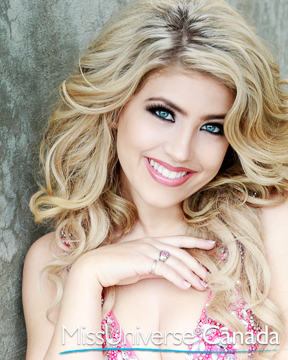 Height: 5'8″
Hometown: St. John's, NL
Laura Woodworth is a radio and television personality in the province of Newfoundland and Labrador. She co-hosts Morning Show radio, hosts an Entertainment news show for a television network, and is a part-time general assignment reporter.
Laura is a hardworking, spontaneous, and enjoys living in new places – as is evident in her educational history. She began her post-secondary journey in her hometown of Grand Falls-Windsor, where she dove into University classes at the age of 16 through the local college. From there, she moved to St. John's to attend Memorial University for a semester. She relocated to Corner Brook for a year, before settling down to complete her degree in PEI. In 2012, she graduated from the University of Prince Edward Island with a Bachelor of Science, where she majored in Food and Nutrition.
Although she has a passion for nutrition, after completing university Laura wanted a break from food sciences, and took a temporary job at a radio station. The 3 month job eventually turned into a permanent, full-time position as a morning show radio co-host, and, from there, a job as a part-time reporter and host at the radio's affiliate television station.
Laura recognizes the importance of fitness in a healthy, balanced life. She particularly enjoys yoga, which she has been practicing for 4 years.
As Miss Teen Newfoundland and Labrador 2008, Laura represented her province at more than 75 events and volunteered with a wide range of causes, including children's charities, healthcare, animal welfare and environmental initiatives. The causes closest to her heart are those focused on improving the lives of children.
Sponsors:
Always In Vogue, Shyama Shoots Photography, Family and Friends
Languages spoken fluently (please include your native language if English is not your native language).
English
What are your interests and what do you enjoy doing the most?
Writing, volunteering, reading, yoga, baking, travel, piano, playing with my puppy, cooking
List any special training you have had (music, art, drama, dance, etc.)
Bachelor of Science Majoring in Nutrition from the University of Prince Edward Island (UPEI), Voice lessons, piano lessons, flute lessons, French language training,
In what sports, if any, have you participated?
Cheerleading, Soccer, Karate
Name one person, other than your parents, who has had the most influence on your life. Why? 
My aunt Florence has had a huge influence on my life. She is a teacher and one of the gentlest souls I've ever known. When I was young, she taught me a lot about the power of words. I remember her telling me to be careful with the word "hate", because "hate is a big word for such a little girl". I often draw on her advice when I'm facing a difficult decision or situation – but I'm also inspired by her words on a daily basis. She taught me about patience, kindness, critical thinking, compassion and (this is one of the most important things she instilled in me) to love books and reading! She had a large part in molding the woman I am today.
What is your proudest personal accomplishment (other than participating in this pageant)?
In 2012, after completing my university degree, I moved to a new city. With only a part-time temporary job, I was determined to make it on my own. I worked 3 jobs – for more than 60 hours a week – and today, 2 years later, I feel like I've made it. I have a great full-time permanent job in television and radio that I love – and I feel very proud when I reflect on the hard work that went into achieving it.
What is the most interesting or unique thing that has ever happened to you and/or what is the most interesting thing about you?
I am very spontaneous, and I have lived in a lot of places, especially for someone my age. People have asked why I chose to go to UPEI – and the answer is simply "I closed my eyes and chose a school. That's the one I happened to pick." I am quite comfortable packing up my bags and moving to a new place – going on a new adventure. And, luckily for me, I have created friendships with the most incredible people along the way.
What is your career ambition and what are you doing or plan to do to accomplish that goal?
It's a little vague – but I know that my career ambition lies in media. It's very hard to choose what area of media I love the most. On a normal day, I co-host a radio morning show, write commercials and news, read checkpoints from a news desk for television, interview people, operate a camera and edit videos. I have such a busy schedule because I never say no to work. Every assignment is a new opportunity for me to learn and expand my skill set – so I will be prepared for anything that this career may throw me in the future.
What would be your "dream job" in life?
My dream job would be to host a breakfast television show!
Are you currently a student?
No, I completed my Bachelor of Science (majoring in nutrition) from the University of Prince Edward Island in 2012.
Area of study:
Food and Nutrition
Are you currently employed?
Yes
If yes, what is your occupation?
I am a co-host on morning show radio (The Morning Rush on CHOZFM), as well as an entertainment news host on NTV (locally owned TV station), and a part-time general assignment reporter.
Describe where you were raised and what your childhood was like.  
I was born and raised in Grand Falls-Windsor, NL. My childhood was very busy, as I was involved in too many activities to count – voice and piano lessons, karate class, swimming lessons, clubs… the list goes on and on! I learned a lot about time management and how to organize a busy schedule.
List any interesting or unusual jobs you may have had.
My current job is very interesting. Every day is a unique challenge. I have to stay in touch with current events – both in entertainment and news. I have the opportunity to interact with fascinating people – like musicians, bands, concert promoters, community leaders, local heroes and more!
List any volunteering you have done.
As Miss Teen Newfoundland and Labrador 2008, I traveled and volunteered extensively throughout the province of NL (attending more than 75 events during the year)
4th year student representative – UPEI Applied Human Sciences faculty
Host – Janeway Telethon (a 2 day fundraiser for NL's children's hospital)
 Organizing committee member for the Miss Teen Newfoundland and Labrador pageant
As a teenager, I was a member of an all-girls band called "Mascara". We were involved in numerous benefit concerts – raising money for everything from World Vision to the SPCA!
What is your most unusual talent?
I drive stick shift – and the clutch is no problem, even in 6 inch heels!
Where is the most interesting place you have been to? 
The top of the Tableland Mountains in Gros Morne. All of a sudden, in the middle of a very lush national park in Newfoundland, sit these mountains that look like they belong in Arizona! The area is very barren and is made up of a unique type of rock called peridotite. They were created during a shift of the Earth's mantle – millions of years ago. Standing at top of the Tablelands makes you realize that you're a part of something so big – and you feel insignificant and infinite – all at once! And, besides that, the views in Gros Morne national park are among the most stunning in the whole world!
What do you hope to be doing in ten years? 
In my professional life: I would like to go back to school at some point – to complete a post-graduate diploma in advertising copywriting. I really enjoy creating ad campaigns for businesses (television and radio). In 10 years, I would like to be working on a morning show for part of the day, and writing commercials for the rest.
In my personal life: I would like to be settled down somewhere and to own a house, but still travelling to new places.
Is there anything you would like to add that we haven't asked?
The secret to being irresistible is this; give someone chocolate chip cookies that have been made with twice the vanilla and an extra egg yolk, along with your biggest smile! My grandmother taught me that if you put love and passion into your food, people will be able to taste the difference!