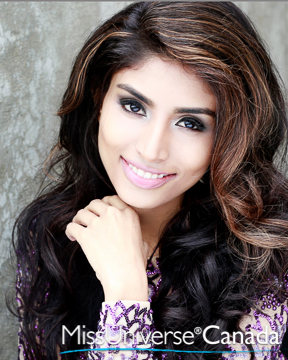 Height: 5'8″
Hometown: Vancouver, BC
At 26, this young lady has done it all, and then some. Having grown up among the shimmering dunes of Dubai, to visiting over 22 different countries around the world, to finally putting down roots in Vancouver, this fiesty lass playfully dubs herself a citizen of the world – though Canada will always have her heart!
It is this global outlook on life that prompted her to pursue a degree in Economics, which helped her understand and pinpoint the various trends that the financial centers of the world set for the rest to follow. Like Wall Street, she wanted to be a trendsetter, but in a less grey, more colourful setting. So she went on to acquire an Interior Design diploma in addition to her Bachelors degree.
A vibrant, fun-loving individual, Lavanya has never deprived herself of excitement or adventurous life experiences. In this past year, she has been ziplining through some of the most remote and beautiful 13th century ruins in rural India, competed for and won a crown at Miss Earth Canada, bought and sold her first industrial investment property for marginal profit (and even more valuable lessons) and learned to drive stick-shift.
However this go-getter gal has a softer, more spiritual side to her and she is unapologetic about her search for her true calling. Philanthropy is a pivotal part of that calling. In pure and simple terms, she believes that we all stumble upon our own happiness while helping others find theirs. Right from volunteering at Friends for Life in Vancouver, where cancer-ridden people can live better lives through holistic and community building activities, to helping street dogs find new homes, to using her title as Miss Earth BC as a platform to inspire and educate people on sustainable and responsible ways of living, she never finds herself lacking humanitarian causes to champion.
Currently pursuing modeling full time, she is represented by Charles Stuart in Vancouver, who is famous for his discovery of supermodel Coco Rocha. She has walked for various designers, been lucky enough to be a part of 3 international fashion weeks, and has also graced the runways of Vancouver, New York and Lakme India. One of her dreams is to be featured in Vogue before she is 30.
Besides her fast-paced lifestyle, she enjoys listening to retro 80's ballads and dancing with her best friends to the Top 40 in her downtown apartment. She really relishes a little bit of down time when she can indulge herself by painting, or devouring all the books on her to-read list at supersonic speed, though we wouldn't put it past her to be simply plotting her newest adventure!
Sponsors:
Cachè Couture Atelier, Dennis Lee Photography, Dr Sam Winter (Dentist), Volume Studio Salon Gallery, Passionate Travel, Blink Beauty Parlour, Family & Friends
Languages spoken fluently (please include your native language if English is not your native language).
English, Hindi, Arabic, Beginner French
What are your interests and what do you enjoy doing the most?
Constantly changing. Self Improvement, Experiencing new food, cultures, books… Boredom is a crime!
List any special training you have had (music, art, drama, dance, etc.) 
Fine Art
Fashion Design – O Levels & Interior Design – Diploma
Sailing – Transport Canada
Acting & Theatre Arts – International Baccalaureate
In what sports, if any, have you participated?
Swimming & Tennis
Name one person, other than your parents, who has had the most influence on your life. Why? 
I've been lucky to have some amazing women in my life. My grandma has passed on to me her love of writing among other things, and the importance of carrying yourself like a true lady.
What is your proudest personal accomplishment (other than participating in this pageant)? 
Getting my wisdom teeth out! Kidding.  My proudest personal achievement was taking the decision to move halfway across the world on my own, to a country I'd never even seen, to study. Looking back it was probably the most foolishly fearless yet rewarding thing I have done. It's made me an independent person.
What is the most interesting or unique thing that has ever happened to you and/or what is the most interesting thing about you? 
I recently revisited our old family house that I had grown up in. Unfortunately that area has been redesignated and it's turned into a slum. My heart sank when I saw the state it was in and how many families are currently crammed in it. Then a lady I've never seen before came out. To my surprise she called me by name right away!  Turns out her little daughter found a bunch of my old school books – which are filled with my doodles and ramblings, and she told me how she calls Lavanya her sister. It was the cutest thing.
What is your career ambition and what are you doing or plan to do to accomplish that goal? 
Being able to design and sell my own line of interiors is my dream. My style is eclectic and I would source beautiful fabrics from the east while making good use of Canada's vast choice of quality lumber and building materials. I have built a design portfolio and spent this summer interviewing similar entrepreneurs who have specialized in exotic interiors/ fabrics. It is very important to me that it is socially beneficial.
What would be your "dream job" in life?
Wine Specialist. Gelato Queen.  Actually Miss Universe Canada is currently occupying my #1 spot for Dream Job. I feel that I could make good use of the resources that come with the Beauties of Canada organization to make the most of my year, if I were to win.
Are you currently a student?

No
Are you currently employed?
Yes
If yes, what is your occupation?
Represented by Charles Stuart in Vancouver
Describe where you were raised and what your childhood was like.  
I grew up in Dubai, where my parents worked hard to give us a comfortable life. My brother and I studied at international schools before moving to Canada for university. I watched Dubai's exponential growth and it made me believe that miracles could happen. As a result, I've always believed in pushing myself to be bigger & better than I was the year before. My parents reinforced those dreams with strong values like hard work, dedication and compassion. Growing up our home was always open to guests, visitors, rescued animals and anyone who needed it.
List any interesting or unusual jobs you may have had. 
During my reign as Miss Earth BC, I've been introduced to large-scale development projects that are not only environmentally sustainable but incredibly beneficial to the community. Knowing that organizations like them (Uniting Creatives) exist gives me faith in humanity.
I've also ridden a BMX dirt bike during a stint at the X-Games in Dubai; adrenaline rush!
List any volunteering you have done.
I've been modeling for charity fashion events ever since I was in school. Most recently, we were featured on Sustainability TV for our breast cancer show at the Hycroft.
BC Childrens Hospital, Canadian Cancer Society, Lions Club, BCSPCA, K9 Friends, Al Noor Centre for Special Needs and Haiyan Relief are some of the previous beneficiaries.
While in Vancouver I regularly volunteer at Friends for Life.
Some of my most memorable events have been as a teenager with the Round Table Club where we organized large scale undertakings like World for India, which was a cross country bicycle marathon, by cyclists of four different nationalities to raise funds for Aashraya, a school for underprivileged kids.
Another was Masters for a Child where Christies Auction House partnered with the Indian Consulate in Dubai and helped us sell collectible artwork to raise funds also for Aashraya.
Today, Aashraya is a model upon which other schools and institutions are being built.
What is your most unusual talent?
Does winning a hotdog challenge count?  I can speed paint. I've performed an act where I painted a portrait of Gandhi in less than 3 minutes.
Where is the most interesting place you have been to? 
Most recently, ancient ruins of cave temples in a little known village in southern India called Hampi, protected by UNESCO. You have to take little row boats made from buffalo skin down the river to hidden caves that were handcarved by artisans back in the 13th century. It's a fascinating world.
What do you hope to be doing in ten years? 
I hope to have set up trades programs for impoverished/battered women in underdeveloped countries like India and the Far East. They would learn skills that would allow them to support themselves and educate their children. They could learn things like furniture making, joinery, printing, sewing, etc. while I would employ them and run a successful interiors business.
Is there anything you would like to add that we haven't asked?
Being Miss Universe Canada to me today means much more than my childhood dream of wearing the crown. As a young woman of diversity, I would love this opportunity to show the world how pluralistic Canadians are. To show Canadians how much we, in turn, can affect the rest of the world. We are leaders here in Canada, and I want young girls to look at me and feel empowered, to know that their dreams are valid, that anything is possible.