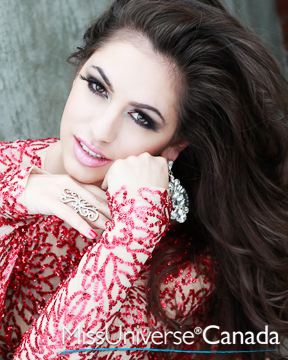 Height: 5'5″
Hometown: Montreal, QC
Born in Montreal, Quebec, Maria Isabel is the definition of Beauty, Determination, Strength and Confidence. Her wonderful personality and infectious smile brings out the best in everyone around her. Raised with an Italian/Spanish background, Maria Isabel embodies and embraces the traditional values of both cultures.
At an early age, Maria Isabel participated in various sports and musical activities, but soon discovered a passion for dance and was enrolled in a ballet jazz dance studio. By the age of 16, she had earned a teaching position at a prominent dance school where she taught Hip-Hop to young adolescents as well as mastered other dance forms such as Popping, Baladi, and Latin dancing. Soon after, she joined an elite Latin dance troupe where they have competed and performed in various venues, including Latin singer Osmani Garcia and Marc Anthony. She was also a regular dancer on a Latin television show, "Soi Caliente".
In 2012 while vacationing and performing with her dance school in Santa Lucia Cuba, Maria Isabel entered their annual Beauty pageant and was crowned Miss Serenity Santa Lucia.
Maria Isabel has attended college taking on various subjects such as Tourism and Modern Languages to prepare for future travels abroad. She was also a cheerleader for the Champlain Cavaliers while attending her studies. As well as working part time for a financial institution, she is presently taking advanced math and chemistry in preparation for a nursing program she has enrolled in this fall. She has also volunteered at a hospital as a motivational counsellor for people with depression and suicidal tendencies. Her goal is to inspire those in need of hope and help them fight through the challenges they are faced with every day. "If I can help others by motivating them to love themselves and showing them that life is a gift, just knowing that I made a difference in their lives is a blessing."
Maria Isabel embraces life to the fullest. While multitasking work, studies, dancing and now preparing for charity events and competing for Miss Universe Canada, she believes that life is all about "Do's and not Don'ts, Can's and not Can not's". "Challenges in life remind us that we are human and must be optimistic about everything happening around us. In order to succeed and be the best that we can be, we should set a goal and follow it through. Never give up on a dream, because your dream will be validated once it's accomplished and it will be your time to shine."
Sponsors:
Bistro Il Centro Da Carlo, Dr. Sheldon Dorfman Orthodontics, Surveillance Multimedia Inc., Les Courtiers D'assurance Marcello Cesta Insurance Brokers Inc., Traiteur Bon Appetit Inc., Francis Ward Photography, Picci Creations, Club Paradise Tan & Spray, Family and friends
Languages spoken fluently (please include your native language if English is not your native language).
I Speak English, French, Italian and Spanish, …(I can tell a dog to sit in Russian)
What are your interests and what do you enjoy doing the most?
Dancing is what I enjoy doing the most. I taught Hip-Hop for about 6 years. I was also in a Latin dance troupe and opened several shows for different Latin artists including Marc Anthony and Osmani Garcia. My interests include going to the movies, participating in dance workshops and enjoy spending time with family and friends.
List any special training you have had (music, art, drama, dance, etc.)
I have trained in dance and different techniques including Hip-Hop, Baladi, an various Latin Dance disciplines…( I tried to self-train my voice to sing, but that stays in the shower.)
In what sports, if any, have you participated?
I played soccer, took swimming and figure skating  lessons for a few years before deciding to put all my time and effort  into dance. I was also a cheerleader for a year at my college.
Name one person, other than your parents, who has had the most influence on your life. Why? 
If I were to choose only one person, I would probably say my best friend Priscilla. For the past the t 9 we've been through everything together and she has been a positive influence in my life.  She's a very strong and confident individual. She would push me until I would reach the best of my capabilities in any given situation.
What is your proudest personal accomplishment (other than participating in this pageant)?
Other than this pageant, my proudest personal accomplishment would have to be getting back on my feet after an accident a few years ago. Getting back into shape dancing again, travelling with the dance troupe and going back to school….
What is the most interesting or unique thing that has ever happened to you and/or what is the most interesting thing about you?
The most interesting thing about me is that I have a pretty cool scar between my eyebrows that I had the chance to remove and chose not to. It is Unique because it says a great deal about me, It shows strength and confidence, I am proud to show it off, one person's flaw is another person's beauty mark.
What is your career ambition and what are you doing or plan to do to accomplish that goal?
My career ambition is to become a Nurse. I am enrolled into a 3 year nursing program and then will continue on to University in order to achieve this career path.
What would be your "dream job" in life?
My dream job would have to be, to travel around the world and perform as one of the dancers for Justin Timberlake, Beyonce, and Britney Spears   (I would also like to work at the Disney park, as a Disney princess..)
Are you currently a student?
Yes
If yes, where?
Access Continuing education
Area of study:
Math and Chemistry
Are you currently employed?
Yes
If yes, what is your occupation?
I am a fraud Agent for a financial institution.
Describe where you were raised and what your childhood was like.   
I grew up in Brossard Quebec. My childhood was a very happy one. My brother and I were raised in a wonderful home environment with loving parents and were fortunate to have the love and support of my family.
List any interesting or unusual jobs you may have had.
An interesting job was helping out at a nearby pet shop where I fed and played with the animals all day. Although it was not a paying job I enjoyed caring for them and wanted to bring them all home at the end of the day.
List any volunteering you have done.
I recently volunteered at Hospital in Montreal, in the emergency and in the detoxification center (drug users and alcoholics).  My job was to help them by inspiring them with optimism and encouragement to regain their confidence.
What is your most unusual talent?
I don't exactly have an unusual talent, but I can make alien voices. Like the little alien in the movie "Lilo and Stitch"
Where is the most interesting place you have been to?
The most interesting place I have been to, would have to be on a 3 day cruise to the Bahamas with the Backstreet Boys and 3000 screaming fans from all over the globe!
What do you hope to be doing in ten years? 
Other than being a Registered Nurse, in ten years I will have accomplished my goals such as travelled the world, be active in raising awareness for organizations and charities in need of immediate attention, have my own dance studio, have started my own little family, and continue to enjoy life to the fullest.
Is there anything you would like to add that we haven't asked?
I am very honored to be in this year's Miss Universe Canada Competition, and would like to thank you for this great opportunity and experience.