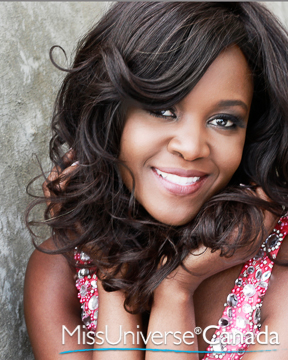 Height: 5'6″
Hometown: Calgary, AB
Missy lives in Calgary, Alberta and decided that she wanted to compete in a National Beauty pageant six years ago. Despite discouragements from people, she kept believing in herself that one day she would make it. For her competing in this pageant is an example of encouraging faith in one's dreams and goals, no matter what. Having pursued an inter-disciplinary degree in Psychology, International Business & Political Science – she looks forward to applying to Law school this year.
She is proud to be competing in this competition for two main reasons. First, having lost her own mother, she is very sympathetic to the work of SOS Children and glad to be a supporter of this charity that helps orphaned children. Secondly, she hopes to inspire more young girls of color to compete in pageants embracing the notion that beauty is color blind.
Sponsors:
The Glam Spa, Sadza, The Afrika Show (CJSR 88.5 FM Edmonton), MC Bonde (Voice of Africa Entertainment), Family and Friends
Languages spoken fluently (please include your native language if English is not your native language).
English and Conversational French, Shona
What are your interests and what do you enjoy doing the most?
I truly believe the cornerstone of society progressing in a positive manner, is due to prudent law and good governance. Therefore, my interests are in politics and law. I enjoy learning about legal systems, government structures and how all of this comes together to create societies that flourish.
List any special training you have had (music, art, drama, dance, etc.) 
I have always been extremely passionate about art, more specifically painting. I love using acrylic paints because you can blend the colors in ways that are very eccentric. For me, my art is a not just a form of expression but also a therapeutic experience. It has allowed me to discover ways to reconcile some of my emotional conflicts while dealing with grief. I hope that one day I can showcase my art.
In what sports, if any, have you participated?
When I was younger, I played tennis for a brief period. It challenged and motivated me and the lessons that I learned on the court as a young girl still continue to be part of my life. Lessons on motivation, perseverance and setting high expectations for myself.
Name one person, other than your parents, who has had the most influence on your life. Why? 
Michelle Obama is one of the most inspirational women of our time. She grew up lower middle class home with the odds not in her favor, and yet still went on to attend Princeton and Harvard. She went to Law School (something that I hope to do as well) and she actually met Barak Obama while being his mentor at the law firm that she worked at! She embodies, grace, intelligence and her life story inspires me.
What is your proudest personal accomplishment (other than participating in this pageant)? 
In High School I was awarded the Medal of Excellence at graduation and throughout my University years, I won several awards, plaques and scholarships. However, as I look back I truly believe that my proudest personal accomplishments has been the manner in which I have lived my life since losing my mother just three years ago. She died under tragic circumstances and her death brought a lot of grief and struggles for my younger sisters and I. Losing her gave me a new perspective on life and  on what matters. Titles and awards can only go so far – what matters the most is who and what you love and living the life that you've dreamt of.
What is the most interesting or unique thing that has ever happened to you and/or what is the most interesting thing about you? 
I've had a lot of interesting encounters due to my travels around the world but having all of my luggage stolen while in China, during a lay-over definitely takes the cake!
What is your career ambition and what are you doing or plan to do to accomplish that goal? 
For me, becoming a Lawyer is my ultimate goal. As I mentioned before I am very passionate about law, politics and good governance. I am very excited to be applying to Law School this year and can not wait to start this new journey in my life.
What would be your "dream job" in life?
My dream job would be working as a Lawyer in Western Canada. It's my hope that I will be able to use my position to grow personally but to also use my expertise in Law to do pro-bono work for the less fortunate.
Are you currently a student?
No
Are you currently employed?
Yes
If yes, what is your occupation?
External Affairs
Describe where you were raised and what your childhood was like.  
I came from a family with five girls, so one can imagine that my childhood was once filled with a lot of drama and the occasional sister-fight! In all honesty though, my childhood was very positive. I adored my parents and they loved me dearly and being the eldest prompted me to take on leadership roles while still quite young. It is a childhood that I am very proud and grateful to have experienced.
List any interesting or unusual jobs you may have had. 
By far, the most interesting job I ever had – was when I was chosen to work together with the United Nations Department of Public Information (UNDPI) at the UN Headquarters in New York City, USA and Seoul, South Korea. Together with other several young people from around the world, we organized an amazing youth conference on Sustainability and the best part was meeting the current UN Secretary general Ban Ki-Moon in his home country!
List any volunteering you have done.
This year, I am a mentor with the Big Brothers Big Sisters program in Calgary and absolutely love the interactions I have had with my new "little sister".
In the past, I once served as a Shinerama Director and raised funds for Cystic Fibrosis awareness and research support.
What is your most unusual talent?
I wouldn't say that this is unusual, but I do have a great ability with remembering locations and buildings. I can visit a new city one time, come back years later and still exactly remember directions, buildings and landmarks. I can also recreate them in my mind easily!
Where is the most interesting place you have been to? 
One of the greatest blessings in my life has been the fact that I have been able to travel around the world. Walking down beaches in Brazil. Seeing the Taj Mahal in India. A somber and emotional visit to the Auschwitz Concentration camp in Poland. Eating octopus in Malaysia. Attending the 2012 Olympic games in England. Being a bridesmaid in The Bahamas. Beautiful landscapes in South Africa. Driving down Rodeo Drive in California, USA + much, much more!
Therefore, it's really hard for me to pick "the most" interesting place I have been! I will say that despite of all the amazing countries I have been to, Canada is the place I love the most!
What do you hope to be doing in ten years? 
In 10 years, I hope to be still living in Western Canada and working as lawyer. I am on the fence as to whether becoming a mother is something I want in my life but I do think that there is a possibility of adopting a child from the foster care system. These children are sometimes the most vulnerable and the most in-need of homes and it would be an honor to shape a child's life in a positive way.
Is there anything you would like to add that we haven't asked?
I told myself that I wanted to compete in a National Beauty pageant back in 2008. At that time people made fun of me and thought that it was an impossible goal.
Win or lose, I am so very proud that I have been able to accomplish this goal that I had six years ago. I hope it can inspirational to others – no matter what people say or how long it takes – it's never too late to go for it!