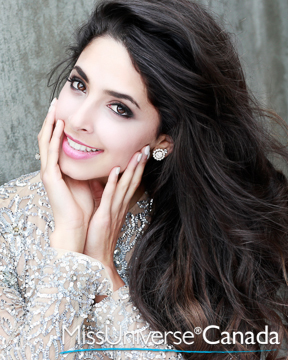 Height: 5'7″
Hometown: Anmore, BC
Niala Moallem, an undergraduate student at Simon Fraser University studying Public Health, is an earnest prospective physician. She comes from a family rich in culture and morality. Born and raised in Canada, her family, diverse group of friends, education, and exposure to various opportunities has shaped who she is today.
Niala Moallem grew up with her older brother as her role model. She strived to be like him, following his actions, hanging out with his friends, and even wearing his old clothes! Yes, she was a tomboy. She enrolled in martial arts and basketball because he did. She was the girl in sweatpants and high-top sneakers, not a ballerina dress and lacy socks. Niala always found herself being the only girl in a sports game with the boys. Bruises, cuts, and injuries never stopped her from playing with the aggressive males! Presently playing soccer approximately 4 times a week, the former statement still stands.
Niala thanks her parents for skillfully raising her to understand and value everything she has been given. They always guided her towards making the right decision, showed her how to do things once and watched her fail until she was successful, and taught her to never do something unless it is done with excellence. Niala is very independent. At the age of 16, she went to Tianjin, China, by herself during her summer vacation for 8 weeks to learn Mandarin and voluntarily tutor English to youth. Without speaking a word of Chinese upon arrival, Niala adapted quickly to the new environment and fell in love with the people and culture. At age 19, after her first year of university, Niala and her close friend travelled to the Philippines. In Quezon City, they volunteered at Lung Center of the Philippines, doing hands-on work in rehabilitation, pathology, and radiology. In the evenings, she and her friend took individual initiative and organized classes that provided education to local children and youth. Their purpose was to facilitate an environment for kids to develop a moral, ethical, and spiritual framework in a fun, safe, and enjoyable setting. Through her experiences, Niala has learned that the more difficulties one sees the stronger and more knowledgeable one becomes.
Niala's future goals are to travel the world as a physician, helping less fortunate children and youth in need of health, nutrition, and education both morally and academically. She has a vast amount of love in her heart; she can feel the sorrow and pain in others. Niala strives that her actions day by day may be beautiful, seeking always to do that which is right and noble. Miss Universe Canada will be an unforgettable experience for her. It will bring her wisdom and joy, regardless of its outcome, for it is more than just winning a crown. The crown will be an astounding accomplishment; however, Niala believes it is more than having the one year title. What Miss Universe Canada truly means to her is a voice whose words will be listened to more carefully and with greater influence, an opportunity for her to make progress in her goals, and an event to contribute to the advancement of unity not just in Canada, but the world through social justice for the rest of her life.
Sponsors:
Dipt Vancity Original, Joseph Richard Nightclub, Shallah Panjwani, RD, Dylan Sahara, Sherry Moallem, Pasta Polo
Languages spoken fluently (please include your native language if English is not your native language). 
English and Farsi
What are your interests and what do you enjoy doing the most?
I enjoy learning – there are so many interesting things to be enlightened about and the information is limitless! I am interested in Public Health, specifically in prevention as treatment. I also enjoy baking and presenting food as a work of art. I think traveling has to make it on this list as well!
List any special training you have had (music, art, drama, dance, etc.) 
Dance (ballet, jazz, hip-hop, traditional Persian dancing), martial arts, figure skating, and piano
In what sports, if any, have you participated?
I have tried almost everything, I love sports! Most frequently played are soccer, basketball, and tennis. Blessed to live in Canada with the gorgeous mountains, I ski every winter season as well.
Name one person, other than your parents, who has had the most influence on your life. Why? 
Nabeel Moallem, my older brother. I have the outmost respect for him. His opinion means so much to me because I know he is always looking out for me and guiding me to make the best decisions. He is a brother and a best friend who I can rely on at any moment. HE is that emergency contact I always fill in on forms!
What is your proudest personal accomplishment (other than participating in this pageant)? 
My university application essay was published in a journal writing book in 12th grade.
What is the most interesting or unique thing that has ever happened to you and/or what is the most interesting thing about you?
I was almost mugged in Manila, Philippines. As I was getting distracted by conversation with this little boy, the others were reaching for my belongings from behind me. Luckily, a few locals saw this and I was able to stop it just in time.
What is your career ambition and what are you doing or plan to do to accomplish that goal?
Pediatrician, M.D. – I will complete my bachelor's degree, continue volunteering and do unique things that I have a passion for. I will strive for excellence in everything I do and, given how competitive acceptance into medical school is, I will not give up until I reach my end goal.
What would be your "dream job" in life?
Not sure if this is a 'job", but my dream job is being a mother. I get to educate my children, be a mentor, and contribute to their happiness, future greatness and judgment. I get to create a home conducive to their material and spiritual welfare, a home of selfless love and unity. Thinking about it gets me giddy!
Are you currently a student?
Yes
If yes, where?
Simon Fraser University
Area of study:
BSc. Health Science
Are you currently employed?
Yes (part-time)
If yes, what is your occupation?
Starbucks
Describe where you were raised and what your childhood was like.  
I was raised in the small village of Belcarra. It is located on the top of a mountain approximately 45 minutes east of Downtown Vancouver. It is far enough from the closest city that I used to sleep on my way home after school. With a current population of 700, I became friends with all the children in the village. I remember always being outdoors, playing road hockey or biking with my neighbours. Teaching us how to read and write Farsi, my parents were constantly fostering a learning environment for my brother and I. I am forever grateful to my parents for my childhood experiences.
List any interesting or unusual jobs you may have had. 
I was a research participant for psychology master students at Simon Fraser University. I did some pretty cool tests, found some interesting things about my personality, my brain and how I learn!
List any volunteering you have done.
Eagle Ridge Hospital, BC (4 years)
Lung Center of Philippines (physical rehab, radiology and pathology)(2 months)
Organized and taught educational and moral classes for street children in Manila (2 months)
Taught English in Beijing, China for 8 weeks
Coach for Tri-Cities Youth Basketball Association (2 years)
What is your most unusual talent?
I am strangely good at the game Categories. Do not challenge me!
Where is the most interesting place you have been to? 
Manila, Philippines – it's beautiful!
What do you hope to be doing in ten years? 
In 10 years I hope to have a family with little mini-me's running around! I hope to be practicing as an M.D. and contributing to the betterment of society.
Is there anything you would like to add that we haven't asked?
We are all humans; we have senses and faculties such as reason that distinguish us above all other forms of life. I will labor at all times, whether the occasion be great or small, ordinary or extraordinary, to devote myself to the service of the general good. Miss Universe Canada is just a great extraordinary opportunity for me to do this!