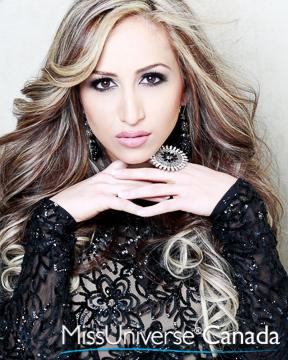 Height: 5'4″
Hometown: Richmond Hill, ON
Nickta Jowhari's aim is to breed a nation of compassionate leaders and empower them to endlessly strive to fulfill their goals and aspirations, while portraying to the youth the importance of unconditionally giving back. Nickta strongly believes that a combination of relentless hard-work, perseverance in the face of adversity and discipline, are key principles that she continues to impress onto others in order to empower them to reach their full potential. She is a prime example of a confident, well-educated and highly qualified young lady who has shattered the glass ceiling effect and intends on using this platform to further advocate for human rights, equality, minority groups and social issues worldwide.
Nickta was born into a middle class family in Toronto and raised in the suburbs of Richmond Hill Ontario. She currently attends the esteemed University of Waterloo and is one of the handful of students to ever concurrently pursue both a Honours Bachelor of Science in Applied Health Sciences, Kinesiology and Honours Bachelor of Arts in Psychology, with a research intensive specialization. She has consecutively held prestigious leadership positions representing her faculty's on Student Council, Board of Directors, Senate and much more. Research and advocacy play a large role in Nickta's current life; she currently is working on her own research project at the University of Waterloo School of Optometry and Pharmacy. As a social justice and accessibility rights advocate, with over a decade of experience working with students with disabilities, neurological and physical health disorders, she is a strong advocator for their fair treatment and upholding their basic human rights in society. She aspires to pursue a career in which she can be an effective agent of positive change in the lives of others and aspires to one day attend medical school in order to become a physician. She strongly believes that in order to be an effective humanitarian, a strong medical background would be an asset in assisting in the lives of impoverished individuals in third world countries.
During her formative years residing in Richmond Hill, she facilitated and assisted in the organization as well as execution of charity events benefiting the Heart and Stroke Foundation as well as The Princess Margaret Hospital, raising funds exceeding several thousands of dollars. Seeking opportunities to actively give back to her community is innate characteristic for Nickta as she has volunteered for many non-for-profit and grass-roots organizations, such as the "International Languages Association", "Breakfast for Learning" at local elementary schools, Free the Children, Brandon's Eye Research Fund, Young Liberals of Canada and much more. Nickta is optimistic that she can seize this opportunity to apply all the knowledge, experience and discipline acquired throughout the years to the test, in order to best represent Canadian values as well as further humanitarian initiatives nationwide.
Sponsors:
Iridium Management Consulting Group Inc, Blackberry Ltd., Riviera Fashions, University of Waterloo Athletics, Rita Tesolin Jewelry Designs, David Dixon Fashion, Machado Photography – Classique Cutz – Amy Bridger,  Gentlemen's Post, Dazogo Inc., Obsession Boutique, Yogurtys, GCAT Group, Nuri Hair Salon and Spa, Hair Flair Premium Extensions, Shiraz Restaurant, Milad Jalaeian, Frat Burger, Menchies Waterloo, Canada MedSpa
Languages spoken fluently (please include your native language if English is not your native language).
I can fluently speak English, Farsi/Persian as well as conversational French (Alliance Francis Toronto) and Russian.
I'm currently learning advanced Russian, beginner Spanish and Cantonese. I hope to learn sign language, German and Mandarin in the future.
What are your interests and what do you enjoy doing the most?
Amongst all my interests, I enjoy event planning and classical dance the most. The challenge of directing a successful event always excites me, especially when its intended to raise funds for a worthy cause.
Competitive dance I would say is definitely my niche, I find nothing more exhilarating in life then being able to express myself and share my emotions with an audience through movement. Many underestimate the level of experience and sheer difficulty in executing many of these technical skills flawlessly, which is the main reason why I love this form of art. I'm a perfectionist and the idea of making a difficult task look effortless is very self-fulfilling.
List any special training you have had (music, art, drama, dance, etc.)
I'm blessed to say that I had the privilege of being exposed to almost every aspect of sport and art.
In what sports, if any, have you participated?
The two main sports that I have been focusing my attention on this year would be training with both the Varsity Track and Field and Nordic Ski Team at the University of Waterloo.
Sports that I have been well trained in at a competitive, advanced, varsity or school team level would be:
Golf
Swimming
Volleyball
Basketball
Figure Skating
Gymnastics
Badminton
Taekwondo
Alpine Skiing
Diving
Soccer

Track and Field

Canoeing
Sports that I am trained it, but not have competed in:
Kayaking
Hiking
Rock Climbing
Horseback Riding
Zip Lining
Scuba and Snorkeling
Softball
Biking
Fishing
Snowboarding
Name one person, other than your parents, who has had the most influence on your life. Why? 
Without a shred of doubt, my only sibling Meilaud has had the most influence on my life. He was born with a rare condition that affects the ear, nose and throat region called Cystic Hygroma. The exact moment that forever changed my family's life, was finally walking into the recovery room after eight hours of surgery at Sick Kids Hospital, only to see my brother completely covered in stitches, wires, tape, staples and IV needles head to toe. Regardless of the amount of time he spent at the hospital and all the surgical procedures he had to endure, he ignited a passion in me that will never be worn out. To "save the world", as I called it back then. He influenced me to fight for what I believe in and stay optimistic even when the odds are against me. His strength and courage to confidently open up about his condition, regardless of the ruthlessly taunting he's experienced from fellow classmates is what I admire about him the most. If I were to adopt even a quarter of the strength he has in my lifetime, I would be satisfied.
What is your proudest personal accomplishment (other than participating in this pageant)?
I would have to say creating my first non-for-profit organization, now known as "Researchers United".  This organization, allows students to fund their own fees-able research projects in areas of need, the most popular being obesity, mental health, vision and cancer research. Unfortunately, funding from the government has become increasingly limited and exclusive to a select few. The impact of this is detrimental to the lives of the individuals affected by these undervalued illnesses.
While working in clinic, I was approached by a family who was in disbelief regarding the options available for treatment. They had exhausted all possibilities and asked me if there was any experimental treatment available as they always heard about a new "potential cure" on television. Telling them that there was nothing else more I could offer them made me feel as though I had failed the people who put their faith in our medical system. That family inspired me to move forward with this pursuit. Recently, I have plans to incorporate both of my organizations into the "Federation of Students" directory or clubs/groups at the University of Waterloo.
What is the most interesting or unique thing that has ever happened to you and/or what is the most interesting thing about you?
The most interesting that has ever happened to me was unexpectedly meeting the Pope and the Prince of Morocco in a span of ten days. I've been told that the most interesting about me is my unbelievable level of optimism and positive energy I give off. I really enjoy connecting and pleasing others, it's what fuels me.
What is your career ambition and what are you doing or plan to do to accomplish that goal?
Apart from attending medical school, my ultimate career ambition would be to working towards finding a cure for Glaucoma and Cystic Hygroma.
Are you currently a student?
Yes, I currently am a student at the University of Waterloo.
If yes, where?
Area of study: Double degree student at the University of Waterloo
Are you currently employed?
Yes I am currently employed.
If yes, what is your occupation?
I work as a researcher and research assistant, at the University of Waterloo affiliated with both the School of Optometry & Vision Science and Pharmacy. My second occupation is, working for Canadian Campus Communities in Waterloo.
Describe where you were raised and what your childhood was like.  
I was born and raised in Richmond Hill, Ontario. My childhood was unique and unconventional in a positive way. My parents being immigrants, realized early on that the strict lifestyle that they were brought up in, is not the best way to raise a child in this society. They taught me the importance of making your own decisions at a very young age and taking responsibility for your actions. My father always said that he only wanted one thing from me and that was to live up to my capabilities, while being a strong independent as well intelligent young lady.

Allowing me to make my own decisions early on, molded my very unique and optimistic personality. I find that most people conform to be identical to their parents, whereas my parents provided me the tools to guide me in creating and constantly rediscovering myself.
Regardless of my independence, the values that were engrained in me occasionally work against me. My greatest weakness is that I become emotionally invested in everything I commit to. Wearing your heart on your sleeve comes with risks but just as many rewards. I grew up with the mentality that one must always take pride in the work they do, without this weakness I would not exceed expectations. Which is why I always believe that, instead of focusing on improving your weaknesses, one should always focus on improving their strengths.
List any interesting or unusual jobs you may have had.
Dissecting cadavers in preparation for the first year Anatomy Class.
List any volunteering you have done.
University of Waterloo Federation of Students (Student Society):
Student Council: Student Councilor representing my faculty of Applied Health Sciences
Board of Directors
Internal administration committee
Pride Parade
Treasurer and Secretary for the UW Cabaret's Club
University of Waterloo:
Student Senator: Representing the faculty of Applied Health Sciences
The Faculty of Applied Health Sciences:
Kinesiology Class Representative (2 years)
AHSEF: Applied Health Sciences Endowment Fund – Secretary and Kinesiology Representative
The Annual 2013 Kinesiology Games at the University of Calgary- Athletic and Academic competition.
AHS Fun Run
Anatomy/Dissection Lab
Enzyme Discovery Lab – volunteered for grad students
Varsity Woman's Rugby Trainer: Sports injury rehabilitation
Students with Disabilities:
Tutor, Mentor and assistant teacher for elementary school, high school and some university students.
Specialize with children diagnosed with ADD, Autism and Mental health disorders.
Charities:
Heart and Stroke Foundation
Princess Margaret Hospital: Silent Auction (4 years)
Stand Against Stigma (Mental Health)
RBC Run for the Kids: Sunnybrook Hospital
Think Pink: Raising money for Breast Cancer Research(University wide)
Humanitarian work:
Organized a trip to Costa Rica: provide education, preserve turtle nesting grounds, rebuild schools and hospital.
Cultural:
International Language Association: Farsi School
Tutoring recent Immigrants in English.
Educational:
Medical:
Rehabilitation Clinic
Physiotherapy Clinic
Brandons Eye Research Fund.
What is your most unusual talent?
My unusual talent is that I am very proud of is that I am a well known "Cat Whisperer". I have an uncanny ability to connect with any feline friend. I provide shelter to many stray animals in general and help relocate them to loving homes.
Another talent of mine, which drives my poor mother absolutely mad, is that I have the ability to multitask at a ridiculously effective rate. For instance, I will quite literally wait until ten minutes prior to departure to begin getting ready for an evening out. My record time thus far is a little under eight minutes, which includes hair, makeup and clothing.
Where is the most interesting place you have been to? 
Being a well traveled individual, makes this question exceptionally difficult. Out of all the beautiful countries I've traveled to all over in the world in Europe, the Middle East, Asia, South America and the Caribbean, I would have to say the most interesting place I had ever been to was my trip to Costa Rica. The volcano, sea turtle nesting grounds, zip lining 900 feet through the tropical rain forest, horseback riding through the mountains and relaxing in the hot springs was an experience I would gladly relive again.
What do you hope to be doing in ten years? 
Becoming a universal humanitarian and political activist, who can not only be the voice of the oppressed but also be licensed to provide them immediate state of the art medical treatment that everyone in the world deserves to have access to. I believe that being a doctor and surgeon, is a life skill or a stepping stone to what I really want to accomplish in the future. Research is what keeps science moving forward and creates better physicians.
Is there anything you would like to add that we haven't asked?
My vision of the future is very much like my present predicament, very fast paced, demanding and eternally rewarding. My father always said if you want something done right, you have to do it yourself.
As a society I can always hope and pray that someone else will take on the challenge I have envisioned ahead. But if everyone has that mentality, the world would be at a standstill.
Miss Universe Canada would provide me the platform to make my dream a reality, while embodying the values of what makes me so proud to be a Canadian. I only wish that this title was merely worth an extravagant crown, gown and glory to me. Miss Universe Canada is only the beginning of making a world of a difference in a twelve month period and implementing changes that can last a lifetime.