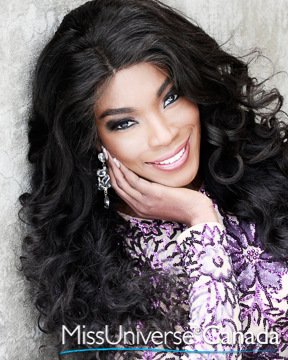 Height: 5'9″
Hometown: Calgary, AB
"Live, love, laugh!" best describes Renee Neil's attitude toward life. Whether in English or in her native Patois, she is continually seeking opportunities to help others find joy in all that life has to offer – with passion, dedication and a fun-loving spirit.
Renee was born in Kingston, Jamaica and raised by a single mother of modest means. She immigrated to Canada just five years ago to find a new start in life, experiencing for the first time Canada's incredible diversity of culture, history and opportunity. Renee describes herself as a strong-minded individual who is enthusiastic and passionate about all that she does and strives for her goals no matter what circumstances or obstacles may be in her way. She possesses a good sense of humor and the ability to develop and motivate others. Above all she treasures honesty and loyalty – being honest with yourself in knowing who you are and what it is you have to offer to the world: figuring out your purpose in life.
Renee currently works as an Account Executive at Business in Calgary Magazine and is pursuing her degree in marketing. She enjoys this work immensely because it allows her to indulge in one of her greatest passions – helping people develop their personal or professional life stories for the rest of the world to enjoy and appreciate.
Renee has experienced many circumstances in life where "giving up" seemed like the only foreseeable option, including losing her brother after a short but intense battle with bone cancer in May of 2013. Through these experiences, she has learned that every challenge, however unexpected or tragic, also presents new and sometimes wonderful possibilities. With this in mind, her goal is to one day open a shelter for single moms and orphan kids, and to do charitable work for bone cancer.
Renee is passionate about spreading belief in possibilities and hope. She's headed to the light at the end of tunnel and there's no turning back!
Sponsors:
Wolf Custom Homes, Dalton W. McGrath, Q.C., FCIArb. Partner | Blakes Law Firm Calgary, Business in Calgary / Edmonton Magazine
Languages spoken fluently (please include your native language if English is not your native language).
Languages spoken fluently are English and Patois.
What are your interests and what do you enjoy doing the most?
My interests include modeling, socializing, planning events, dancing, every aspect of fashion, cooking and baking.  These activities have given me the opportunity to continually learn new things, as well as help others.
List any special training you have had (music, art, drama, dance, etc.) 
I've had training in dance, music, sports (track and field, netball, swimming, long jump, and high jump), marketing, advertising and media.
In what sports, if any, have you participated?
I've participated in netball, track and field, swimming, long jump and high jump.
Name one person, other than your parents, who has had the most influence on your life. Why? 
At this moment in my life, I would say my brother. He passed away a couple months ago from bone cancer. This experience has changed my perspective on life and in helping others immensely. It's interesting how the cycle of life works. My brother was 36 years old, with a beautiful 11 year old daughter. He was the kindest most positive soul you could ever meet. He was diagnosed in December and he died on May 26th. 
This was a short and intense journey for me and my family. Watching someone you love, adore and hold so close to your heart wither away is extremely difficult, but this experience has changed me in the sense that I now cherish and make the most of every single moment. I'm not scared of challenges and am able to conquer all obstacles in my path. I am compelled to help others, has I love seeing their smiles, it lights my world up!
My mission is to ensure that my niece and family are well taken care of mentally, physically and emotionally. My niece truly puts a smile on my face each and every day. She makes me want to be the best I can be, and I'm doing just that!
What is your proudest personal accomplishment (other than participating in this pageant)?
My proudest accomplishment to date is my career. I went from being an intern in my organization, to now being one of the top Account Executives in the span of one year and six months.  Migrating to Canada (a country so wonderfully new to me) from Jamaica and starting all over, to creating a whole new life for myself and family within five years.
Being able to occupy this position has allowed me to meet people from different walks of life; and has placed me in a position to hopefully accomplish all that I envision in my future.
What is the most interesting or unique thing that has ever happened to you and/or what is the most interesting thing about you? 
In my opinion, the most unique thing that has happened to me; is migrating to Canada: Starting from scratch with my mom and brother. Being able to experience different cultures and ethnicities and the opportunity to not only interact on a daily basis, but having a broad range of knowledge about the world we live in.
The most interesting this about me is that I am an extremely spontaneous individual, who is also known as a "social butterfly." I'm curious about the world and the way in which we as individuals think. Even though I'm from a small island, I'm able to adapt to any environment or situation extremely well. I'm often described as an "old soul" in terms of my perspective on life, and I listen to Otis Redding and Sam Cooke on repeat on a daily basis!
What is your career ambition and what are you doing or plan to do to accomplish that goal?
My career ambition is to be a leader in an organization promoting the well being of individuals. In life, I am committed to succeeding, and I know that in order to succeed; I must make things happen instead of waiting for them to happen. I am absorbing all the knowledge, experience and resources I can obtain right now, to grow as a professional and in the future start my own business. I would love to have a team in place, working together for the greater good of society. I'm a leader, and my ambition is to do just that!
What would be your "dream job" in life?
My dream job in life is to travel the world as an international supermodel.
I hope to be able to impact the fashion/modeling industry greatly.  Further, I'd like to be in the position to act as a mentor to our generation and the next. I'd like to leave my mark on this world in promoting joy, happiness and the basic necessities needed for survival to the less fortunate.
Are you currently a student?
Not currently, will be going back to finish up in September.
If yes, where? 
Mount Royal University
Area of study:
Majoring in Marketing
Are you currently employed?
Yes, I am currently employed.
I currently hold the position of Account Executive at Business in Calgary Magazine.
Describe where you were raised and what your childhood was like.  
I was born and raised in Kingston, Jamaica by a single mom. I was raised with my younger brother and another who would be in and out of our lives from time to time. As a toddler, I attended Alvernia preparatory school and went on to attend the Immaculate Conception High school. My mother and aunts were the only family I had throughout my childhood to support myself and my brothers, as my father was never around. Needless to say, all the obstacles I've been through in my life; the toughest being losing my brother a few months ago, has molded me into the strong and ambitious individual I am today.
List any interesting or unusual jobs you may have had.
I previously held a job as a telemarketer for almost 1 year, at Breathe e z Homes. My daily task was to cold call numerous home owners to convince them to book an appointment with one of our vacuum sales reps.  This is done, allow our sales representatives to proceed to their homes and persuade them to buy an in home air quality system for a free gift, such as: knifes, Auto kit, Tupperware etc.
This job was interesting because I was able to relate and connect with people just by talking with them over the phone for 30 seconds; I was able to gain their trust.
List any volunteering you have done.
Previously, I had volunteered three times a week at the Salvation Army school for the blind in reading and playing games with the group. In migrating to Canada, I was also placed in a woman's shelter with my mom and brother for a couple weeks, due to unforeseen problems with my step dad. I do try my best, to send donations to them, whether monetary or produce. Unfortunately I have not had the chance to do much volunteering since migrating to Canada. Over the past couple of years I've been helping support my family and with brother's illness and death I haven't had many chances.
One of my main reasons for also participating in this pageant is to get more involved in volunteering and charity work.
What is your most unusual talent?
My most unusual talent is being able to hold my hands together in front of me and take then all the way behind me with them still being together. (Haven't found a way to make this useful yet…..But I'm still trying :))
Where is the most interesting place you have been to? 
I have travelled to: North Carolina, New Jersey, New York, Philadelphia, Toronto, Vancouver, Vancouver Island, Jamaica, Mexico, Florida and LA.
Although I was born is Jamaica, It is still the most interesting place I have been thus far, due to its culture.
What do you hope to be doing in ten years? 
I would like to be an ambassador for Canada guiding the youth of today towards a better tomorrow; establishing a few charities of my own.  I hope to be in a position in my career, where I am able to be the breadwinner for my family and also able to help others to do the same. By then I should have left my mark on the fashion industry and also mentoring and illustrating to others my journey, and how it all became possible!
Is there anything you would like to add that we haven't asked?
I am motivated and determined to win this competition and that I will do!