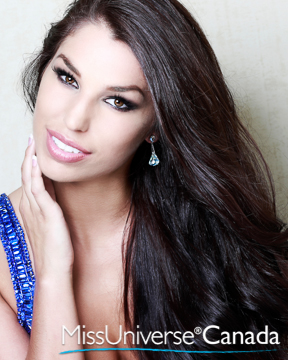 Height: 6'0″
Hometown: Halifax, NS
Sarah is a compassionate young woman and an active humanitarian, who regularly dedicates her time to various charities. Highlights for her have been travelling abroad for international development work in Belize, modelling in New York City for the charity runway event "From Scotland with Love", and being named one of World Vision Canada's celebrity ambassadors.
Born in the small town of Pembroke, Ontario, her family moved often with the Canadian military and Sarah grew up as a well-travelled dual-citizen of the UK and Canada.
Having been an athlete for much of her life, she is a health and fitness advocate who devotes time as a personal trainer and coach. She enjoys helping others to achieve a well-balanced lifestyle that not only improves physical health, but promotes self-esteem.
Sarah also advocates the importance of encouraging children to become more active as current research shows this will make them far less likely to bully or to be bullied, and ultimately provides them with a legacy of healthy habits for their lifetime.
An ACTRA actress, internationally published model, and sponsored athlete, she has experience as an ambassador in many facets of brand representation on behalf of designers and corporations, as well as non-profit and charitable organizations.
Sarah has appeared in national print publications such as Inside Fitness Magazine's Best of 2013 issue where she was featured in the Female Elegance piece, and again in the following issue where she was selected as one of Canada's Hot & Fit 100 for 2013, featured as Lucky #7. Sarah was also thrilled to be internationally published and honoured to share her advice as a fitness expert in an article for Women's Health & Fitness (Australia).
During her education she was a dedicated member of student government, and served as Vice President of her Student Association, while completing the Tourism Management program at NSCC with a focus on Eco-Tourism. Sarah is a warm-hearted, empathetic person who truly appreciates spending time meeting new people and learning about diverse cultures. She has a passion for travel and thrives when encountering new situations.
Ultimately Sarah's mission is to inspire and help others. Whether through Art or Health, she aspires to motivate people to reach up and work towards their dreams. As Nelson Mandela said, "And as we let our own light shine, we unconsciously give others permission to do the same." Sarah envisions that, if every person tried to be a better version of themselves this world would be a much more positive and successful place. Raised to be a grounded and versatile individual, she is constantly striving to improve herself and believes that when you are your best self, you are able to help others the most.
Languages spoken fluently (please include your native language if English is not your native language). 
I am fluent in English. I studied French in school and picked up some conversational Spanish during my travels to Central America.
What are your interests and what do you enjoy doing the most?
I enjoy volunteering my time to any worthy organization and strive to convey a strong, healthy example for the youth of today. My main interests are travel, fitness, and philanthropy. My greatest passion is travelling; I've been lucky to travel throughout my entire life starting at a young age, and have had the great pleasure of spending time all over Canada, and in the USA, Belize, England, Scotland, and most recently Japan.
List any special training you have had (music, art, drama, dance, etc.) 
I studied ballet in elementary school, hip hop/contemporary performance group in middle school, and belly dancing in high school. As part of my Tourism and Hospitality Management schooling, I have received training in formal dining etiquette, formal wine training (by Canada's Master Sommelier, John Szabo), culinary training and more.
In what sports, if any, have you participated?
I have enjoyed coaching young swimmers while also competing in swimming, volleyball, track & field, and rugby. After high school I played for the Nova Scotia Women's U19 Rugby Team at Eastern Nationals. Currently I play volleyball in regional leagues, and I am a sponsored athlete competing in the Bikini category of the NSABBA/CBBF. In 2012, I won the title of Provincial Bikini Tall Champion, and in 2013 placed Top 5 at Canadian Nationals in Vancouver.
Name one person, other than your parents, who has had the most influence on your life. Why? 
While growing up one of the places I lived the longest was Greenwood, Nova Scotia, where my sister and I joined the competitive swim team. Our Head Coach was like a second mother to both of us. She was a huge influence in my life, as a coach, teacher and friend. After swimming for several years, I was inspired by her to earn my national certification, and I began coaching our team's young "Future League" swimmers. Sheri mentored me not only as an athlete, but also as a coach, and she helped me grow into a mature, responsible adult with compassion and determination.
What is your proudest personal accomplishment (other than participating in this pageant)? 
I have many things in my life that I am proud of and it's hard to say one is a more significant accomplishment than another. I am proud of my education and leadership roles I have taken on as Vice President, Minister of NSSSA and Class Representative. I am proud of the accomplishments of younger athletes that I have coached and of clients that I have helped. I am proud of my modelling publications and acting endeavors. Ultimately, I am proud of my balance of mind, body and spirit. My parents raised me to be a grounded and versatile individual. I constantly strive to improve myself, and believe that when you are your best self, you are able to help others the most.
What is the most interesting or unique thing that has ever happened to you and/or what is the most interesting thing about you?
One of the most interesting things that I've done would have to be going to Central America for international development work. Belize is a beautiful and humble country, and it changed me as a person. I was hosted by a Mayan community where they had no running water, no electricity, and they sustained their village from the small amount of food they were able harvest. To spend time with someone who has so little, and yet has so much pride and is happy to give with much generosity; it really enlightens your perspective on the world. It was a pleasure to help these communities, and it brought warmth to my heart to see the happiness we provided for them.
What is your career ambition and what are you doing or plan to do to accomplish that goal? 
I have a number of career ambitions. I enjoy modelling and acting and I'm going to pursue this as far as it takes me and try to positively influence the industry. I also have interests in fitness and the tourism and hospitality industry, and would be delighted to eventually own and operate a socially responsible and ecologically sustainable health resort, where people can get away to relax and educate themselves on ways to better their lives. I plan to continue to work towards upgrading my Tourism Management Diploma into a Degree, while also enrolling in classes and workshops to improve my fitness and acting credentials. I believe that Life is an evolving journey and that we must be open and prepared to adapt as opportunities open up.
What would be your "dream job" in life?
I want to inspire and help others. Whether it's through Art or Health, I endeavor to motivate others to reach up and work towards their own dreams or personal goals. As stated above, I would love to eventually own and operate my own health resort; however becoming Miss Universe would be my present day dream job because it would help me reach a broader audience with my positive messages and I could continue to work with women's and children's charities on a larger scale.
Are you currently employed?
Yes
If yes, what is your occupation?  
I am a certified personal trainer and coach for Goodlife Fitness, as well as a professional actress and internationally published model.
I am a current ACTRA member, and have had roles on network television shows and commercials such as Showcase's Haven, HBO's Call Me Fitz, Smithsonian's Forensic Firsts and CTV's 2012 Olympic campaign. As a model, I first started to gain recognition after doing a national ad campaign for Moosehead, when I was voted "Halifax's Favourite Model" in Faces Magazine.
Recently I have appeared in national print publications such as Inside Fitness Magazine's Best of 2013 issue where I was featured in the Female Elegance piece, and subsequently in their January 2014 issue where I was selected one of Canada's Hot & Fit 100 for 2013 (featured as lucky #7). In August 2013 I was thrilled to be internationally published and honoured to share my advice as a fitness expert in a feature for Women's Health & Fitness (Australia) titled, What the World's Fittest Women Eat.
I have also modelled in runway events; such as Mercedes Benz Start Up, Atlantic Fashion Week, and was delighted to model alongside celebrities and models from around the globe in the charity runway event "From Scotland with Love" hosted in New York City in April 2013.
Describe where you were raised and what your childhood was like.  
I was born in Pembroke, Ontario and grew up in a military family. My father is a helicopter pilot for the Canadian Military's Search and Rescue Force, so we were posted often, and my family travelled all over Canada and in parts of the United Kingdom. I am fortunate to possess dual-citizenship holding both Canadian and UK passports. Having spent the greater part of my life around Halifax, Nova Scotia, I consider Halifax to be my hometown.
List any interesting or unusual jobs you may have had. 
I had the pleasure of working with Kevin O'Leary and also Danny Glover, when I started my own event management company at the age of 22 while studying Small Business Management at Mount Saint Vincent University in Halifax.
List any volunteering you have done.
I have volunteered in numerous fundraisers such as workshops, fashion shows, concerts, sporting events and carwashes; for organizations such as Progress Club, Adsum House, Progress Centre for Early Intervention, Children's Wish Foundation, Spin 4 Kids, Move Athletically, Parker Street Foundation, Youth Project, Canadian Cancer Society, Canadian Diabetes Association, Lung Association, Cystic Fibrosis Canada Shinerama, Heart and Stroke Foundation, Parkinson Society Canada, and Hurricane Katrina Relief.
I have also volunteered for international development work with Toledo Institute for Development and Education, and Sustainable Harvest in Belize. And, I have enjoyed personally organizing and hosting charity events to raise money in support of SOS Children's' Villages and Operation Smile. Most recently, I have been named one of World Vision Canada's celebrity ambassadors.
What is your most unusual talent?
My most unusual talent could be that I am very intuitive; my family and friends say that I can read them like a book.
Where is the most interesting place you have been to? 
I have had the pleasure of being in some amazing countries; the most interesting perhaps are Japan, Turks and Caicos, Belize, England and Scotland. I admired the architecture (especially castles) and history of Europe, and I embraced the beauty and warmth (of climate and culture) of Central America.
What do you hope to be doing in ten years? 
I hope to be my own "brand" and inspire people to be healthy and active. I would like to be running my own business with a percentage of profits going to World Conservation Union and SOS Children's Villages.
Is there anything you would like to add that we haven't asked?
A genuine optimist, I believe anything is possible with dedication and determination, and apply this philosophy to every undertaking, whether working towards personal goals or striving to help a worthy cause. I hold the utmost respect for the title of Miss Universe Canada, and believe that a woman can be simultaneously beautiful, intelligent, feminine and powerful. It would be my honour to work with Beauties of Canada and Miss Universe Organizations, and I look forward to this opportunity wholeheartedly.