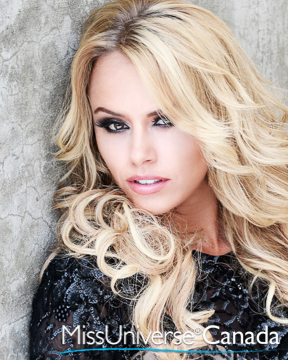 Height: 5'4″
Hometown: Gogama, ON
Born in a quaint Northern Ontario town of 250 people, Sarah was raised with the predominant values of minimalism and self-sufficiency. Growing up, she frequently moved all over Ontario, which in turn left her very socialized with a love of experiencing new places and situations. She grew up as a "tom-boy" and always possessed a strong desire for being in the wilderness. To this day, she continuously practices wilderness survival training.
While attending Fleming College, she studied Electrical Engineering but decided to take a different route after her first year. She is currently working in the Engineering field and is working as a first year as a junior civil engineer. But with a thirst of striving for more, she also works for two other companies as a sales representative that allows her to travel Canada and experience the behind-the-scenes and business aspect of the retail world. With experience in these careers, she possesses strong networking skills, professionalism and enthusiasm.
She strongly believes in building a better future for our nation's youth; from promoting the importance of maintaining and respecting the environment to teaching a workshop that helps young women build a better self-esteem and to recognize their unlimited potential. With this said, she is also an active volunteer with World Vision, Mattagami First Nation Reserve, and several Northern Local community boards.
As a proud and active Canadian woman, she works hard towards building a better world for everyone through leading by example. Still, with an active military application, she plans on representing Canada in only the finest while representing herself in Miss Universe Canada in the upmost sophisticated way. She is known as a role model, an intellectual and a driven individual whom has great aspirations and ideas on how to build a better world. With her sense of adventure and fearlessness, she has the ability to make anyone smile and strive for more.
Sponsors:
Deziel Repair, Primal Coloured Contact Lenses, Poly Fusion, Rodney, Tammy Rattu & Family, Ten Point Archery, Speedy Lube – 1300 Riverside Drive, Timmins, Ainley Group Consulting Engineers and Planners, Watershed Towing, Mattagami Convenience Store And Restaurant – Lot 3 Lakeview Drive, Gogama
https://www.youtube.com/watch?v=jpMCp5oeuQo
Languages spoken fluently (please include your native language if English is not your native language).
English and French
What are your interests and what do you enjoy doing the most?
I absolutely love the outdoors!  I spend most of my days fishing, hunting, hiking and canoeing.  With every change of season brings new and exciting way to experience nature.  Although, a nice day lounging on the beach is always nice, I tend to keep very active and have created a powerful bond with Mother Nature.
List any special training you have had (music, art, drama, dance, etc.)
I always had a great ear for music, so I was placed in piano lessons followed by guitar lessons as a teen.  I did not find the lessons exciting enough so I decided to teach myself!  I am self-taught on the guitar (electric and acoustic), bass, drums, saxophone and I am now in the process of learning how to play the fiddle.
In what sports, if any, have you participated?
I have always loved playing volleyball; whether it was in school, a weekend club or hanging out on the beach, it was always the most beneficial and fun sport for me.  I also played a little hockey in a "fun" league on outdoor rinks.  Although my skating skills are not at an optimum level, I can still hold my ground when it comes to the good old Canadian body check.
Name one person, other than your parents, who has had the most influence on your life. Why? 
I am more than proud to say that my Grandmother has been the most influential and inspiring person in my life.  My Grandmother Martha is a superhero in my eyes, anything she touches or looks at turns to gold.  I am serious when I say this, my grandmother does it all; she blinks and there is a beautiful 5 foot wedding cake sitting in front of her, she hugs me and suddenly I am wearing a beautiful handmade cocktail dress, she can build, fix, design, hem, or create anything.  She has an amazingly hilarious sense of humour, and advice that would put psychiatrists and counsellors to immediate shame.  She loves with all her heart and lives life with the upmost intelligence and kindness.  This tiny framed woman looks so fragile and dainty but do not let that fool you; she will be the first one to hypothetically pin you to the wall.  She is a beautiful and tough woman in which I hope to become like one day… she is my mentor, inspiration, my best friend, my hero.
What is your proudest personal accomplishment (other than participating in this pageant)?
My greatest personal accomplishment was successfully managing an all-male environment as a Junior Civil Engineer and earning their respect as an effective manager and leader.
What is the most interesting or unique thing that has ever happened to you and/or what is the most interesting thing about you?
As I've mentioned before, I am very intact with the outdoors.  In June 2012, I decided to leave my job and life in the Peterborough area and go on a wild adventure.  I had lost myself somewhere along the way and decided to spend 2 months alone in the Northern Ontario wilderness.  I had brought only my furry companion, a canoe, a fishing rod, tackle box and a tarp.  I taught myself how to live off the land, experimented with different plants for food, built different survival shelters and canoed, walked and sometimes ran over a period of two months in solitude of the opulent boreal forest of Gogama.  I had become a minimalist and mountain woman with an endless amount of land to cover; I had shed all external influences and solely extracted survival instincts.  I emerged after 2 months, refresh, revitalized, rooted, happy and rediscovered.  This truly made me appreciate all the little things in life.
What is your career ambition and what are you doing or plan to do to accomplish that goal?
Considering I have nomadic tendencies, I always wanted a job where I could travel and be on the move constantly.  I am currently a Junior Engineer for Ainley Group Engineering and Consultant; but sadly I am laid off in the winter months.  With this said, I am not the type to sit around and twiddle my thumbs.  I am currently on a job trail as a sales representative which takes me coast to coast, which I love and have a great time doing!  I am getting all aspects of a career that are desirable to me such as dealing with people, travelling, and math is a dominant aspect.  It is a wonderful job that lets my personality shine!
What would be your "dream job" in life?
If I were to decide to settle down and suppress my roaming inclinations, I would love to open my own outpost hunting and fishing retreat.  This may be more geared towards when I retire considering the employment I currently am working at.  As mentioned before, I live to be outdoors; and with my own business that is directed towards supplying wilderness adventures, fishing and hunting trips to people would be a "dream job".
Are you currently a student?
No, I am not a student.
Are you currently employed? If yes, what is your occupation?
Yes, but it is a seasonal position as a Junior Civil Engineer at Ainley Group Consulting Engineers and Planners.  Unfortunately, I do get laid off in the winter months but have no fear!  I am also currently a sales representative for Lesieur Enterprises and for VH Apparel that enables me to travel across Canada.
Describe where you were raised and what your childhood was like.  
I was brought up in a very strict but loving home.  My father worked for O.P.P., so we moved quite a bit; on an annual basis pretty well.  I always had the tendency to go back to Gogama, which I now consider my home town.  I had grown up as a "tom-boy", playing with snakes, frogs, fishing, hunting and wondering into the forest.  I was an only child so I spent the majority of the time playing with the household pets!  I always found it hard to adjust in a new school considering I really never had a name, just a nickname "the new girl".  I grew very introverted which in retrospect was beneficial due to my complete interest and focus on my studies.  For the most part my mom was a "stay at home" mom, which could be why she is still one of my best friends to this day.  I was always very close with my family and our pets.  I grew up with strong morals, ethics and a later on love of moving.  I was well balanced and had a very active and healthy lifestyle.  Although my mother did not enjoy my wilderness excursions, she always taught me to be fearless/brave, to grab life by the "antlers" and to be proud of whom I am and have become.
List any interesting or unusual jobs you may have had.
Most of my jobs I found very interesting; I was a certified dog groomer by the age of 15, head chef for CNR by the age of 16 in which I did for 3 years and after college, I decided to get into mining and worked as a Wet Chemistry Technician for a core processing lab in Timmins.  I would not say they were unusual but they were definitely interesting!
List any volunteering you have done.
I have worked with one Charity in which I held a fundraiser for; the Northern Ontario Families of Children with Cancer in 2013.   Considering I have lived in secluded Northern towns most of my life, charity work is very hard to come by.  In turn I did volunteer work for small local communities of the North.  A lot of my volunteer work included environmental waste clean-up projects, participating with local churches and their fundraisers, introducing waste clean-up on construction sites, and getting involved with fitness races to promote healthy living.  I am also currently working with the Mattagami First Nation Reserve where I help them with various types of events such as fishing derbies and community events.  I am also in the midst of creating a workshop for young women, it focuses helping them build a better self-esteem, being comfortable with who they are, recognizing their unlimited potential and develop a healthy relationship with `beauty`.  I also recently starting volunteering with World Vision, where I will be attending special events to help children in other countries obtain sponsorships to give them a better future.  I have further plans on volunteering my time with the Nature Conservancy of Canada organization to help raise awareness of the importance of Canada`s wildlife and plants.
What is your most unusual talent?
Considering I was brought up in the country and the back woods of Northern Ontario, I was brought up in a hunting environment. In turn that rendered me with amazing target shooting skills and agility!
Where is the most interesting place you have been to? 
The most interesting place I have been is Yoho National Park in Field, British Columbia.  I had went snowshoeing for two days into the middle of the western slopes of the Rocky Mountains, where the soaring summits, frozen water falls, silent forests and constant avalanche warnings peaked my highest interest and made my adventurous side tingle with exhilaration.  It is a place of pure beauty and inspiration.
What do you hope to be doing in ten years? 
I hope to be enjoying life as much as I am right now in ten years!  I have wonderful careers, an amazing family, incredible friends, and the opportunity to travel around the world!  I have worked very hard to get where I am at now, I plan on working even harder to maintain and build a bright and joyful future by always thriving to become a better individual.
Is there anything you would like to add that we haven't asked?
Miss Universe Canada is such an amazing opportunity.  I will use this opportunity to show that even a small town "tom-boy" can achieve such enormous goals with hard work and perseverance.  This could be my chance to really get my visions and aspirations out in Canada.   I am very determined to help young women develop great aspirations for themselves accompanied by helping them advance a healthy self-esteem and body image. I think that kids have a greater capacity for processing and achieving things than society gives them credit for.  I am not looking to change anyone but to help young girls grow into beautiful, confident and capable women.  I believe that it is not the degree of our actions but the quantity of love and passion that is put into them that matters.