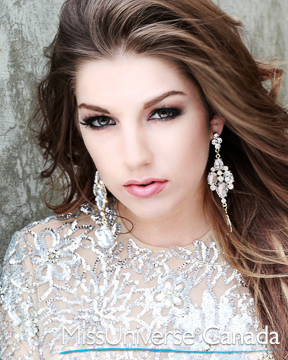 Height: 5'3″
Hometown: Vaudreuil, QC
My name is Sarah Saei Arasee I am 23 years old, Canadian born with Iranian roots. I am presently employed at John Scotti Enterprises as a reception hostess and administrative assistant, which I enjoy very much as it allows me to interact with people.
The connection I have with my family and friends is of the greatest value to me. I am an out going, positive person. I enjoy dancing, modeling and singing, and I was active in figure skating when I was younger. I love fashion and one of my aspirations is to someday own a clothing boutique and perhaps have my own clothing line. I am also very interested in the beauty care industry, especially in manicure treatments.
I do volunteering in centers for the elderly and impaired children, as well as participating in different types of fundraisers, benefiting children's' hospitals in my community. Another cause that is close to my heart is the welfare and protection of animals. I have volunteered for such organizations as the S.P.C.A in Montreal, in hopes of being there for vulnerable animals that need security, affection and nurturing.
I believe it is important to give back to one's community and help in any way possible, whether it is by devoting time or effort to a cause.
I also want to be a role model for girls and young women by inspiring them to be their best selves.
Sponsors
John Scotti Automotive, Commission des liqueurs Boisbriand
Languages spoken fluently (please include your native language if English is not your native language).
English, French
What are your interests and what do you enjoy doing the most?
I enjoy traveling and learning about different countries and cultures, singing and modeling. I love taking care of animals.
List any special training you have had (music, art, drama, dance, etc.)
I have taken dancing classes and Iranian language lessons. I have also taken figure skating, ballet and swimming lessons as well as 2 years of drama classes. I am also attending singing classes, which I started at 12 years old.
In what sports, if any, have you participated?
In High school I was in the basketball and volleyball team. I was in competitive figure skating for 6 years and won several awards including 2 gold medals.
Name one person, other than your parents, who has had the most influence on your life. Why? 
The person who influenced me the most besides my parents, is my cousin Marilyn. I have a great deal of respect and admiration for her.  She has always been a great role mode for me l and I have always looked up to her. She is a kind, compassionate, intelligent women, who has a passion for life and great affection for her family and friends.
What is your proudest personal accomplishment (other than participating in this pageant)?
One of my proudest moments was singing on stage in front of a crowd and overcoming my stage fear.
What is the most interesting or unique thing that has ever happened to you and/or what is the most interesting thing about you?
When I was 4 years old I had a unique experience at a restaurant in my home town.  Céline Dion was invited to the opening and my mom and I got to meet her. I presented her with a blue rose and she picked me up in her arms and asked my name – it was a magical moment that I will never forget.
What is your career ambition and what are you doing or plan to do to accomplish that goal?
I am looking forward to going into my fiancé's health food catering business. I would also like to start my own online clothing boutique.
What would be your "dream job" in life?
My dream job is to become a professional singer, it is one of my passions. I love singing and writing songs.
Are you currently a student?
No
Are you currently employed?
Yes
If yes, what is your occupation?
Administrative assistant (accounting/human resources)
Describe where you were raised and what your childhood was like.
I was raised in the small town of Vaudreuil-Dorion a suburb of Montreal. It was a quiet and peaceful environment.  This is where I met my best friends.  As a child I loved playing outside; climbing trees, swimming, playing with animals, picking wild berries and my favorite activity of all, skating at the local arena. My parents instilled family values I me and my brother from a young age.
List any interesting or unusual jobs you may have had
I worked at a pet store and took care of many different and exotic animals.
List any volunteering you have done.
The Laval  youth centers
The center for impaired children in Montreal
The Sainte Anne Veterans hospital in Ste-Anne de Bellevue
The Montreal Children's hospital
What is your most unusual talent?
I have a distinct ability to understand animals.
Where is the most interesting place you have been to? 
I have visited d Dubai with my mom. It was great to see and learn about a different  culture,
What do you hope to be doing in ten years?
I hope to pursue my singing. I also hope to have my own business and continue my volunteer and fundraising work.
Is there anything you would like to add that we haven't asked?
I am very happy to participate in the Miss Universe Canada pageant and look forward to it being a fantastic experience and to making many new friends.