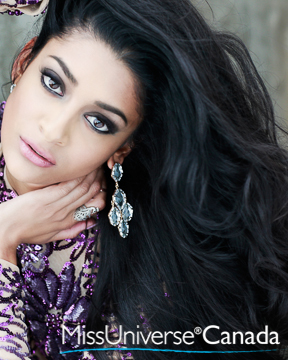 Height: 5'5″
Hometown: Bradford, ON
Shalini Bhagowtee grew up in the small town of Bradford West Gwillimbury, where she dreamed of one day becoming a teacher. Through hard work and perseverance Shalini was accepted into the University of Guelph.
While she is very interested in biological systems and processes, she is also equally interested in people and cultures. Which is why she decided to complete her Bachelor of Science with a major in Biology and a minor in Anthropology. Eventually she wants to teach biology and one day hopes to become a Special Education teacher.
As she awaits her acceptance to Teachers College, Shalini enjoys working and volunteering with children. She currently works as an Assistant Teacher at a local YMCA childcare center in her hometown, where she can exercise her passion for educating children.
Shalini accredits all of her success thus far to her parents and brother who have been nothing but supportive her entire life. Her parents have always taught her to believe in herself and have always made sure that she knows that not everything in life comes easy, and that ultimately you must work for what you want.
In her spare time Shalini loves to paint. You can often find her with her nose buried in a book or flipping through a magazine. If she isn't doing any of those activities she is playing with her rescued puppy Boo, who was born blind and had to have one eye removed.
Shalini strives to be the kindest and most loving person she can be, and hopes that in some way this will help her to proudly represent her country in the Miss Universe Canada competition.
Sponsors:
L'Antica Ristorante Pizzeria, Cousins Landscaping, Verona Travel, Family and Friends
Languages spoken fluently (please include your native language if English is not your native language).
English
What are your interests and what do you enjoy doing the most?
I love reading; painting, decorating, teaching, fashion, and eventually I would like to travel around the world. 
List any special training you have had (music, art, drama, dance, etc.) 
I was trained as a Ballet dancer for 6 years at Simcoe Dance Academy.
In what sports, if any, have you participated?
Dance.
Name one person, other than your parents, who has had the most influence on your life. Why?
One person other than my parents that has had the most influence on my life would have to be my grade 11/12-math teacher, Mr. Sparks. I am completely horrible at math, its just one of those subjects that did not come easily to me. However, I needed these math credits from grade 11 and 12 in order to get into university. Mr. Sparks worked with me everyday at lunch and afterschool in order to help me understand the concepts. He was remarkably patient, and never once made me feel inadequate for not understanding something. I owe so much to him for the time he so willingly gave up to help me. I hope one day I can make a difference in a students life the way he has made a difference in mine.     
What is your proudest personal accomplishment (other than participating in this pageant)? 
My proudest accomplishment would have to be graduating university. Looking back, my first year of university was probably one of the toughest and darkest years of my life. Getting through and making it to the end really showed me that you can work through anything if you have the support of your family and friends.
What is the most interesting or unique thing that has ever happened to you and/or what is the most interesting thing about you? 
To be honest, the most interesting thing to happen to me would be being selected as one of the final contestants for the Miss Universe Canada competition. It's truly an honor to even have been considered. I will cherish this experience forever.
What is your career ambition and what are you doing or plan to do to accomplish that goal? 
I have always dreamed of becoming a teacher. Even when I was little I would force my brother to pretend he was my student. He would sit there for hours in the garage while I pretended to teach him. Fortunately he no longer has to do this, as I am currently the Assistant Toddler teacher at a YMCA childcare center. This past year I completed my Bachelor's degree at the University of Guelph, and am currently awaiting my acceptance to Teachers College.
What would be your "dream job" in life?
My dream job in life would definitely have to be a Teacher.  
Are you currently a student?
No.
Are you currently employed?
Yes.
If yes, what is your occupation?
I am currently working at a YMCA childcare center in my hometown as an Assistant Teacher in the Toddler room.
Describe where you were raised and what your childhood was like.  
I was raised in the small town of Bradford West Gwillimbury, and could not be more proud to call it my hometown. Although small, Bradford provided me with the perfect combination of small town values and people to mold me into the person I am today. Growing up I had a very happy childhood with absolutely no complaints, and nothing taken for granted. I had the support of my two beautiful parents who immigrated to Canada in 1988 from Trinidad and Tobago. I have been truly blessed with parents who showed both unconditional love and support, but also instilled in me core values that I live by to this day. I was also fortunate to grow up on two separate streets that created life long friendships that I will treasure for the rest of my life. Many would say that I have not changed an inch since I was little, and to that I would say that you can still most likely find me laughing all the time.
List any interesting or unusual jobs you may have had. 
My Dad owns his own landscaping company so I often go out and help him when he needs it. However the only job he entrusts me to do is pulling weeds out of gardens! I have also worked retail as a sales representative for the clothing store Stitches.
List any volunteering you have done.
OSPCA
Guelph Food Bank
Bradford West Gwillimbury Library Reading Buddy
Project Serve
Strong Kids Campaign
Trick or Eat
YMCA
30 hour Famine
Jump Rope for Heart
What is your most unusual talent?
I have one of the most unusual laughs you have ever heard.
Where is the most interesting place you have been to? 
I have not travelled many places, but I would have to say my parent's native country of Trinidad and Tobago. Two thirds of my family lives there, so whenever we make a trip it's a huge family reunion. It's amazing to see where my parents grew up, and also to see and talk to my grandparents, who taught my parents the lessons that they have passed on to my brother and me.
What do you hope to be doing in ten years? 
In ten years I hope to be an established teacher and hopefully have started or in the process of starting a family. All in all I wish that all of my loved ones are living beautiful, happy, and healthy lives.
Is there anything you would like to add that we haven't asked?
"The greatness of a man is not in how much wealth he acquires, but in his integrity and his ability to affect those around him positively." Bob Marley