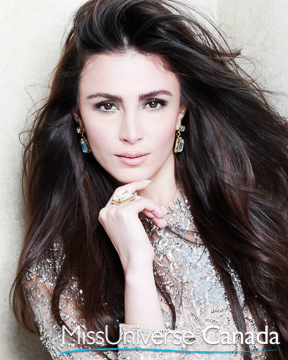 Height: 5'8″
Hometown: Toronto, ON
Tara is an international model, DJ, and music producer. As an artist and an entrepreneur, her background and passion lies in music, fashion, art & entertainment.
Her continued success as a professional model and desire to express art in the form of music merged into a bohemian lifestyle. While living in Paris, due to a severe medical condition, this student of Astrophysics and Human Biology was so inspired by her transformative experiences of death, adversity, and chaos that an idea was born: Let's Live. This experience changed her perspective on many things in life and soon after, she decided to change directions and start her career professionally as an artist and music producer. She is now working enthusiastically on the production of her new album, "Let's Live!"
Tara does everything passionately and with determination. She believes all dreams are meant to come true, so she puts hard work, discipline and dedication into her projects.
Tara was awarded Miss Photogenic Canada during the Miss Universe Canada 2009 contest.
She has proven her abilities and polished her professionalism within the business field. Her experience in combining music with fashion, art and entertainment, motivated her to spend countless hours mentoring and encouraging aspiring professionals in the art of entrepreneurship. Aside from mixing and producing music, her additional projects include the production of visual arts, developing a 3D adventure-style video game and music label management.
Tara understands the importance of education to co-create a better, healthier, wealthier and happier world. She believes every child deserves to achieve his/her dreams. Tara plans to continue working hard to be able to give back to her community and the greater society to the best of her abilities. She hopes to engage, create and see through charitable educational projects for children and youth across the world.
Sponsors:
Danier Leather, Gold Line Group, Cara Cheung, Chio Swim Wear, Dolphin Dental, Narces, Buonanotte, Bongo & B Entertainment, Persepolis Exchange, A-Venture Capital, Nicole Makara, Glamour Access
Languages spoken fluently (please include your native language if English is not your native language).
English & Farsi
What are your interests and what do you enjoy doing the most?
I enjoy travelling, meeting new people and experiencing new cultures. I have a passion for music, mixing and producing. I take pleasure in helping others in any possible way and making my friends and family happy.
When I'm relaxing at home, there's nothing like cuddling up in a blanket with my bunny, watching movies, eating popcorn and homemade pasta with lots of tomato sauce.
List any special training you have had (music, art, drama, dance, etc.)
I have trained in classical music. I received piano lessons, studied musical theory and practiced keyboard. I am also trained in business management and development.
In what sports, if any, have you participated?
I love swimming and can never get enough of being in the water. I achieved the gold medal in the 200-meter breaststroke in the provincial competitions when I was at high school.
Name one person, other than your parents, who has had the most influence on your life. Why?
Besides my parents, brother and sister, the person who has had the most influence on my life is my friend and business partner Jean Marc. He holds two P.H.Ds in economy and in science of information. and has a six-degree black belt in Martial Arts. He has helped me become the business-minded entrepreneur women that I am today. Not only has he trained me in business, he has also taught me how to stay focused and disciplined in my day-to-day life.
What is your proudest personal accomplishment (other than participating in this pageant)?
I am proud of all my accomplishments; the one that I am the most proud of is usually my most recent. Right now mixing and playing my own produced tracks in front of thousands of people, seeing the crowd really dancing and having a good time makes me proud.
What is the most interesting or unique thing that has ever happened to you and/or what is the most interesting thing about you? 
A Crazy Trip to Paris.
That could be a really long story, but since it is the most interesting thing that has happened to me, I will write it anyways. It all started when a ten-day modeling trip to Paris turned into an eight months stay due to a serious medical condition. Before leaving for Paris, I got a really bad headache while taking my chemistry term test at the University of Toronto. I went to see the doctors at the University's hospital and they told me that it was the result of pushing myself too much: preparing for my exams, not getting enough sleep, and working a full-time job. They gave me some painkillers and told me to go home and sleep.
I left for Paris two days later not thinking anything of it, but when I was on the plane I started feeling very strange and completely lost vision in my right eye. The pain definitely did not feel like a normal headache. I started to freak out and the flight attendants and a doctor on the plane sat with me and kept me calm until the plane arrived in Paris.
When I finally arrived in Paris, I went straight to the hospital. After having a CT scan done, it turned out that I had been bleeding in my brain for three days. I was diagnosed with AVM, also known as "Arteriovenous Malformation". They then transferred me to another hospital; I had an operation to stop the bleeding and stayed in the hospital for two weeks. Welcome to Paris!
After I was released, I was not allowed to go on a plane, as I had to wait until all the dead blood was completely absorbed so they could perform the second brain surgery to treat the malformation. This whole thing took eight months and put me out of business and school, blowing up my life savings. I was depressed, but at the same time I was very happy to be alive. I spent those days in Paris recovering in "Paris style." In doing so, I made a lot friends, a group of which happened to be six DJs that run a music company together. Little by little, I realized that my love for music was not just restricted to dancing, but also to making music, mixing beats, and understanding people's emotions and dance behaviors. I decided that I actually really wanted to make music and make people dance. I started mixing right away in Paris and that's how I became DJ Miss Tara!
This experience changed my perspective towards life. I realized the richness of life lies within the love and care that surrounds me and not by my balance sheet.
What is your career ambition and what are you doing or plan to do to accomplish that goal?
My career ambition involves running my own business internationally. Keep working hard until I become one of the leading entrepreneur women in the world who will be an ambassador for educating children and youth, building schools and creating job opportunities in different countries.
What would be your "dream job" in life?
My dream job in life would include running my own business internationally and becoming so successful that I could help all the children and youth in a larger scale. I would give and help raise capital to build schools in all the poor countries around the world. As I think education is the first step to solve all the other problems for example health, poverty etc. I would also enjoy organizing seminars for youth around the world to talk about "How to Make Your Dreams". If I could one day become an ambassador to do the above, I will have fulfilled my dream job in life.
Are you currently a student?
No. I am currently not a student.
Are you currently employed?
I am an entrepreneur and run my own company.
If yes, what is your occupation?
Music Production & label management
Video game & software production
Fashion modeling and acting
Costume Design
Visual arts
Describe where you were raised and what your childhood was like.  
I was born in Shiraz, Iran as the youngest child in the family and grew up spending a lot of time with my dad in the farm as well as school during the week. During my childhood, due to my father's university job our family had to move to various cities several times. It was a good challenge to start fresh every few years – new home, new school and new friends. The moment I started feeling a bit comfortable, we had to move again! During these years, not only I learned how to adapt to different situations, but also how to embrace challenges. Comfortable and uncomfortable, up and down, money or no money, parents together or separated, I had it all. I learned to continue each chapter with a positive attitude and just keep working hard.
List any interesting or unusual jobs you may have had.
The most unusual job I have ever had has to be what I am doing right now: Helping to manage twenty people for different projects in my business and learning new things from each and every one of them everyday. It has been a fulfilling experience.
List any volunteering you have done.
I have more than ten years experience in volunteering and charity work in different countries and I have proven what I am really good at is using my resources and leadership skills to organize charity events.
Helped with the front-end interface of the ESL 'English as a second language' website for OISE at the University of Toronto
Delivered speeches on 'How to follow your dreams' and 'Entrepreneurship' at the University of Toronto's school of English
Spent time on a regular basis with the elderly at the 'Extendicare Bayview Care Centre'
Volunteered at a Terry Fox charity event
Helped distribute costumes at the Toronto Santa Claus Parade
Organized fundraising events for the S.O.S. Children villages
Modeled for various charity events including the Breast Cancer Foundation
and others.
What is your most unusual talent?
My most unusual talent must be networking and building a solid set of resources for all types of projects specially fundraisings and projects that involve gathering human resources.
Where is the most interesting place you have been to? 
The most interesting place I have visited is the Palace of Versailles a short train-ride from Paris. I could spend hours in the neatly designed garden and gaze at the beautiful architecture. It was an unique experience. 
What do you hope to be doing in ten years? 
In ten years I hope to have a family with kids while being an active women in my projects.
Is there anything you would like to add that we haven't asked?
I would like to thank my family, friends, sponsors and the Miss Universe Canada organization for all their support throughout this journey. If I were to be chosen as Miss Universe Canada 2014, I would use this platform to make Canada proud. I aspire to support and empower the youth to follow their dreams, bring out their best for themselves and for the greater society. With all my knowledge, resources and experience, I will actively organize galas, help raise funds for charitable causes and serve as a worthy representative for our country.