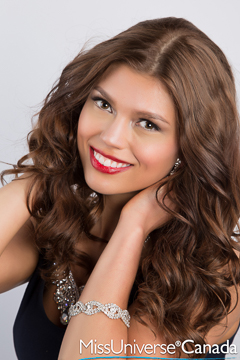 Height: 5'7″
Hometown: Winnipeg , MB
Alyssa Wyspianski was born and raised in Winnipeg, Manitoba.  She has a very caring personality, filled with love and is always willing to lend a helping hand.  She is currently studying human nutritional sciences at the University of Manitoba, while continuing to develop her acting career.  Focusing on these goals, she is able to develop a healthy lifestyle, and become competent in public speaking, and relating important nutritional information.
She is a young woman who prefers to not be idle but expand on experiences within life.  A day that school, work or acting has not consumed, she will challenge herself with new culinary methods and recipes.  She enjoys baking treats for family, friends and coworkers, or tweaking an old family recipe, to provide a healthier version.  A favorite past time is going for a yoga practise or workout at the gym.  If she could she would travel the world to educate herself, on all the different cultures and languages.
Alyssa feels at home in front of the camera.  She has done several speaking engagements for charities, sporting events, education forums on bullying for the youth, and for the many fundraisers she has chaired and supported.  Her personal favorite public discussions are in relation to anti-bullying. During her reign as Miss Teen Manitoba, she was able to speak, and share her own bullying experiences with many youth, which is an issue very close to her heart.
Throughout Alyssa's' life, she was a part of a family who always volunteered, with youth organizations or provided assistance where needed for family, friends, neighbors or community.  At this stage of her life she wants to further that cause.  She discovered that as Miss Teen Manitoba it was empowering and gave her voice.  She strongly believes that any goal can be reached, so has decided to set a lofty goal for herself.   With some national and international pageant experience in her pocket, she will strive further with this pageant.
Alyssa is following her own advice to never give up and follow your dreams.  She is a young woman with a beautiful heart, who wants to make, a positive impact as a role model to others.  She will continue on this path of education, with the belief and hope that one day the stain of bullying will be eradicated forever.
Sponsors:
Community Safety Net, New Leaf Massage Therapy & Sports Rehabilitation, Woroneski Seeds – Frank & Patte Woroneski, Atlas Pawn, St. James Tap and Table, Niteo Wellness, Mokada Jewelry, Custom Evening Gown by: Lisa Dyck, Anderson Family vision care, Gaffer's Restaurant & Lounge, College Sturgeon Heights collegiate: Graphic arts course designed and produced tickets for Operation Smile fundraiser, All my family and friends who have supported me throughout this journey.
Languages spoken fluently (please include your native language if English is not your native language).
English, French
What are your interests and what do you enjoy doing the most?
Acting is the one thing in my life that keeps me going. I love the entertainment I can provide to people and having the chance to be in a character's shoes for a day. It's an art that I love studying; learning the history and how we are able to create emotions for an event that we are bringing alive at the present time.
My interests are learning about health; the foods we eat, the vitamins of how they nourish our body and the ways to rejuvenate our body in a healthy manner.
I also enjoy working out; more so weight lifting than cardio. I also have been getting into hot yoga which has given me a great sense of how much relaxation we need a day that most people in our generation don't give ourselves the luxury of.
List any special training you have had (music, art, drama, dance, etc.)
Training as an actress since 2012 (films , theatre projects, short films, scene work, classes, workshops, Firearms safety training, background work)
Dance (jazz, hip-hop, jazz funk, modern)
Hairstyling competitions (2010-2012)
In what sports, if any, have you participated?
I have participated in many sports, such as: Bowling (5 pin), soccer, dance, water polo, figure skating, gymnastics, handball and speed swimming.
Name one person, other than your parents, who has had the most influence on your life. Why?
My auntie Denise has had the most influence on my life. She has taught me how everything in life has a positive side. She showed me how to enjoy every moment in life even if the day is not going as planned. I love the way she can be outgoing and friendly with everyone and she will always give you 100% of her help whether you ask or not. She has a very uplifting personality and it makes me want to be able to see life in her eyes and to never let any day have a dull moment.
What is your proudest personal accomplishment (other than participating in this pageant)?
My proudest personal accomplishment would be from weighing 145lbs reaching my goal of 120lbs and bodybuilding at 110 lbs. After having 3 knee surgeries over the years, I felt it was time to get my health back on track and by 2013 before the Miss Teen Manitoba pageant, I decided to gain my life back and get healthy again.
What is the most interesting or unique thing that has ever happened to you and/or what is the most interesting thing about you?
I think the most interesting that has happened to me is that I won Miss Teen Manitoba without any training or any knowledge of pageants. I wanted to do it for a new challenge and to make a change. This is exactly what I did and now I still won't give up on wanting to keep making differences and inspiring others.
What is your career ambition and what are you doing or plan to do to accomplish that goal?
My career ambition to start off is to get my first lead role and escalate onward. I plan to do this by continuing my acting training and audition for everything and anything. Whether it's volunteer work for short films, background work, theatre work or lead role opportunities. As I continue to build my resume, I will then proceed to make my website and a Facebook fan page to keep escalating. I will be still going to school to become a dietician but if I have to move for a lead role, I will continue school when the job is finished so I can finish the degree. This is my main goal but I will still finish my studying to get my degree as a dietician because I still have a strong interest in our health.
What would be your "dream job" in life?
My dream job is to become a full time actress. I want to be able to be any sort of character in all movies; especially action and drama. I want to spend my days being in the shoes of someone else's journey and being able to entertain others. Entertainment and being in front of crowds was something I always loved.
Are you currently a student?
Yes
If yes, where?
Area of study: Human Nutritional Sciences
Are you currently employed?
Yes
If yes, what is your occupation?
I am a server part-time, I also am a hairstylist at home and do any acting jobs that arise.
Describe where you were raised and what your childhood was like.
I was raised in the same house that I still live in now. My mom raised my sister and I on her own and later on she got into a relationship. I never knew how much the struggle was until I got older and always wanted to help her out as much as I could. She did her best to ensure my sister and I were still able to do things like the other kids by letting us try out any sport we liked. She would also support any dreams we had and making sure we were always playing outside or finishing our homework as soon as we got home. Thanks to her I was on the honor roll every year as she always wanting me to challenge myself. Till this day she tells me never to give up on any of my dreams and with the motivation I grew up with, I continue to push myself until I achieve my goals. My mom was a big help and we also had my grandma along with us often as well and still loves to call most nights to see how we are all doing. In other words, my childhood was full of the outdoors, sports and accomplishing any goals I challenged myself to with the support of my family.
List any interesting or unusual jobs you may have had.
Some interesting jobs I've had would be apprenticing in a hair salon and learning about the trade. I also did some background work on film sets, which I learned how they create the set and got to know more of my career.
List any volunteering you have done.
I have done some volunteering donating blood, many events and fundraisers for Miss Teen Manitoba and Miss Teen Canada, also for my sister's speed swimming at the red river ex and helping out students at my old high school for competition work.
What is your most unusual talent?
My most unusual talent is after all the Knee surgeries I've had, I am still able to do the splits. I had lot of time in between knee surgeries where I couldn't exercise or stretch which is strange to me how flexible I still am.
Where is the most interesting place you have been to?
The most interesting place I have been to would be Thailand. I was there for a pageant and met one of my best friends whom is from Sweden. I was able to learn about their culture, enjoy their heat, also visit their oceans and learn a bit of their language. Most fascinating part was riding the elephants and seeing how they are a gentle giant.
What do you hope to be doing in ten years?
In ten years, I would love to be fulfilling my acting career and have done some travelling and making some differences in the lives of other people. For example when I was Miss Teen Manitoba, I spoke out against bullying and I could feel that I made a change and I want to do it again if I get the opportunity.