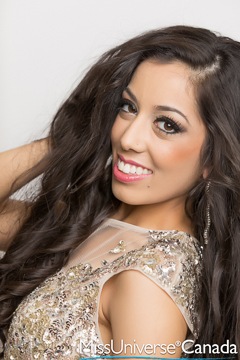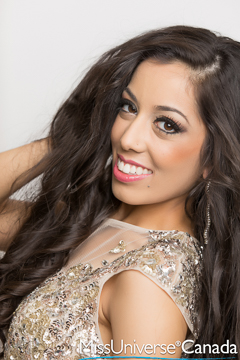 Height: 5'2″
Hometown: Calgary, AB
Akirta Sran was born and raised in the border city of Lloydminster, Alberta/Saskatchewan. She is able to speak multiple languages and is well cultured. She is currently in her last semester at the University of Calgary to earn a degree in Biological Sciences with a minor in Psychology. Akirta's friendly, humble and outgoing personality has allowed her to become very involved in many community activities and events. Akirta is committed to making sure her fellow community members receive the support and assistance they may require. She has spent many of her years giving her time to charities, which are responsible for providing food, clothing, sight and joy.
Akirta maintains a balance with her school work and extra-curricular life. She is able to uphold her grades while volunteering, dancing, event planning and working out. She has competed in dance, basketball, and figure skating and has earned medals and awards in all three sports. This has helped her to understand the effort required to succeed. She is surrounded by loving and supportive family and friends. This has given her the confidence for public speaking and taking on leadership roles.
Her ambition is to become an optometrist and volunteer her services where they are most required. With her years of interest and experience in the significance of eye care, she has accurate knowledge to raise awareness for the importance of having eye care and the lack of its availability in developing countries. She also believes in providing knowledge about prevention of eye diseases and retention of vision, a very important sense. Being Miss Universe Canada would give Akirta the opportunity to shine light on issues regarding homelessness and insufficient eye care that can even be observed in our own country. These two issues are things she has been passionate about since childhood due to observing poverty in her travels and facing eye health issues in her own family and community. She would like to place emphasis on the importance of eye health and lack of awareness regarding this topic. She believes that the potential of all people, especially children, is limited by vision difficulties and this is what she wants to prevent and someday treat, as an aspiring optometrist. Her overall goal is to empower other women to strive for their dreams and never give up no matter what circumstances may present themselves.
Akirta's qualities allow her to be prepared to take on the role of a representative leader, who is ready to be the change by taking initiative and helping others.
Sponsors:
Swaran's Superb Homes, Power-Pro Electric Inc., Terry Herman Kuehn, K Govender Medical Professional Corporation, Carpet Superstores, Accent Lighting Inc., UCG Universal Consulting Group Ltd., Designer's Choice (Lloyd) Ltd., Craig M. Oster Professional Corporation, Geordies Woodworking, Shoulter Law, Musgrave Agencies, RnD Plumbing and Heating, 18th street Liquor Junx, 14th street Liquor Junx, Royal Canadian Legion Hall, Home Hardware, Midwest Furniture, Family and Friends
Languages spoken fluently (please include your native language if English is not your native language).
English, Punjabi, Hindi, Urdu and conversational French.
What are your interests and what do you enjoy doing the most?
I am very interested in the eyes and the science behind the visual system. I truly enjoy indulging in all types of pastas, and I love creating my own pasta dishes while experimenting with a variety of sauces and flavors. I take delight in cooking my own food regularly, and I am always preparing inventive new recipes for myself. Dining experiences are also something I take pleasure in. I am passionate about dancing in multiple styles including Bollywood, Bhangra and Hip-Hop. Health is important to me as I work out, dance, play basketball and figure skate regularly. I am intrigued by what the world has to offer and I love exploring the sights to see. I have been blessed with the opportunities to travel to India, England, LA, San Diego, and British Columbia. I hope to have chances to voyage to the rest of the amazing world.
List any special training you have had (music, art, drama, dance, etc.)
Acting (Drama)
Competitive Level Dancing (Bollywood and Hip-Hop)
Competitive Level Figure Skating
Basketball
Piano
Flute
Runway Modelling
Swimming (Level 7)
Optometric Pre-testing
In what sports, if any, have you participated?
I played basketball on my school teams for 6 consecutive years. I love hitting the court to blow off some steam after hard working days at university.
I competed in Figure Skating and in my first competition I was awarded three bronze medals out of the four events I competed in.
I competed in Hip-Hop and won numerous Golds, Silvers and Bronzes in duets and group performances.
I am currently part of Static, a Bollywood Dance Team. We perform at community events, corporate events, weddings, concerts, as well as other paid and volunteer performances. I really enjoy dancing and one of our team goals is to audition for So You Think You Can Dance? – Canada.
Name one person, other than your parents, who has had the most influence on your life. Why?
There are multiple people including my grandparents who have shaped me into the woman I am today. The people who I have met in my journey through life including the ones who have left my side have all taught me something. I have learned diverse things at different capacities from various people. I gained insight from family members and friends, some showed me the smallest lessons and others really big, but every moment is what got me here. I faced the challenge of starting over in a new city with new friends and this caused me to grow immensely. Overall, I believe depending on where you are in life there are individuals influencing you in many ways as they pass you by or join you for the ride.
What is your proudest personal accomplishment (other than participating in this pageant)?
I had the opportunity to take the challenge and spearhead a campaign to raise as much money as possible in 24 hours for the Lloydminster Men's Shelter. By being creative and outgoing I was able to approach multiple companies and individuals about the cause I was supporting. I was so fortunate that so many amazing people came aboard, that I raised $1000 within one day. It was an extraordinary feeling to know that so many people would be benefitted by such an effort.
I also initiated, planned, organized and arranged a bakesale for World Sight Day in which I had a team help me in baking and selling. We were able to raise $130 in 5 hours allowing 29 people in developing countries to receive an eye exam and a pair of glasses. It felt so amazing that a small investment of time and effort would allow people to see the beauty of the world.
What is the most interesting or unique thing that has ever happened to you and/or what is the most interesting thing about you?
I am extremely passionate about dance. I have been involved in various dance activities and teams, and each one strengthens my resolve towards dance. The adrenaline rush that I receive when dancing increases my desire, and I will dance when given any opportunity to do so. I am not camera shy and I love to entertain others with my dancing.
What is your career ambition and what are you doing or plan to do to accomplish that goal?
My career ambition is to become an optometrist. I am currently the president of my universities pre optometry students association. I have written the Optometry Admissions Test (OAT). I have received reference letters from professors, optometrists and volunteer coordinators. I volunteer with 3 eyesight related organizations. I have shadowed multiple eye doctors for over 40 hours. I am completing my degree and the pre-requisites required for optometry. I have worked in the field for two summers and learned how to pre-test patients. Many of the things I have been doing in the last 8 years have directed me to the correct path for this career choice and have truly made me passionate about this job. After my touching experiences with visually impaired children, adults and seniors I cannot see myself as anything but an optometrist in hopes to brighten their days.
What would be your "dream job" in life?
My dream in the long term is to become an optometrist who also volunteers in developing countries throughout the year. The job I dream of having now is to be a role model, not only for family and friends but for all of the women in the world who need positivity. I would feel extremely blessed to have the chance to use this platform to stand for what I believe and inspire others. I am just finishing my degree and I would really love the opportunity to be crowned Miss Universe Canada to represent my country in the journey of helping those in need and enabling women to strive for their full potential.
Are you currently a student?
Yes.
If yes, where?
Area of study:
University of Calgary
Major: Biological Sciences
Minor: Psychology
Are you currently employed?
No.
Describe where you were raised and what your childhood was like.
I am proud to say I grew up in the Canada's only border city Lloydminster, Alberta/Saskatchewan. Living in a small city allowed me to really build network with a variety of amazing people in my community. Ice skating is very common around my city and this encouraged me to learn how to skate and become a competitive skater. Growing up in a fairly quiet city I was inspired to take my talents and go explore the big city life as well as volunteer my time in the community. My childhood was very family oriented as I was fortunate enough to grow up in the same household as my grandparents. My grandfather taught me and my siblings how to read and write Punjabi. My grandmother spent time playing games with us and telling us stories that taught us about life lessons, morals and faith. My father has taught me patience, perseverance, generosity and appreciation. He came to Canada with just $10 and now he is the most successful Engineer and Businessman I know. My mother taught me the beauty of being a woman, how to stand for your beliefs and she always supported my endeavors. I was the type of child and I am still the type of person who really enjoys being involved actively, socially and voluntarily. I am the oldest sibling and it is great being a role model for my little sister and my baby brother. I know that this trait of responsibility, leadership and teaching will help me succeed in life especially in a position like Miss Universe. I always dreamt of flying around the world in a hot air balloon giving food and shelter to those in need. My dreams have always been encouraged by my amazing family and because of them I know the meaning of togetherness and love. Moving out on my own for school taught me independence along with how blessed I am to have family surrounding me even if it is not physically.
List any interesting or unusual jobs you may have had.
Pre-testing at an optometry clinic
Party planner (birthdays, bridal showers, baby showers)
Hosting at a restaurant
Greeting at conferences
Dance performances at weddings and events
List any volunteering you have done.
Since the beginning of high school I have been volunteering in my community. Listed below are the organizations and events I have volunteered for:
President
• Leading the University of Calgary Pre-Optometry Students Association. Organizing presentations in a professional manner with different optometry schools across North America. Helping prospective students reach their goals and answering any questions they may have. Creating a poster and presenting at clubs week for multiple days.
Optometry Giving Sight
• Contacted member optometrists to raise worldwide concern, and invite new members to donate money to build international optometrist colleges in third world countries as well as provide eye exams and glasses
• Organized a bake sale for World Sight Day 2014
Alberta Society for the Visually Impaired (ASVI)
• Provided assistance to visually impaired children in monthly planned activities such as crafts, sleigh rides, corn maze, building bears, and attending events.
• Received letter of appreciation from the President of the Calgary Division of ASVI
On Sight Optometrists
• Assisted optometrists in their mobile eye clinic in a variety of senior homes
• Set up equipment required for appointments
• Interacted with seniors during their appointments
• Helped seniors choose frames
Vision Quest 2014
• Helped the visually impaired navigate the conference
• Set up the facility
• Interacted with conference attendees and provided them with accurate information
Modeling
• U of C Sustainability Fashion Show
• Miss Sun & Salsa Fashion Show
• PSA Charity Fashion Show
• MADD/SADD/SAIL Charity Fashion Show
• Pretty Faces Calgary Makeup Video Tutorial
Other Volunteer Involvements
• Salvation Army
• Points West Senior Home
• Lloydminster Bobcat's Auction
• Scorekeeping at local sporting events and tournaments
• Dance performances
➢ Calgary Woman's Show (multiple years)
➢ INCA
➢ Calgary Multicultural Show (multiple years)
➢ ISA Charity Ball
➢ The India Canada Association of Calgary-United Way Diwali Show
• Rudolph's Round-Up
• Operation Christmas Child
• Garbage pick up
• Charity community garage sale
• Career Prep organizer/host (multiple years)
• Member of the active community leadership council
What is your most unusual talent?
I can whistle with a loop tongue and fold my thumb behind and below my knuckle!
Where is the most interesting place you have been to?
I have travelled to India and it was a very eye opening experience. Along with seeing the beauty of India, I also witnessed the difficulties. I was able to see children who were homeless and needed food. They were lacking limbs, sight and many other necessities of life. This created a feeling of helplessness inside me that I could not ignore. I asked my father to provide them with food, rather than giving them money, so I knew it would benefit them regarding their health. I knew that I, alone, would not be enough to help everyone, but I would do as much as I could. This is also what inspired my dream to take health care, such as optometry, to the developing areas of certain countries through mission's trips, which I plan to take part in during the near future.
What do you hope to be doing in ten years?
In ten years, I hope to have become a successful optometrist with my own practice who has had the opportunity to spread eye care to underserved areas. I anticipate I will be married to the man of my dreams and have beautiful children. Age 32 would be a life changing age as I will be facing things I would not have yet faced. It is amazing to know that women in this day and age are privileged enough to have the blessing of being career and home oriented.
Is there anything you would like to add that we haven't asked?
I am very passionate about the things I set my heart to and I have a determined mindset to accomplish everything I am involved in to my fullest potential.
In the Media: