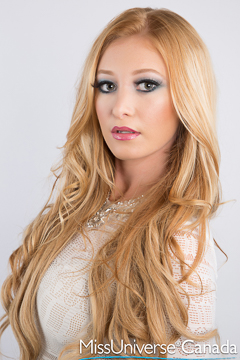 Height: 5'8″
Hometown: Woodbridge, ON
Alana Tchorna represents the vibrancy and diversity of Canada. A first generation Canadian, she approaches life with a global perspective because of her experiences living in diverse settings, her Ukrainian family heritage, and her multi-lingual skills in Russian, Ukrainian, and English. Having lived in both Toronto and Miami, one of her greatest passions is discovering new cultures, meeting people from different backgrounds, and learning to adapt to new places and situations. These interests fuel her to raise awareness around issues of prejudice and dis-crimination such as by taking an active role in several diversity training work-shops hosted by The Anti Defamation League.
Alana is a renaissance woman of sorts, having interests and talents in the arts, in mathematics, and in philosophy. When not practicing the guitar and the piano, she spends her time photographing Canada's beautiful landscapes or helping to translate the work of her grandfather, a Ukrainian philosopher and author, into English. She is currently working on completing her first book on a girl's experience of maturing into a woman as a way in which to document her own personal history and provide insight for other girls on this unique journey.
Not only as a teacher, Alana places vital importance on serving those in need in the community with the skills and abilities that she has developed. Through her recent experience, she mentored and tutored a newly-immigrated and adopted girl from the Philippines, providing her both with emotional support as she acculturates to Canada and academic support to learn English and complete school-work. Approaching every challenge with optimism and determination, she makes certain that her collaboration as a fundraiser for the international honor society in the field of education, Kappa Delta Pi, and as an ambassador for Operation Smile are successful. In acknowledgement of the leadership role and initiative she has taken in mentoring students in mathematics and computer science, Alana was selected to become a member of the National Society of Leadership and Success.
She is keeping her eyes on the stars as she works diligently towards her future goals of becoming a Teacher and starting a non-profit organization to provide education scholarships for culturally and linguistically diverse students.
Sponsors:
Euromotion Garage, DE&UI Investments Ltd, Imacs, Friends & Family
Languages spoken fluently ( please include your native language if English is not your native language).
English, Russian and Ukrainian (basic)
What are your interests and what do you enjoy the most?
I really enjoy listening to Frank Sinatra in my spare time or when I am looking for some pick-me-up melodies. It almost feels like I venture back to the 20th century and get a small taste of the 50's and 60's. I also like going to hockey games with family and friends. If I'm in a certain city, I try to make it a priority to watch the home hockey team. It's especially interesting when you consider that sport can bring together a diverse community and appeal to a wide range of individuals who otherwise wouldn't share similar interests. I love adventure and going to new places and adapting to how they live and how they view others as a whole. Even if it's 1 hour up north in the suburbs or 1,500 miles down south to the tropics, you get a taste and feel of all the different cultures surrounding you. I love listening to people and their stories and events. Considering people always tell me I am a great listener, I am truly interested in people's life experiences and what they can teach me and what they may learn from me.
List any special training you have had (music, art, drama, dance etc.)
I have had training in public speaking and in Computer and Technical literacy such as through programs like Word, Excel, spreadsheets, and computer coding. The Anti-Defamation league diversity training program introduced me to the world of difference and learning around anti-bias as well as multicultural affairs. It educated me on becoming sensitive to diversity such as by fine-tuning my ability to build rapport with others in multicultural environments. I had also had training around linguistic capabilities with foreign languages and translation skills as well as professional development on building a team environment and implementing time management skills. Also, I participated in an APA workshop where I learned the stylistic formats of various writing styles. My musical instruction involves classes and practice with guitar, piano recorder, and voice training.
In what sports, if any, have you participated?
Growing up, I was some-what a tom boy. I was playing soccer for a long period of time and never minded getting dirty and bruised. It wasn't until high school that I blossomed into a more feminine version of myself and took up gymnastics and later moved on to cheerleading. Cheerleading was always the place to let my emotions out by yelling and screaming at the top of my lungs and a place to enjoy routing for other people as they reach their goals. I loved the aspect of dance and gymnastics combined in one in the form of cheerleading and meeting so many distinct individuals on the team who always brought something new to my life of cheer. Not too long ago, I developed an interest in Golf and began to slowly teach myself the underpinnings of the sport whenever I had the chance. I found a lot of peace and tranquility trying to learn the sport of golf, and most importantly, enjoyed my time outside with nature.
Name one person, other than your parents, who has had the most influence on your life. Why?
The ideologies of Paolo Freire have had the most influential impact on my approach to life and the decisions I have made concerning my personal, academic, and career trajectories. Paolo Freire highlights the gravity and importance of harnessing critical thought as a way to enable people to become agents and self-advocates for their own journeys to self-realization, whether that be in educational, psychological, or philosophical realms. As a first generation Canadian in a position to help others who come from diverse backgrounds and who are new to this country, I have taken the ideologies of Paolo Freire and applied them to my life and my career ambitions as a teacher and advocate of children. His work inspires me to provide agency to my students by giving them the tools to succeed in the challenging area of math and computer science, and more generally, in the tribulations of life, especially for those children who are newly-immigrated.
What is your proudest personal accomplishment ( other than participating in this pageant) ?
My proudest personal accomplishment is when I talked a classmate out of dropping from college. Although this person was only a distant acquaintance, I approached her in a friendly manner when I noticed a cheerless, gloomy look in her eyes almost everyday. After finding out that school was very difficult for this person and that she was considering dropping out of college, I immediately began mentoring her day by day and reminding her of how far she had come in her educational journey. I encouraged the person by describing how much more she could still achieve if she kept her momentum and the benefits she could bring to classmates, teachers and friends with her knowledge. I hoped that this message would help her recall that there are people who really want to see her succeed and reach for the stars. I kept telling this classmate everyday that she was almost at the top of the ladder and all she needed to do was take her last step up and that she will soon look back at her achievements and be thanking herself for not dropping out. A few months later, this classmate graduated with honors and went off to pursue her passion in teaching.
What is the most interesting or unique thing that has ever happened to you and/or what is the most interesting thing about you?
The most interesting thing about me is that I always set myself up for any challenge/task that comes my way. I love to step outside the box and test myself when it comes to things I am passionate about or if it is something that challenges me. I am always willing to go above and beyond and take on whatever is handed to me. The most interesting thing that has happened to me was when I challenged myself to take a Statistics course that college students usually finish in a full semester of college. However, the catch was finishing it in just six weeks and attending class everyday. Mathematics wasn't always my favorite subject but I somehow grew into adapting to it and applying myself to mathematics over time. People told me that I wouldn't be able to keep up and I wouldn't be able to handle it and that I was wasting my time. The next thing I knew, I was signed up for this course and had only six weeks to complete it with everyday attendance. I grasped the content very quickly and worked hard to complete everything on time and with quality. I ended up finishing the course with a superior grade and truly enjoyed it.
What is your career ambition and what are you doing or plan to do to accomplish that goal?
My career ambition is to eventually open a school of my own where they may not be able to afford the materials and structures for it. Everyone deserves a gift of education. No matter what color, race or gender or ability/disability the student may have. I plan on interacting with students from all over the world and to travel to different countries and study the way they live and educate themselves. However, not only students, people of any age deserve to continue to educate themselves and learn more about the individuals around them. I plan on getting to know even more about the ways people live in the world and adapting to their lives for a short amount of time. I also plan on supporting my future students with communication and involvement.
What would be your "dream job" in life?
My dream job in life is to serve as an ambassador and mentor to students and most of all people who don't have the equal opportunity for academics or even labor. I want to be the voice of those who are afraid to speak, afraid to express their own identity and provide guidance and support. I love to see people overcome their challenges and more importantly I love being the reason or part of the reason for why people do. It is extremely satisfying knowing your input and support helped an individual succeed in life or become comfortable in their own skin. I would receive great gratitude and honor to become a Teacher not only in the academics side but in the global view of society, culture and inner-self. Teaching someone to love meeting new people, keeping peace between others and sharing stories and helping one another would be my ultimate dream.
Are you currently a student?
Yes. I am studying elementary education.
Are you currently employed?
No.
Describe where you were raised and what your childhood was like?
I was raised in both Toronto and Miami. I got the advantage of experiencing so many different cultures that both cities had to offer me. I also got the chance to experience both Hurricanes and Blizzards in the same year which was rather frightening! In both places I was always outdoors, I loved being outside experiencing the different seasons both places had to offer. I am an only child and growing up I was always in tuned with myself and I think thats what made me so independent. When I did get a chance to meet friends during my childhood it was an unforgettable experience because in both places I became close with such diverse people. In one city I was learning one culture and how my friend lives with her family and in the other city I was learning about a complete opposite culture and how her family lived. The most interesting thing that I learned during my childhood was no matter how different the values and/or beliefs both friends had so much to teach me of their way of life as well as the heritage I came with which taught them so much too.
List any interesting or unusual jobs you may have had?
The most unusual job I had was working at an insurance firm. Working here really opened up the business side of me. At first I never thought I could take on a task like that and be part of such a variety of work with people who need my help but as time passed I really found it to be interesting. I learned so many new things about the business and how much effort really goes into each person when selling them a plan.
List any volunteering you have done
Throughout high school I was volunteering at homecoming games, sport events, school gatherings, student unions and after school programs. I was tutoring senior citizens in teaching them proper english and english grammar. I prepared and collected boxes of canned food for families for thanksgiving and christmas every year. I prepared christmas boxes full of old clothes and school supplies for the christmas drive. I prepared hot meals for the elderly on a weekly basis and served in the local community hall. I prepared lunch every Tuesday for the homeless and brought it to the local hall to be sent out. I worked at the animal shelter growing up and adopted many animals throughout my life. I volunteered in many beach cleanup events keeping the environment clean and working with others was always appreciated. At my previous college, I cleaned and recycled on national recycling day. I was volunteering at an elementary school working with autistic children and teaching them english as well as students with various disabilities. I hosted many school events for different occasions at Florida Atlantic University. I volunteered at the Salvation army and the Goodwill foundation with donations and packaging.
What is your most unusual talent?
I can read lips very well.
Where is the most interesting place you have been to?
The most interesting place I have been to was Edmonton, Alberta. Upon landing into the city I was already amazed at the scenery and rolling hills of the wide land. The welcoming feeling you get when you step outside and the fresh, non-polluted air you intake as soon as you arrive was just a refreshing feeling of Canada. One interesting thing about the city is how rich in history it is and how many records they set in multiple categories throughout the world. For instance, I found out Edmonton is one of the largest cities by area in North America. More importantly, this city is very close to home and it symbolizes true Canada in so many ways, especially for my family and I. Prosperous, clean and welcoming, it was the first city my family came to after many families got sent to Canada from the former soviet union, and it was the last city I got to spend my final moments with my grandfather who passed from lung cancer. I will truly cherish this city and it will always stand as history and memory as one of the most interesting places I have been too.
What do you hope to be doing in ten years?
Wow ten years from now sounds almost unbelievable! In ten years I hope to be writing my third book about another interesting life learning topic. I hope to be working with kids and people from all over the world. Most importantly, getting a taste of everyones culture in the dustiest corners of the world, places I've never even heard of. I hope to continue expanding on the areas that passionately drive me such as teaching and speaking out for those who don't have the abilities to do so. I hope to be getting my Master's degree in education and opening a school of my own. I hope to be giving back to others and starting my own charities.
Is there anything you would like to add that we haven't asked?
The questions that one has to answer for the Miss Universe Canada competition are difficult to respond to if one doesn't know themselves or does not feel comfortable with their identity. I've come to the realization that in life it wasn't until I started being myself where the words began to flow and the answers began to come together naturally. Everything starts within yourself. How you choose to interact with others and how you choose to perceive the world and the individuals that surround you. The most important thing every girl should take away from this pageant is not what she could've or should've done better but rather looking back and telling yourself " I was myself and I gave my best" because if you are not ready to be in last place then you are not ready to win first place either. I know I am ready and researched to take on the challenge and honor of Miss Universe Canada 2015 and represent Canada in Miss Universe.