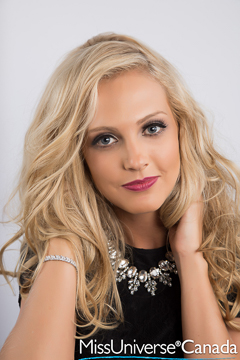 Height: 5'11″
Hometown: Brandon, MB
Anneline Helms was born in Bloemfontein, South Africa; she immigrated with her family to rural Brandon Manitoba in January 2003. Coming from a religious strong Christian family has really shaped the way she lives her life. She believes that we are placed on this earth to serve others and spread the message of love and peace. Spending some of her formative years in South Africa has made her sensitive and aware of the needs of underprivileged people and especially children around the world. She has always been highly motivated to do her best in whatever she participates in and feels very grateful for what she has been able to accomplish so far.
Anneline started modeling during her high school years, which provided her with the wonderful opportunity to travel to many different countries and experienced a wide variety of cultures. This experience helped her develop into a well-rounded, independent individual who is prepared to stand up for what she believes in. As a high school student Anneline embarked in a modeling career, which lead her to being bullied because she was seen as being different and also because she had the courage to stand up for a younger girl whom was also being bullied. This motivated her to finish high school early and dedicate herself to her love of fashion. However when the recession hit in 2008, she realized that in order to full fill her dreams she needed to further her studies and she enrolled at the University of Manitoba for a science degree with the ultimate goal of getting into Medical School. Her parents are both physicians and she has seen them make a difference in many peoples lives, which motivated her to get into Medical School as soon as possible. For this reason and her love of travelling and exploring new places she applied to James Cook University in Australia to study for a Bachelor of Medicine, Bachelor of Surgery degree and got accepted.
Anneline wrote her final medical exams in November 2014 and achieved a high distinction (the highest grade awarded). She is currently in her 6th and final year of medical school, where she is considered as a student intern and is not required to write any further exams. She enjoys having some extra time this year and is using it serving the community by volunteering at the Red Cross Wellbeing Centre and CentaCare, which is a refugee aid organization. Anneline would like to use her education, experience, youth, energy and beauty to be a positive role model and to make a difference in the world.
Sponsors:
Brandon Clinic, Aida's Catering, Dr. Kelleher's Laser, Skin and Vein Clinic, Pantages On Park Salon & Spa, Friends and Family
Languages spoken fluently (please include your native language if English is not your native language).
English, Afrikaans, Dutch (conversational)

What are your interests and what do you enjoy doing the most?

My favorite activities include dancing, swimming and scuba diving. I have a passion for traveling and fashion. I am always ready for a new challenge, especially if it involves a bit of adrenaline! I enjoy riding rollercoasters, I have gone cage diving with great white sharks, parasailing, held snakes and crocodiles. I also like relaxing and hanging out with friends at the beach or watching a movie.
List any special training you have had (music, art, drama, dance, etc.) 
Runway instructor
7 years of Tap, Jazz & Ballet
3 years of Irish dancing
Some piano & recorder
High school drama
In what sports, if any, have you participated?
In primary school I participated in competitive swimming. Qualifying for and representing the provincial team at national level 3 years in a row.
I played field hockey on the school team in South Africa. I continued playing hockey in Brandon. Where I participated in the 2003 under 16 national championships as part of team Manitoba.
I enjoy being active and love finding new ways to exercise. In my third year of medicine my friends and I joined a rowing club. It is an amazing sport and a very enjoyable way to stay active.
Name one person, other than your parents, who has had the most influence on your life. Why?
If I have to pick one person who has influenced my life the most it would have to be my grandmother. At 85 she is still as young and active as a 20 year old and manages to surprise me with her resilience and love on a daily basis. My grandmother grew up in the Netherlands and lived through WWII, and still recalls many frightening experiences of those times. When my grandmother finished high school her dream was to become a physician, unfortunately her father was unwilling to pay for her medical education because of her being a female. Her only option in his eyes was to become a teacher; my grandmother accepted the challenge and became an excellent teacher. However after a few years and a lot of saving she continued to pursue her ultimate dream of becoming a physician. She then married my grandfather, also a physician, and they volunteered for a missionary assignment to South Africa. They were commissioned to a Native Homeland called Venda, where they helped establish a hospital and medical services in a very remote and under serviced area. My grandmother then had 4 children whom she all home schooled for their first 2 years of schooling. They dedicated their lives to spreading the Gospel and helping the Vendas for 30 years.
My grandparents have truly made a difference in this world and their Christian beliefs, motivation, compassion and love has really inspired me to
become the best person I could possibly be.
What is your proudest personal accomplishment (other than participating in this pageant)?
Accomplishing success in the modeling world and working in places like Milan, Tokyo and Paris. Then being able to step away from this and achieve success in the academic world by passing my final year medical exam with the highest achievable mark, a High Distinction.
What is the most interesting or unique thing that has ever happened to you and/or what is the most interesting thing about you?
I would have to say that the most interesting thing about myself would be that I have pursued an education in four different countries on four different continents.  I attended preprimary and primary school both in South Africa and the Netherlands. I completed high school in Canada, started my tertiary education in Canada and am now finishing my tertiary degree in Australia.
What is your career ambition and what are you doing or plan to do to accomplish that goal? 
My career ambition is to become a specialist either in Anesthetics or Psychiatry. I graduate in December 2015 with a Bachelor of Medicine, Bachelor of Surgery degree and from this point I hope to apply back into the Canadian system and complete my education within Canada. Whilst further perusing my career I would like to get involved in local preventative health campaigns. Encouraging physical fitness and healthy eating in order to prevent chronic diseases. I would also like to assist in lifting the stigma of Mental Illness and shining a light on the detrimental effects depression, anxiety and substance abuse can have on young adults. Lastly I hope to join doctors without borders for at least a year before finally settling down into my selected specialty.
What would be your "dream job" in life?
My dream job would be to be a health ambassador for a charitable organization.
Are you currently a student?
Yes
If yes, where? Cairns, Queensland, Australia
Area of study: Bachelor of Medicine, Bachelor of Surgery
Are you currently employed?
No
Describe where you were raised and what your childhood was like.
My family has made a huge impact on how I live my life. I was raised in a Christian home with strong moral values that I have always kept with me. My parents are hard working, loving, caring and compassionate people. My brother and I only differ by a year and a half making us a very close-knit family. My brother loves his sports and I always had to play cricket in the backyard with him.
Moving to Canada at age 12 was challenging because I had to adjust to a new school system, friends and most of all a new climate! Being able to continue with my dance lessons helped me settle in quickly. I took up modeling and went on my first international modeling trip to Bangkok at age 16. I returned from this trip all excited, but unfortunately I was excluded by many of my friends, which was made worse when I stood up for a younger girl that they were bulling. This motivated me to finish High School early and pursue modeling. I travelled to Taiwan, Italy, France, Greece, Spain and Japan for modeling. When the recession hit in 2008, I realized that it was time to get back to University to finish my education. After studying Science at UFM for 1.5 years I became more certain that I wanted to do Medicine and applied for and got accepted for the program I am currently in.
List any interesting or unusual jobs you may have had. 
Modeling always provided me with some unusual jobs, some of the ones that I will never forget include:
Hotel opening "fashion show" staging their different hotel rooms in Thailand
Dressing up as Barbie promoting products in Wal-Mart
Editorial photo shoot pretending to be trapped in a box in Beirut.
Being drenched in ice cold water during a catalogue shoot in Taiwan
Driving a Winnebago as an extra on a movie set in the middle of the night.
Runway instructor
Cart girl at St. Charles Country Club. List any volunteering you have done.
List any volunteering you have done.
Red Cross Wellbeing Centre Volunteer (Jan 2014-present)
CentaCare Migrant Services (Jan 2014-present)
Victoria General Hospital Winnipeg (2008-2010)
Church of the Rock – Kidz Rock Volunteer (2008-2010)
President of Youth in Philanthropy Committee (High School)
Helping Hands Soup Kitchen (High School)
Youth for Christ, Gymblast Assistant (High School)
What is your most unusual talent?
I can beat most guys I know at pool!
Where is the most interesting place you have been to? 
Beirut, Lebanon.
As a model in Milan my first job assignment was in Beirut, I was only 17 at the time and had only been in Italy for ~2hrs when the agency informed me to pack a bag for Beirut.  It was an incredible and eye opening experience. It has been my only time in the Middle East and I feel incredibly blessed to have spent 5 days enjoying their culture and delicious food. Army tanks and military personnel paraded the war torn city; it was a slightly frightening sight and a harsh reality for the Lebanese. It made me incredibly grateful for living in a safe, peaceful country such as Canada.
What do you hope to be doing in ten years? 
In ten years I hope to be a well-established specialist within Canada. I would like to start my own family with the same amount of love and care my family has provided me. I will aspire to make a contribution to the medical world and my community. I will try to make a difference in my patients' lives by always treating them with kindness and compassion and with their best interest at mind in a time of vulnerability.  Overall I would love to still be a role model to the younger generation by demonstrating that through hard work and staying true to yourself you can achieve any goal.