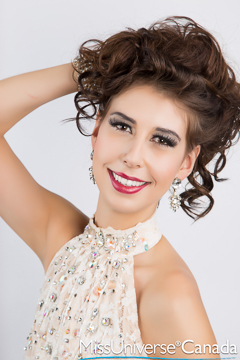 Height: 5'10″
Hometown: Strathmore, AB
Bailee Simonin was born and raised in the small town of Stathmore, Alberta.  With Calgary, only being about 25 minutes away, she is able to enjoy the benefits of living in a small town, as well as experiencing city life. She is currently working towards her goal of pursing a career in international business and plans to attend the University of Calgary this fall.
Bailee has a wide variety of hobbies, which includes modelling, fitness, fashion, travelling and experiencing new cultures and languages. At the age of eleven, she had a unique opportunity when her family started travelling to Cuba. They got to know a lady that worked in the hotel restaurant and she soon introduced them to her family. Bailee was able to experience Cuban culture at first hand. From that point on, her interest of learning the Spanish language began and she frequently started taking trips to Cuba to visit the family. Already, well rounded at the age of 15, she even travelled to Cuba by herself, feeling confident enough with her Spanish speaking skills to help her communicate. Having the attitude and confidence at a young age, she has developed a mindset that, you can achieve anything you set your mind to.  Hard work and dedication pays off.
One of the things Bailee enjoys doing the most, is teaching the children's acting and modelling class at the Patti Falconer Agency. Mentoring and teaching children, has allowed Bailee to become an influential role model and teaching others signifies who she strives to be. Working along side of Patti Falconer has given her the wonderful opportunity to learn skills about business and motivate her to become an entrepreneur just like her biggest role model, Patti.
Over the next year, she would like to expand her humanitarian work by volunteering for numerous charities, and travelling to other countries to help out on missions. Obtaining the tile of Miss Universe Canada, would allow Bailee to bring awareness to important issues around the globe, especially ones including children and women. Here lies, the amazing opportunity to become an empowering role model for young women who are striving to achieve their own personal goals.
Sponsors:
Town of Strathmore, Canalta, C6 Ranch, Gray's Ltd, Strathmore Motor Products, Moe Taha at Hairbooth Salon, Strathmore Royal Canadian Legion and Ladies Auxiliary Branch #10, Strathmore Elks, Delor Silva, Gator Bobcat, Volker Stevin, Plain's Diesel Repair Ltd. – Jack Sweere, Friends and Family
Languages spoken fluently (please include your native language if English is not your native language). 
English and Spanish
What are your interests and what do you enjoy doing the most?
I enjoy experiences that involves networking and interacting with groups and individuals various skills and background. I love travelling, and having the privilege of discovering new cultures, and culinary experiences. Staying active and challenging myself at the gym is essential to my life, because leading a healthy lifestyle and taking charge of my body is my main priority.  Modelling is one of my main interests along with the fashion industry.  Mentoring and teaching the children's Modelling and Acting class at the Patti Falconer Agency is what I enjoy doing the most, because being a great role model and teaching others signifies who I strive to be.
List any special training you have had (music, art, drama, dance, etc.) 
Advanced Modelling
Advanced Acting
Runway
Kickboxing
Fitness and Strength Training
Golfing
Horseback Riding
Spanish
Tap and Jazz Dance
In what sports, if any, have you participated?
Growing up in Strathmore, I was actively involved in different types of dance including: ballet, tap and jazz. I also enjoyed figure skating and Equestrian activities; growing up on an acreage, I had the simple pleasure of riding horses as often as I liked. Through this, I developed knowledge towards horse care and riding which later progressed into a personal favourite activity of mine with regards to athletics.
Name one person, other than your parents, who has had the most influence on your life. Why?
One person who has truly influenced my life is my agent, Patti Falconer. Throughout the past few years, I have had the honour of establishing a relationship with Patti on both a professional and personal level. She educates me on business, as well as encourages me to challenge myself to new adventures, including this pageant.  Patti motivates me every day because she resembles what a successful business leader should be. Her dedication to her business and accomplishment in establishing her name globally is truly inspiring.
What is your proudest personal accomplishment (other than participating in this pageant)?

Last year, I attended the Faces West International Model and Talent Convention in Vancouver, British Columbia. This convention was about modelling and acting where international scouts and agents from all over the world attend and search for new faces and talents; hundreds of models and actors from all over Canada attend this conventional annually. In preparation for Faces West, we had to write our own commercials and practise a monologue to perform in front of a panel of judges and audience members.  I was very comfortable with the modelling portion of the competition, but was definitely nervous for the acting. Although, I was nervous, I ended up winning top monologue and commercial.  This was a proud moment for me, because I definitely wasn't expecting to win due to the fact that my apprehension toward the acting side of the convention was rather limited.
What is the most interesting or unique thing that has ever happened to you and/or what is the most interesting thing about you?
The most unique thing that has ever happened to me is being able to experience the Cuban culture at first hand.  At the age of eleven, my family and I started travelling to Cuba for vacation, and we had the pleasure of getting to know a lady that worked in the hotel restaurant. She invited us to her house to meet her family and to have dinner.  Although, there was a bit of language barrier, we were able to become great friends with the entire Cuban family, and they even had a daughter my age. Over the last ten years, we have travelled to Cuba numerous times to visit the family, and I have even travelled to see them on my own at the age of 14 and 15.  Becoming close friends with this Cuban family has developed my interest in the Spanish language and culture, and I have visited many places in Cuba, that regular tourists have not.  I have even attended classes in a local Cuban school, travelled to areas where only locals go and I have experienced their music, culture, food and lived how the Cuban people live.
What is your career ambition and what are you doing or plan to do to accomplish that goal?
My career ambition is to work in global business, ideally focusing on Spanish affairs, and communications.  I plan to work for a company, and eventually own my own company that has close ties, or trades with Spanish speaking countries, such as Spain or Latin America. I love to travel, so I plan to work in an industry where I can incorporate travelling with my career. I definitely see myself living in another country, or travelling back and forth frequently. Learning languages is a huge interest of mine, and I plan to learn Italian, as well as Portuguese. I believe that many great opportunities come from knowing multiple languages.  I am currently in post secondary, so that I can pursue my goals of working in international business.
What would be your "dream job" in life?
As of right now, my dream job in life would to become, Miss Universe Canada 2015.  I am a proud Canadian, and would love to become the official spokesperson and ambassador for my country.  Being Miss Universe Canada 2015, would give me the prime opportunity to become a positive role model for young women.
As well as becoming, Miss Universe Canada 2015, my dream job would be to open my own modelling agency. I am truly passionate about my current position at the, Patti Falconer Modelling Agency, and would love to one day run my own agency that connects with clients and other agencies around the world.
Are you currently a student?
Yes
If yes, where?
SAIT Polytechnic – Calgary, Alberta
Area of study:
Currently, I am in academic upgrading, hoping to stream towards Business and the University of Calgary this coming Fall 2015.
Are you currently employed?
Yes
If yes, what is your occupation?
I work at Boston Pizza Strathmore, as a manager and waitress.
Describe where you were raised and what your childhood was like.
I am fortunate to have grown up in Strathmore, Alberta. Strathmore is a close knit town, that has big city amenities with small town living. I was raised on the outskirts of Strathmore, on an acreage where I was able to enjoy country living and seeing wildlife daily in my backyard.  Living just 30 minutes away from the city of Calgary, I have been able to enjoy the best of both worlds. I have also fallen in love with the urban atmosphere and diversity the city has to offer.
Family is very important to me, and my childhood was more than I could have ever asked for. Living near my other family members, provided me the opportunity to spend as much time as possible with them.
List any interesting or unusual jobs you may have had.
Teacher/ Mentor- Children's acting and modelling class
Extra on the television show Heartland
Hostess at the Global Petroleum Show
List any volunteering you have done.
Wanderlust Fashion Show-Runway model- Raising money/awareness for Operation Smile
Canadians for Global Care (Fashion Show) – Runway model- Raising money/awareness for Breast Cancer
Strathmore Royal Canadian Legion-  Helping with lunches, teas, and other events in support of the veterans
The Mustard Seed Sorting Centre
Calgary Beauty Pageants- Helping the contestants backstage, preparation, training and choreography
Beauty and the Brunch Fundraising Event- Being an official ambassador and promoting the event in the media- In support of the Breast Cancer Foundation.
What is your most unusual talent?
My most unusual talent is curing people of their hiccups! My grade four teacher taught me the trick and it works on everyone that I try it on.
Where is the most interesting place you have been to? 
The most interesting place I have been to is Havana, Cuba. Time has literally stood still in Havana, and travelling there, is like travelling back in time.  The city offers many historic sites and has the world's largest collection of old antique cars that the locals are still drive and use for transportation every day. You can visit the apartment of Earnest Hemingway, the location where he wrote many of his famous novels.  It is truly an amazing place to see! Not to mention the amazing beaches and oceans the city has to offer.
What do you hope to be doing in ten years? 
In ten years, I hope that career wise I am a successful and travelled businesswoman, who has created a strong name for herself. As far as my personal life, I hope to have a loving family and many children to whom I can pass along all that I have learned. Being successful in my career is very important, but it is nothing without an amazing husband and family to share it with. I look forward to achieving my goals and for everything headed my way in the future.
Is there anything you would like to add that we haven't asked?
I consider myself to be a risk taker, and I am always up for a challenge!  I am motivated to complete goals that I've started.