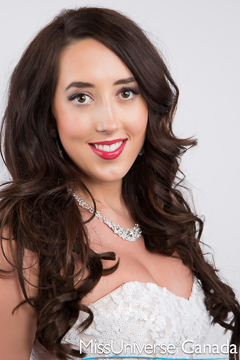 Height: 5'7″
Hometown: Sydney, NS
Brittany Oakley was born and raised in Sydney, Nova Scotia , One of Canada's beautiful provinces. She is presently enrolled in her 2nd year of a Bachelor of Arts Program enroute to perusing a career in Social Work.
Brittany is out-going, enthusiastic, energetic and friendly. She competed in skating, dance and cheerleading. Brittany works part-time at one of the local gyms, a perfect setting for her engaging personality as she is truly a people person and where is able to follow her healthy living style. She recently competed in a bodybuilding competition with young ladies across the province. Brittany enjoys socializing with her many friends enjoying music, dancing, fashion and traveling. She lives at home with her parents and younger brother. Canada is a vast and diverse country and is truly privilege to be given the opportunity to represent her home province of Nova Scotia in the upcoming Miss Universe Canada pageant.
Sponsors:
Martin Arms Hotel, Peters Construction, S&T Rentals, Reid Physiotherapy, Cape Breton Glass, Kerr Controls, Friends and Family
Languages spoken fluently (please include your native language if English is not your native language).
English
What are your interests and what do you enjoy doing the most ?
My interests staying physically fit and dancing and listening to music and hanging with friends.
List any special training you have had:
Figure skating
Dance
Guitar
Cheerleading
Basketball
Name on person other than your parents who has had the most influence in your life and why?

One person that has had the most impact on my life other than my parents is defiantly my grandmother. She is the most selfless person that I have ever met. I aspire to be like her.
What is the proudest personal accomplishment ?
My proudest personal accomplishment was when I competed in my first bodybuilding competition. I was in the bikini category and the training up to the competition was very challenging and took a lot of self discipline. So proud of myself and what I accomplished out of that competition.
What is the most interesting thing that has ever happened to you, or what is the most interesting thing about you?
The most interesting about me is defiantly how good I am with directions! I could be in a totally unfamiliar place and only see something once and remember exactly where its at.
What is your career ambition and what are you doing or plan to do to accomplish that goal?
My career ambition is to be a social worker and specialize with women in hostile situations.To accomplish that goal I'm currently in school to be a social worker.
What is your dream job in life ?
My dream job is to be a social worker.
Are you currently a student?
Yes I'm currently a student at Cape Breton University, Studying Arts.
Are you currently employed?
Yes, at Ascendo Fitness.
Describe where you were raised and what childhood was like.
I'm so blessed to have grown up in beautiful Cape Breton, Such a small town and a close knit community. My childhood was amazing and enjoyable , wouldn't change one thing about it. I was very involved in my community and in lots of sports.
List any unusual or interesting jobs that you may have done.
I worked at shoppers drug mart when I was 16 and that was a pretty interesting experience. It was interesting because I got to see how the pharmacy worked and how many people really are struggling with drug abuse. It was defiantly an eye opening experience. Partly the reason I decided to become a social worker.
List any volunteering you have done.
I delivered Christmas dinners to the less fortunate
Donating clothing a goods over the years to the salvation army
Working at loaves and fishes serving meals.
What is your most unusual talent?
My most unusual talent is how I can hear a song only once and remember all of the lyrics! I have a great memory.
Where is the most interesting place that you have been?
The most interesting place that I have been was when my family and I drove throughout most of the united states. Awesome experience for sure.
What do you hope to be doing in the next 10 years?
I hope to have a family of my own in the next 10 years and my career in full force! Being a mother is something that I aspire to be ,I think that it's the most beautiful relationship. The mother daughter relationship that my mother and I share is like nothing else. We have a incredible bond.
Is there anything you would like to add that we haven't asked?
In addition to the questionnaire I would like to say how appreciative I am to be associated with the Miss Universe Canada Organization.  I think that Miss Universe Canada is a wonderful organization and it's something that I am very proud to say that I'm apart of now. I will remember this experience for the rest of my life. I feel as if I am a very well rounded young lady and I fit the part well. Coming from a small town in Nova Scotia, never in my wildest dreams have I ever thought I would have the chance to be Miss Universe Canada.