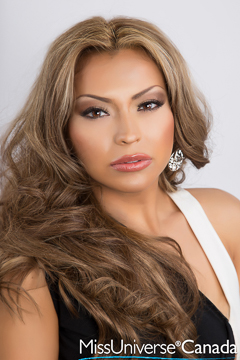 Height: 5'3″
Hometown: Edmonton, AB
Chayla Delorme Maracle, is a Cree/Mohawk born in Belleville, Ontario but raised in Edmonton, Alberta where she is currently attending the University of Alberta. Chayla is in her third year in the Faculty of Arts majoring in Psychology and minoring in Native Studies. Chayla is a registered band member from Cowessess First Nation in Saskatchewan. Chayla is very active in her Aboriginal culture, she has been Jingle Dress dancing for 13 years which is an Aboriginal cultural dance, she has completed 4 years of the Sun Dancing ceremony, and she practices living a healthy balanced lifestyle through mind, body, and spirit. The First Nations culture teaches universal morals and values such as love, respect, compassion and equality.
Growing up as an Aboriginal has not been easy for Chayla and she identified with these issues while attending her first year of University. She did a large amount of self-reflection and has become educated on many First Nations issues. Chayla discovered the many obstacles that Aboriginal people faced such as the rights of education, the right to practice ceremonies including the ones she practices freely today, and racism. All of these issues which stemmed from colonization and assimilation that the Aboriginal people faced, in Canada's history.
Chayla has dedicated her life to help and empower others, she has worked with at high-risk and high-needs youth for 7 years. Chayla is very involved in the community, she dedicates her time to teach youth and human service professionals about the First Nations history and culture. Canada is highly populated with First Nations people and statistics show that they are one of the main demographics that highly utilize human services. Chayla's life goals are to help empower these individuals, so they can overcome any obstacles within their path to live a positive healthy lifestyle. Chayla teaches Cultural Awareness workshops to the human service professionals, to that help these individuals have a better understand of the history behind the people they are assisting, so that compassion and understanding will ensue for both the worker and individual.
Chayla wanted to see a change in the world so she made the choice to become a positive role model for youth. Chayla has strong morals and values taught to her from her mother, family and culture. She believes that through her own practice of compassion others will follow, through her story and life path people will become empowered and inspired to follow their own dreams. Others will begin to have faith in themselves that they can heal, they can have compassion, they can change the world through their own actions and that they are in control of their lives and the outcome. Chayla wants to empower Canada to start a new cycle, one of pride, unity, love and mutual respect. Chayla wants to lead by example, as a psychology student she believes that all her power and strength comes from faith in her herself and her culture. Chayla believes that people have the power within themselves to heal and move forward in order to live a healthy lifestyle. Chayla practices self-love and self-respect, these are the tools she wishes to share others, moving forward, having faith and trusting that what is meant to be is meant for each individual for their own life lessons.
Sponsors:
Cowessess First Nation, Painted Hand Casino, One Face Security, Stella & Dot, nvenn hair and beauty, Enoch Resort and Casino, Friends and Family
Languages spoken fluently (please include your native language if English is not your native language).
English
What are your interests and what do you enjoy doing the most?
I enjoy studying about psychology of the brain and understanding behavior. I also love to do make-up, I am a self-taught make-up artist, through my self-esteem workshops I also teach proper presentation which includes the way a person presents themselves through their clothing as well as make-up. I enjoy helping others about self-love and self-respect. Loving and being proud of who you are,
List any special training you have had (music, art, drama, dance, etc.) 
Sewing, makeup artistry, cultural dance, public speaking, self-esteem workshops, and runway.
In what sports, if any, have you participated?
I do not participate in any sports but I am a very active in fitness. I work out on a regular basis, fitness and nutrition are very important to me. Part of living healthy lifestyle includes fitness and nutrition, taking care of your body so that your inner mind and spirit can all be balanced and in unison.
Name one person, other than your parents, who has had the most influence on your life. Why? 
I have always been inspired my Martin Luther King Jr., his impact in the world and powerful presence has inspired me to the same. His impact shows how much one individual can change the world for the betterment of all of mankind. The strength of one individual can lead a nation into unity and equality.
What is your proudest personal accomplishment (other than participating in this pageant)?
I have been published in a book called "Dreaming in Indian: Contemporary Native American Voices" edited by Lisa Charleyboy and Mary Beth Leatherdale. The book is about many influential Aboriginals throughout North America.
What is the most interesting or unique thing that has ever happened to you and/or what is the most interesting thing about you? 
When I was 18-21 years old I participated in a cultural ceremony called the sun dance. The Sun Dance in the most sacred ceremony in Aboriginal culture. It is a ceremony that represents sacrifice for the betterment of mankind. When I danced I prayed that one day all nations would unite and that is still a dream I hope close to my heart.
What is your career ambition and what are you doing or plan to do to accomplish that goal? 
My career ambition is to become a Psychologist because my life goal has always been to help people. I've built a foundation throughout my life based on helping others, I am in school in the field of Psychology so that I can assist others to have a health mind, I help youth and anyone who is willing to learn about the culture to heal their spirit, I do self-esteem workshops and make-up artistry to help other to feel good on the outside as well as on the in. Although makeup and clothing are materialistic I feel that when someone feels good on the inside they should look good on the outside and always want to put their best self forward at every moment. Part of self-esteem if one hasn't achieve their full potential within then polished makeup and polished clothing, proper posture and a head held high help to assist in the psychological feelings of confidence which eventually can help your overall self-esteem in the after the inner work has been done.
What would be your "dream job" in life?
My dream job would be too be able to travel the world to different areas and help communities to live a better life, whether it's for psychology, self-esteem or empowerment I want to help others to be happy and feel fulfilled within their lives. I am fulfilled and grateful for my life and I want to help others to do the same and feel the same because I feel that that is the key to the world becoming a better place. When you are grateful every day for the life you have you look at others in a different light and you respect and appreciate their success and their own being as an individual.
Are you currently a student?
Yes
If yes, where?
University of Alberta
Area of study:
Bachelor of Arts, Major: Psychology, Minor: Native Studies
Are you currently employed?
Yes.
If yes, what is your occupation?
I do workshops for high-needs and at-risk youth within my community as well as within all of Alberta and Saskatchewan. I teach self-esteem, self-love, self-respect and cultural awareness,
Describe where you were raised and what your childhood was like.
I was raised in Edmonton, Alberta. I had a great childhood, I was raised by my mother as an only child and I have a very big family that are all very loving and supportive of each other – throughout my life I have been blessed to be surrounded by unconditional love that has allowed me grow and be the person I am today. This has helped me to be able to learn unconditional love, to have self-love and to have self-respect for myself. I am very grateful to my family for everything they have done for me especially by teaching me and showing me love it the greatest gift anyone can ask for. I want to be able share this gift with others to let them know how they can also accomplish this within their own life.
List any interesting or unusual jobs you may have had. 
Being able to work with high-needs and at-risk youth, and share with them the knowledge of morals and values that I was taught from my culture and my mother.  They youth have taught me great amount of compassion, understanding and patients. It is truly the most fulfilling job to being able to tell others that they can do it, they can follow all of their dreams, as well as helping them and giving them the tools they need to succeed.
List any volunteering you have done.
Bosco Homes Non-Profit Agency Powwow Committee
Bosco Homes Non-Profit Annual Fundraiser
Bent Arrow Traditional Healing Society Non-Profit Agency
Aboriginal Working Together Society
Spirit Keeper Fundraiser
5k Run for the Homeless
What is your most unusual talent?
Sewing because in today society it is not seen as a skill that is sought-after. I taught myself to sew, from cutting patterns to understanding how the sewing machine worked. I mostly sew traditional First Nations regalia, but I have been becoming interested in sewing gowns. I have been inspired by the pageants as well as Zac Posen.
Where is the most interesting place you have been to?
San Philippe, New Mexico. When I travelled to New Mexico I had the pleasure of experiencing a ceremony in a small town called San Philippe on the out skits of Albuquerque, New Mexico. I've never experienced such an open and welcoming people, they were very gracious and giving. They welcome me into their home, fed me and treated me like family. I will never forget that experience because it was very heart-warming and I was grateful to see such selflessness, it was amazingly humble.
What do you hope to be doing in ten years?
In 10 years I hope to be a successful, powerful, humble and compassionate woman. I believe that success comes from within so I hope to feel the way I feel today, I feel very grateful and fulfilled with my life and I am proud of who I am and where I come from. I also hope to have a family and be raising children in a healthy positive environment with a loving husband/father.
Is there anything you would like to add that we haven't asked?
I would like to say with every step I take I hold my head my high with pride and I remain humble and thankful to the Creator and my mother because without them I would not be where I am today. Thank you to Miss Universe Canada for allowing me this opportunity, I am very grateful.