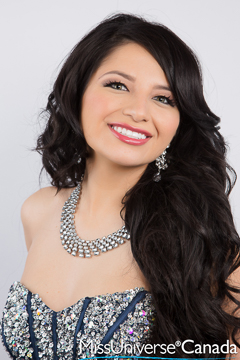 Height: 5'6″
Hometown: Calgary, AB
Cree Big Plume is a 24-year-old Tsuu T'ina First Nations woman from the Tsuu T'ina Nation, Alberta. She is a part time database technician completing prerequisites for veterinary medical program entrance. Cree strives to preserve her cultural identity, but values different cultures of the world. While Cree loves her First Nation, she also enjoys the City of Calgary diversity where she currently resides.
Growing up in Tsuu T'ina and the City of Calgary, she has a range of experiences. She was educated in the Calgary school system where she enjoyed making friends with all she encountered. Cree participated in various Calgary and Tsuu T'ina events, sports teams, choir, and many other extra curricular activities. Living in a rural setting fostered her connection and love for animals. Cree has had many kinds of pets through adoption. Her dual experiences have led to a true appreciation of the global community.
Cree has been trained by and is a model of the Patti Falconer International Model and Talent Agency. She competed in the World Championships of Performing Arts in 2007. Recently Cree auditioned and won a scholarship from the Faces West Model and Talent Agency to attend a Model/Talent conference in Vancouver, British Columbia. She received an overall score of 80% in the audition.
Medicine wheel teachings have her striving to balance her life physically, mentally, emotionally and socially. In 2008 she received the Tsuu T'ina Nation Citizenship Award. Since then she has been a recognized role model in her community. She volunteers for the less fortunate, attends leadership training and is a Tsuu T'ina Nation Youth Initiative Program committee member. She also created a community literacy program. Finally, she finds the time to pick up her eight-year-old niece to bake cupcakes for her class.
Cree seeks guidance and teachings from the elder's of her community. She carries traditional stories, teachings and strives each and everyday to keep her culture alive and well. Cree also believes in preserving the teaching of maintaining a cultural mosaic for all people of the world.
She leads by example to instil hope, desire and motivation for youth around the world. Cree chooses to take risks, be positive and hope for the best and by doing so, has opened many doors to her future. She believes in a good education, a healthy lifestyle and hard work to make dreams come true.
Sponsors:
Tsuu T'ina Nation, Tsuu T'ina Nation Community Members and Chief and Council, Graham Auctions – Calgary AB, Bellagio Nail Salon – Calgary AB, LUXX Readytowear by Derek Jagodzinsky, The Aria Makeup Studio, Elizabeth Chandless – Kane Owner/Professional Make Up Artist, #TeamCree2015, Family and Friends.
Languages spoken fluently (please include your native language if English is not your native language).
Dene (Tsuut'ina), English
What are your interests and what do you enjoy doing the most?
I enjoy volunteering for literacy programs for marginalized youth and children by bringing programs to enhance learning capabilities. I founded the "Youth Literacy Initiative" for Tsuu T'ina Nation. I am able to use my skills and knowledge to help others with educational aspirations and just bringing a smile to young people with living their life to the fullest potential.
List any special training you have had (music, art, drama, dance, etc.)
Acting Class
Treaty 7 Entrepreneurship Workshop
University of Calgary Leadership Certificate Program
Intermediate and Advanced Modeling Classes
Faces West International Model and Talent Conference
In what sports, if any, have you participated?

Cross training, cross-fit, running, baseball, volleyball, basketball, baseball, badminton, rock climbing, golf, and beginner gymnastics.
Name one person, other than your parents, who has had the most influence on your life. Why?
My sister has had the most influence on my life. From childhood I have always looked up to my older sibling. When I was in elementary, I watched her complete her studies and become the independent woman that she is today. I couldn't help but want to follow in her footsteps. She is my protector, my mentor, my warrior, my best friend and full-time motivator. My sister is fearless, strong, beautiful and intelligent.  I'm truly grateful for her and for the three nieces and nephew that she has blessed our family with.
What is your proudest personal accomplishment (other than participating in this pageant)?
Receiving the Tsuu T'ina Nation Community Citizenship Award. Becoming an avid role model in my community by helping others, showing kindness, forgiveness and always lending a helping hand in any way that I can.
What is the most interesting or unique thing that has ever happened to you and/or what is the most interesting thing about you?
The most interesting thing that has ever happened to me was attending the World Championships of Performing Arts in California. I was able to witness a variety of different cultures, ethnicities and people.
The most interesting thing about me is my spontaneity and adventurous spirit. An example is my future goal to skydive in Dubai!
What is your career ambition and what are you doing or plan to do to accomplish that goal?

My career ambition is to become a veterinarian with own my own clinic. I am currently pursuing my goal by attending school part-time, volunteering and aiding with the animal by-laws within my community.
What would be your "dream job" in life?

My dream job would be to be able to join Doctors Without Borders and use my education, skills, love and kindness to assist others in need.
Are you currently a student?

Yes, part time.
If yes, where?
Online student with Sunchild E-Learning Project (offered to 13 First Nations communities to help increase access to higher education)

Area of study:
Chemistry
Are you currently employed?
Yes.
If yes, what is your occupation?
Tsuu T'ina Nation Data Technical Assistant.
Describe where you were raised and what your childhood was like.
My childhood was beautiful. I grew up in an acreage within the Tsuu T'ina Nation. I lived up the road from our Buffalo Paddock, and 10 minutes away from the nearest ice cream shop. I grew up humble with a hard-working mother and father who gave their best efforts of hard work and selflessness so their children could have the best life possible. My family ensured our home was filled with love, kindness and respect.
List any interesting or unusual jobs you may have had.
My very first job as a teenager was as a home screen repair/replacement summer student for our Housing Program. I also worked in a bannock booth concession stand to raise funds for sporting activities. Also, I was a newspaper delivery assistant.  

List any volunteering you have done.
Modeling in the Dream Catchers Gala for the Artifaax Fashion Show.
Speaker at a Tsuu T'ina Nation Self esteem workshop.
I became interested in working with animals when I volunteered at Petland, which made me realize the importance and value of all living beings.
I also take part in the Tsuu T'ina Youth Initiative Program.
The Mustard Seed homeless shelter in Calgary.
Collecting donations of food, clothing and other items and donating to different organizations.
Motivational speaker for southern Alberta School districts.
All of my volunteering encompasses assisting marginalized people in society and assisting youth through literacy and educational programs.
What is your most unusual talent?
My most unusual talent includes training almost any type of animal.

Where is the most interesting place you have been to?

Cuba! I loved the sand, sun, nature and captivating culture.
What do you hope to be doing in ten years?

I hope to own my own home on an acreage, graduate from the University of Calgary Veterinary Medicine Program, and establish a domestic and livestock animal clinic. Also, I want to be better able to assist with the high rate of animal poverty as well as travel the world to help marginalized villages, cities and towns.
Is there anything you would like to add that we haven't asked?
I would like to add that I am a person with a very big heart. My goals, aspirations and the legacy I wish to leave behind are not limited to what I have shared in this questionnaire. I have so much more hope for the world that we live in today. I love my people and community. When one succeeds, we all succeed. To make a difference in the world is to know that we should help one another no matter what.